Thank you opposing useless mask and Covid vaccine "mandates"! Because they don't stop transmission of viruses and instead have harmed a whole lot of people.
The great news is the tyrannical, unconstitutional Newsom & Co. has announced the "requirement" to wear a mask at hospitals, medical offices, and residential care facilities will end April 3.
Even if this is happening because Gavin Newsom's unofficially running for President and wants to avoid criticism of being the last governor in the nation to stop "mandating" people wear useless, suffocating masks, rejoice that this dehumanizing edict is going away. Thank you for anything you've done the last three years to oppose these "face diapers"!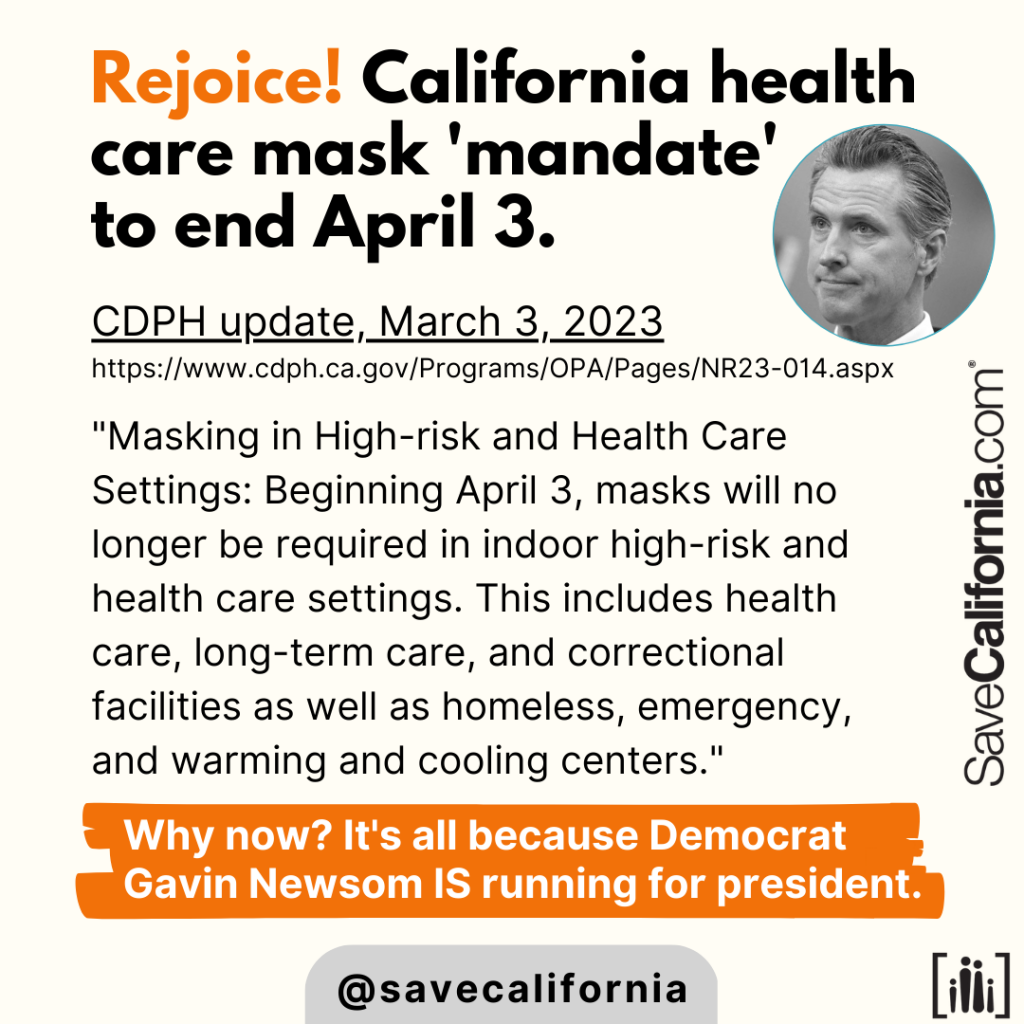 Please help hospitals and medical offices also end their mask "mandates," and not continue them on their own past April 3. You can influence them by printing or saving to your phone the CDPH update page to show them this month.
As for the horrible, harmful "Covid vaccine mandate" upon health care workers, it will no longer be enforced by the State of California as of April 3 (or sooner for all practical purposes). What this means is any hospital or medical group or medical office stopping its internal "Covid vaccine requirement" is unlikely to suffer any punishment by government enforcers. Because Newsom & Co. won't enforce it as of April 3. And last June, Biden & Co. stopped requiring state inspectors to check for "Covid vaccine" compliance.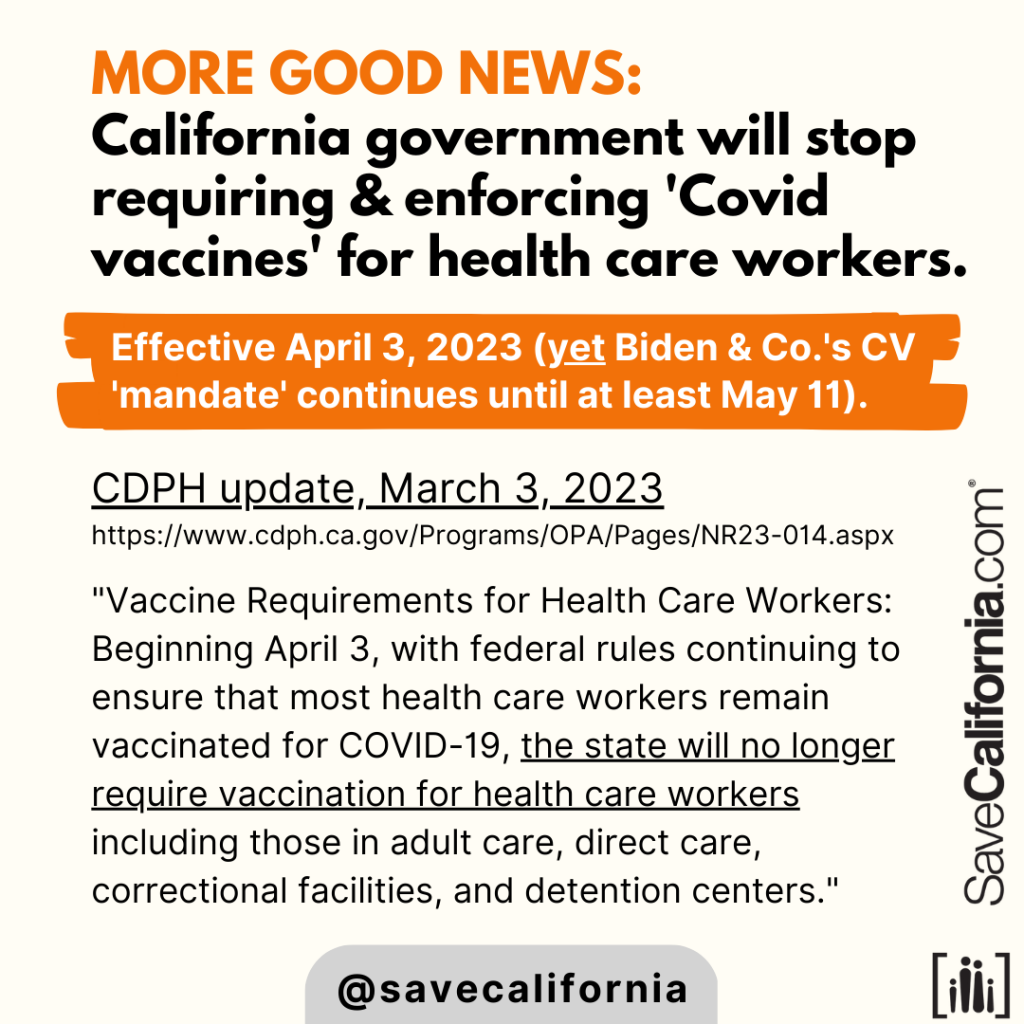 When will Biden & Co. end its "health worker Covid vaccine mandate"? The White House Occupant is keeping his unscientific federal "emergency" going until May 11. After that, it will take another executive order reversing Biden's 2021 "Covid vaccine" mandate upon health care workers nationwide (except where hospitals and medical groups and offices already honor religious exemptions). Because otherwise, Biden & Co.'s unscientific, harmful, and oppressive "health care worker vaccine mandate" lasts until November 2024!

Therefore, it's probable most California hospitals and large medical groups won't end their harmful, dehumanizing, and scaredy-cat "Covid vaccine mandates" upon workers and contractors until Biden & Co. reverses its 2021 national "order" (which, nearly 14 months ago, the unscientific, anti-medical-freedom Supreme Court opined was safe and legal).

If and when Biden & Co. — even for political reasons — reverses its inhuman "jab mandate" that violated your God-given medical freedom, this would provide much-needed relief, enabling health-conscious doctors, nurses, and others fired for not taking the injurious Covid jab to get their jobs back. You can call the White House Comment Line at 202-456-1111 to leave a message demanding, "End all Covid mandates now!"
"I apologize on behalf of my profession for refusing to listen to patients with vax injuries."
Dr. Michael Huang, a California physician who's treated 4,000 COVID patients and says he's seen hundreds of vaccine-related injuries, cancer, pregnancy loss, etc.
"I have been on a two year medical journey from hell since receiving the Pfizer Vax in 12/20 and 1/21. Multiple injuries after I did what I thought I should as duty to protect my patients as a frontline physician. Had many doubts, but still proceeded in good faith. Now the system is failing me and the irony of the responses by some accusing me of pushing the vax is ironic."
Dr. Melissa Halvorson Smith, a gynecologist who heads the Women's Health Center in North Dakota, who was injured by 2 doses of Pfizer COVID-19 mRNA vaccine.
"I received 3 vaccinations, I was physically injured in a very significant way as many others were injured. And in addition, my trust in the nature of the decisions and in the processes of making them has been severely eroded. No one asked and checked. I will fight with all my might so that truthful answers regarding all decisions and not just regarding the vaccine are given."
Professor Shmuel Shapira, M.D., MPH, served as the Director General of the Israel Institute for Biological Research (IIBR) between 2013 and 2021, where he led Israel's effort to develop a coronavirus vaccine."
COVID-19 vaccine injured doctors are finally starting to speak up," Health Impact News, March 2, 2023