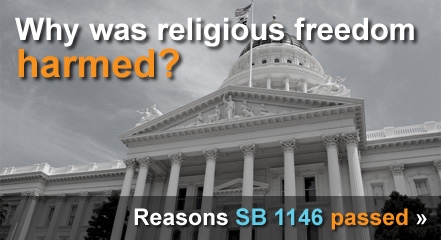 THANK YOU for going for the win for religious freedom by opposing SB 1146. And you would have won, but you were tackled by your "own side"!
August 23 in California, "Christian" colleges got what they wanted. Despite noble religious-freedom supporters following SaveCalifornia.com, California MassResistance, and some courageous Christian pastors fighting hard against the amended SB 1146, this anti-religious-freedom bill PASSED the California State Assembly August 23 by only 2 votes. It's because some "Christian" college presidents "partnered" with the homosexual-activist author of SB 1146, to "OK" this bill giving the State the beginnings of control over religious matters.
What does this tell you? That if "Christian" colleges had also opposed SB 1146 hard on the Assembly floor (instead of supporting it, which was announced by the Assembly's homosexual-activist floor jockey of SB 1146, Evan Low), this first-of-its-kind state regulation of religious matters (see how bad SB 1146 is) would have been defeated instead of approved.
Again, thank you for making EFFECTIVE phone calls to "pull off" nearly enough Democrats who were either concerned about this obvious anti-religious-freedom bill or concerned about their reputation if they voted for it. I admire your love and perseverance if you made one or more phone calls against SB 1146 at SaveCalifornia.com's request. Again, it was the "Christian" college presidents supporting the same amended SB 1146 that homosexual activists are pushing that got this bad bill passed!
The first vote on the Assembly floor was so close, SB 1146 only got 33 yes votes. For more than an hour, the Democrat bosses had to work extra hard to get enough foolish votes in favor of this unconstitutional bill. An hour-and-a-half after the first vote, the "call" on SB 1146 was lifted for a second vote. While 10 Democrats abstained and so did 5 Republicans, the bill initially passed with 42 votes, just one more than needed (in the 80-member State Assembly, 41 votes are required to pass majority-vote bills).
After some vote changes when the day's session ended, the final vote on SB 1146 was 45 voting YES (44 Democrats + Republican Catharine Baker), 28 voting NO (including Democrats Joaquin Arambula, Jacqui Irwin and Rudy Salas), and 7 abstentions. SB 1146 now goes to the State Senate for a concurrence vote by August 31.
THE ASSEMBLY FLOOR VOTE ON SB 1146 ON AUGUST 23, 2016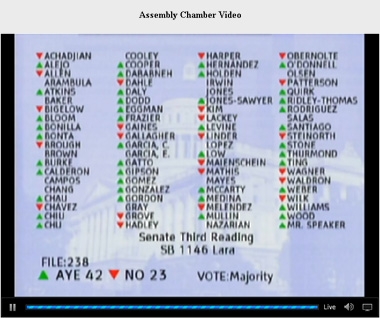 The vote tally below reflects vote changes at the end of the August 23 floor session: Going from NOT VOTING to voting NO were Republicans Brian Jones of Santee and Ling Ling Chang of Diamond Bar and Democrats Joaquin Arambula of Fresno, Jacqui Irwin of Thousand Oaks, and Rudy Salas of Bakersfield; going from NOT VOTING to voting YES were Democrats Eduardo Garcia of Palm Desert and Nora Campos of San Jose, and Republican Catharine Baker of Dublin. Final vote totals are 45 yes, 28 no, 7 not voting 7.
Voting yes on SB 1146 were 44 Democrats and 1 Republican
See the Democrats' contact numbers
Luis Alejo
Toni Atkins
Catharine Baker (R)
Richard Bloom
Susan Bonilla
Rob Bonta
Autumn Burke
Ian Calderon
Nora Campos
Ed Chau
David Chiu
Kansen Chu
Jim Cooper
Matthew Dababneh
Tom Daly
Bill Dodd
Susan Eggman
Bill Frazier
Cristina Garcia
Eduardo Garcia
Mike Gatto
Mike Gipson
Jimmy Gomez
Lorena Gonzalez
Richard Gordon
Roger Hernandez
Chris Holden
Reginald Jones-Sawyer
Marc Levine
Evan Low
Kevin McCarty
Jose Medina
Kevin Mullin
Patrick O'Donnell
Bill Quirk
Anthony Rendon
Sebastian Ridley-Thomas
Freddie Rodriguez
Miguel Santiago
Mark Stone
Tony Thurmond
Philip Ting
Shirley Weber
Das Williams
Jim Wood
Voting NO on SB 1146 were 25 Republicans and 3 Democrats:
See the Republicans' contact numbers
Katcho Achadjian
Travis Allen
Joaquin Arambula (D)
Frank Bigelow
William Brough
Ling Ling Chang
Rocky Chavez
Brian Dahle
Beth Gaines
James Gallagher
Shannon Grove
David Hadley
Matthew Harper
Jacqui Irwin (D)
Brian Jones
Young Kim
Tom Lackey
Eric Linder
Brian Maienschein
Devon Mathis
Melissa Melendez
Jay Obernolte
Jim Patterson
Rudy Salas (D)
Marc Steinorth
Donald Wagner
Marie Waldron
Scott Wilk
Not voting either way on SB 1146 were 5 Democrats and 2 Republicans
Cheryl Brown (D)
Ken Cooley (D)
Adam Gray (D)
Patty Lopez (D)
Chad Mayes (R)
Adrin Nazarian (D)
Kristin Olsen (R)
See why SB 1146 is an unprecedented, unconstitutional, subjective, and harmful attack on religious freedom