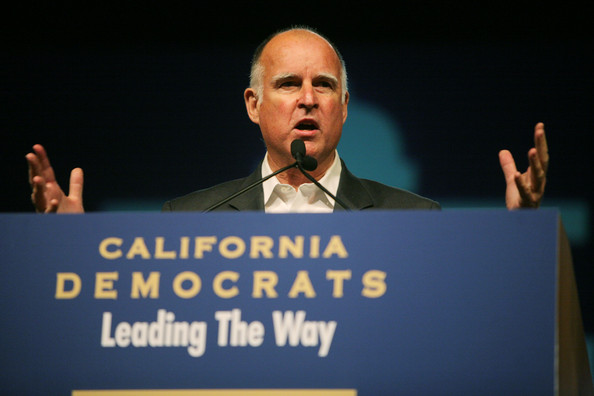 SaveCalifornia.com provides the following solely for educational purposes
and does not support or oppose candidates for public office.
When bad bills pass at California's State Capitol, the media does a big disservice when they tell you only that the "Assembly" or "Senate" or "state legislators" passed something. Such deceptive descriptions hide the fact that the majority party is passing these bills because of the majority party's philosophy and numerical power in its legislative body.
So let's say it like it is: Democrat legislators are in control in Sacramento. They've had majority control, with just a couple of years of exception, since the late 1950s. And since January of this year, the Democrats have had a supermajority — two-thirds of both houses, the Assembly and state Senate. So the bills that pass — love 'em or hate 'em — come from the hand of the Democrats. Average voters deserve to know what their voting habit is doing for them or to them.
For example, this week, SB 323, to yank state tax-exempt status from private youth organizations if they don't have homosexual-bisexual-transsexual leaders or members, passed only with and only because 27 Democrats in the state Senate put it through, a two-thirds majority and the bare minimum needed to alter the tax codes. Honest media would have reported "Democrats pass/approve/push." But that's not what you see in the news. So it's up to you to inform people you know, via email and social networking and on news sites.
What do you get with a Democrat supermajority in Sacramento? A virtual guarantee that bills harming children and families will pass the California Legislature. That's the consequence.
Demonstrating a serious misunderstanding of human design, natural sex, religious freedom, and personal responsibility, these Democrat-authored bills are advancing in a torrid quest to replace wisdom with foolishness and moral virtues with licentiousness:
AB 154 permits nurse practitioners, nurse midwives, and physician assistants to perform suction abortions, which tortuously dismember pre-born babies in the womb (bill status)
AB 926 permits young women to be paid to have their human eggs extracted (and destroyed) for the purpose of "medical research," which also sets the stage for future human cloning. These egg "donations" harm women's health, can result in sterility, and denies the participants informed consent. (bill status) ("eggsploitation" explained)
AB 999 hands out condoms to homosexuals in state prisons, spreading more disease (bill status)
SB 323 punishes the Boy Scouts and other youth organizations by removing their tax-deductible, non-profit status unless they allow homosexual-bisexual-transsexual youth leaders (bill status)
AB 1266 forces K-12 public schools to permit biological boys in girls' restrooms, showers, clubs, and on girls' sports teams; and biological girls in boys' restrooms, showers, clubs, and on boys' sports teams (bill status) (existing sexual indoctrination laws)
AB 460 requires insurance policies to cover homosexual "infertility," despite Nature's unchangeable laws requiring a man and a woman to conceive (bill status)
AB 48 prevents families from having the same rounds of ammunition with their home-defense gun as criminals have with their guns (bill status)
This is what California's Democrat-controlled Legislature is doing. Now you can inform others.
When you become entitled to exercise the right of voting for public officers, let it be impressed on your mind that God commands you to choose for rulers, "just men who will rule in the fear of God." The preservation of government depends on the faithful discharge of this duty; if the citizens neglect their duty and place unprincipled men in office, the government will soon be corrupted; laws will be made, not for the public good so much as for selfish or local purposes; corrupt or incompetent men will be appointed to execute the laws; the public revenues will be squandered on unworthy men; and the rights of the citizens will be violated or disregarded. If a republican government fails to secure public prosperity and happiness, it must be because the citizens neglect the divine commands, and elect bad men to make and administer the laws.
Noah Webster (1758-1843), advisor to the Founding Fathers, statesman, educator, lexicographer and author of Webster's Dictionary. History of the United States (New Haven: Durrie & Peck, 1832), pp. 336-337, 349.