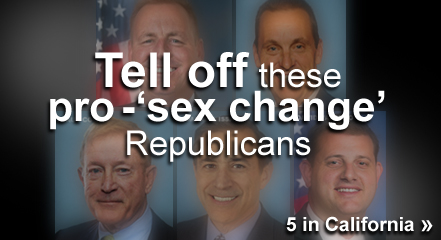 Are you righteously angry over 24 Republican sellouts who joined with 190 Democrats in the U.S. House of Representatives to force you to continue to pay for "sex change" operations in the U.S. military? You should be.
Today, I called the office of Congresswoman Vicky Hartzler, a pro-family Republican from Missouri, who authored the good amendment that would have stopped these Frankensteinian taxpayer-funded "sex changes" in the military. Sadly, on July 13, Hartzler's much-needed amendment was defeated by fewer than half a dozen votes!
I encouraged the good congresswoman's office that SaveCalifornia.com's team members (that's you) are calling to loudly complain to the four California Republican congressmen who voted "no" on stopping the "sex change" operations and the one California Republican that abstained.
While Hartzler's office didn't say they had another legislative vehicle to try, they said they'd certainly like to have a second vote in the hope that it could pass this time.
So now you have another good reason to call the five California Republican congressmen, who call themselves conservative, yet voted directly or indirectly to force taxpayers like you and me to subsidize unnatural, unhealthy, mutilating-of-the-body "sex changes" in the United States armed forces.
Let this motivate you! There may indeed be another vote, whether in the fall or next year, and your righteously angry phone calls today could help turn their "noes" into "yeses" to halt the government's perverse operations done in your name and on your dime.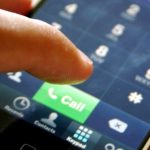 PLEASE ACT NOW: Tell these California Republican congressmen
how disappointed you are with their votes.
Leave voicemails overnight or live calls during the day, saying: "How dare you force me and my family to pay for unnatural, military 'sex change' operations. You have made me very angry. I will not forget your horrible vote."
PAUL COOK 760.247.1815 (Apple Valley); 909.797.4900 (Yucaipa) district map
On July 13, 2017, Cook voted "no" on an amendment that would have halted funding of military "sex changes"
JEFF DENHAM 209.579.5458 (Modesto) district map
On July 13, 2017, Denham voted "no" on an amendment that would have halted funding of military "sex changes"
DARRELL ISSA 760.599.5000 (Vista); 949.281.2449 (Dana Point) district map
On July 13, 2017, Issa voted "no" on an amendment that would have halted funding of military "sex changes"
STEVE KNIGHT 661.255-5630 (Santa Clarita); 805.581.7130 (Simi Valley); 661.441.0320 (Palmdale) district map
On July 13, 2017, Knight voted "no" on an amendment that would have halted funding of military "sex changes"
DAVID VALADAO 661.864.7736 (Bakersfield); 559.582.5526 (Hanford) district map
On July 13, 2017, Valadao abstained on an amendment that would have halted funding of military "sex changes"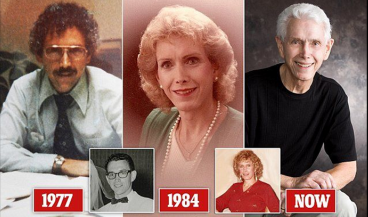 Today, Heyer's birth records once again identify him as Walt Heyer, male. He no longer cross-dresses or drinks … Now 76, Heyer will never need a razor or get his male organs back, but he acts and looks like a man, and spreading awareness about transgender regret has become his full-time job. "Walt's story," World, April 15, 2017