We're living in historic, even revolutionary, times. As the U.S. Supreme Court acts for the sake of constitutional justice, here's some perspective to help you make sense of it all.
No more Roe won't help California babies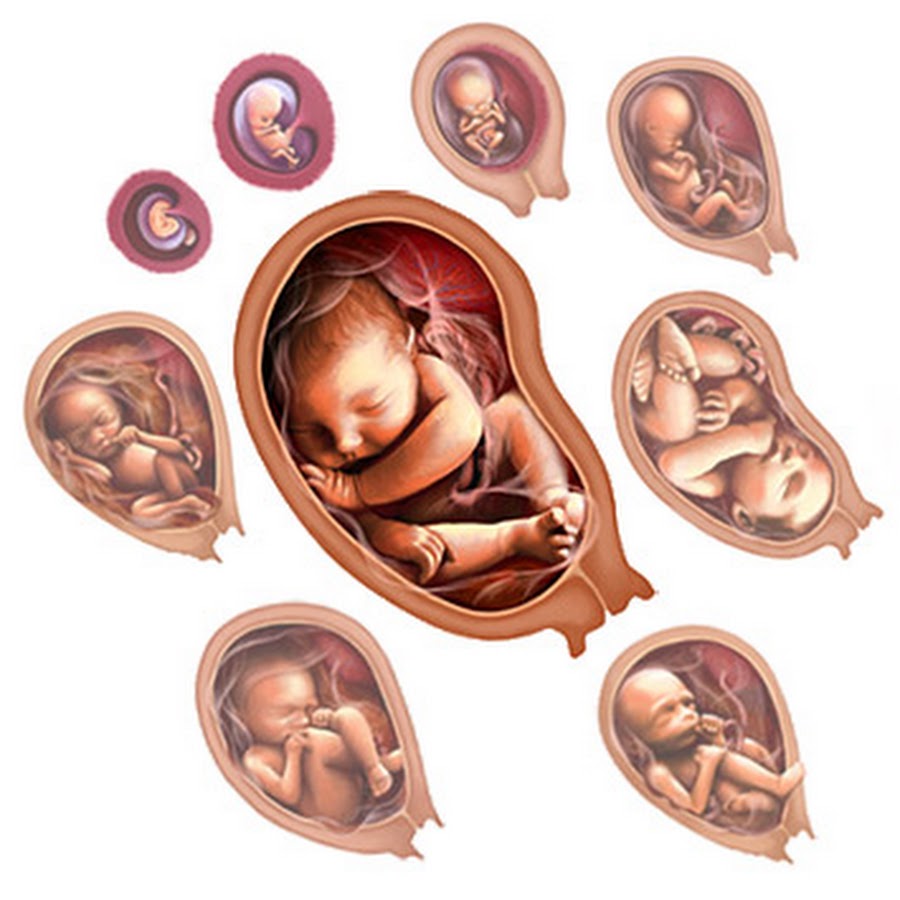 Finally, after 49 years of Roe v. Wade's unconstitutional, murderous agenda, it's gone and abortion policies revert to 50 states.
Yet the demise of Roe won't help California or other states ruled by abortion-loving Democrats. This is all the more reason to stand up for life. Especially since Newsom & Co. want to force California taxpayers to subsidize out-of-state abortions.
A top need of California pro-lifers this fall is to defeat SCA 10, which would go on the ballot to "codify" abortion on-demand in the California State Constitution. By proclaiming "The state shall not deny or interfere with an individual's reproductive freedom in their most intimate decisions, which includes their fundamental right to choose to have an abortion," SCA 10 would continue the California carnage of taxpayer-funded abortion procedures or pills for any girl or woman, regardless of a girl's age, the number of abortions she's already had, or her ability to pay. To be placed on the November ballot, SCA 10 requires a two-thirds vote of both the Assembly and the Senate (it already passed the Senate), followed by an affirmative majority vote of the People.
Today's SCOTUS ruling striking down the unconstitutional, unscientific 1973 Roe v. Wade and the 1992 Planned Parenthood v. Casey opinions was 6 to 3 (Republican-president-nominated judges for the Constitution and life vs. Democrat-president-nominated judges for unconstitutional murder of pre-born babies). Read the history-making decision yourself
Get ready for more gun-owner freedoms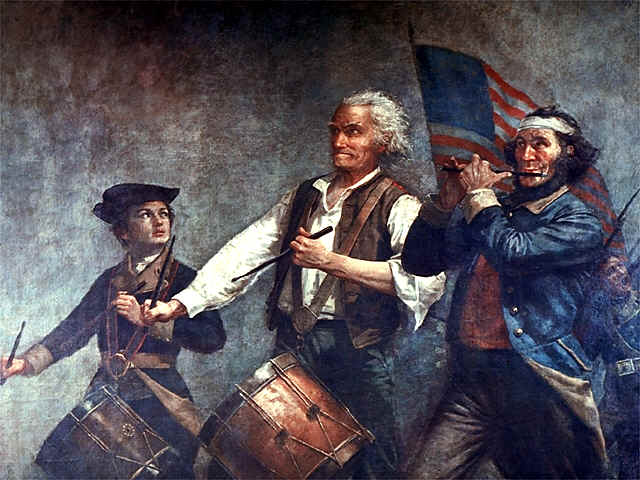 Unlike abortion, the "sacred cow" idol of Democrat politicians, and which is again a question of states' rights, the fundamental rights of safety-conscious, constitutional gun owners will likely increase in California now that the U.S. Supreme Court has majorly upheld the Second Amendment in New York State Rifle & Pistol Association v. Bruen.
The June 23 ruling portends a new era of constitutional equity for gun owners in America. Relying on the God-given liberties preceding our Constitution, it concludes:
The constitutional right to bear arms in public for self defense is not "a second-class right, subject to an entirely different body of rules than the other Bill of Rights guarantees." We know of no other constitutional right that an individual may exercise only after demonstrating to government officers some special need. That is not how the First Amendment works when it comes to unpopular speech or the free exercise of religion. It is not how the Sixth Amendment works when it comes to a defendant's right to confront the witnesses against him. And it is not how the Second Amendment works when it comes to public carry for self-defense. New York's proper-cause requirement violates the Fourteenth Amendment in that it prevents law-abiding citizens with ordinary self-defense needs from exercising their right to keep and bear arms. We therefore reverse the judgment of the Court of Appeals and remand the case for further proceedings consistent with this opinion.
The practical effect in California is this much-needed, admirable ruling will be used in both state and local lawsuits against the unconstitutional laws of the Democrat politicians. It might take a couple of years, but gun-owner rights organizations are planning to use the New York State decision against California's unconstitutional ban on "assault weapons," California's unconstitutional ban on magazines over 10 rounds, California's unconstitutional background checks, and the unconstitutional ban of concealed weapon permits in Democrat-controlled counties, such as Los Angeles. So have hope!
Just the facts: Why gas prices are so high
Why isn't there a second Revolutionary War over oppressive gas prices? Because the godless government schools have been very successful at avoiding teaching children the Bible, the Constitution, real history, principles of logic, evidence-based research, and truisms such as the commerce law of Supply and Demand.
This week, SaveCalifornia.com produced and posted these three slides to help people realize who to blame for robbing them of their God-given resources and raising gas prices. Please enjoy and share!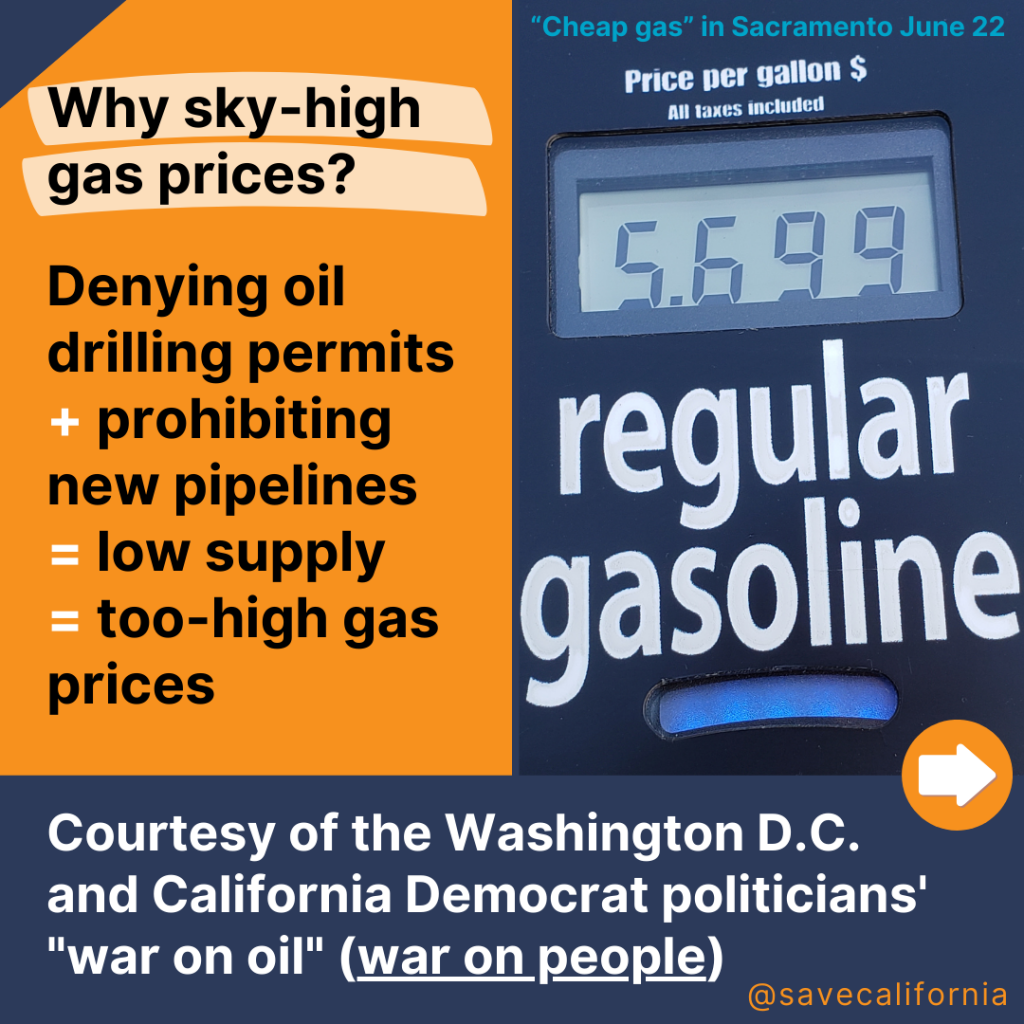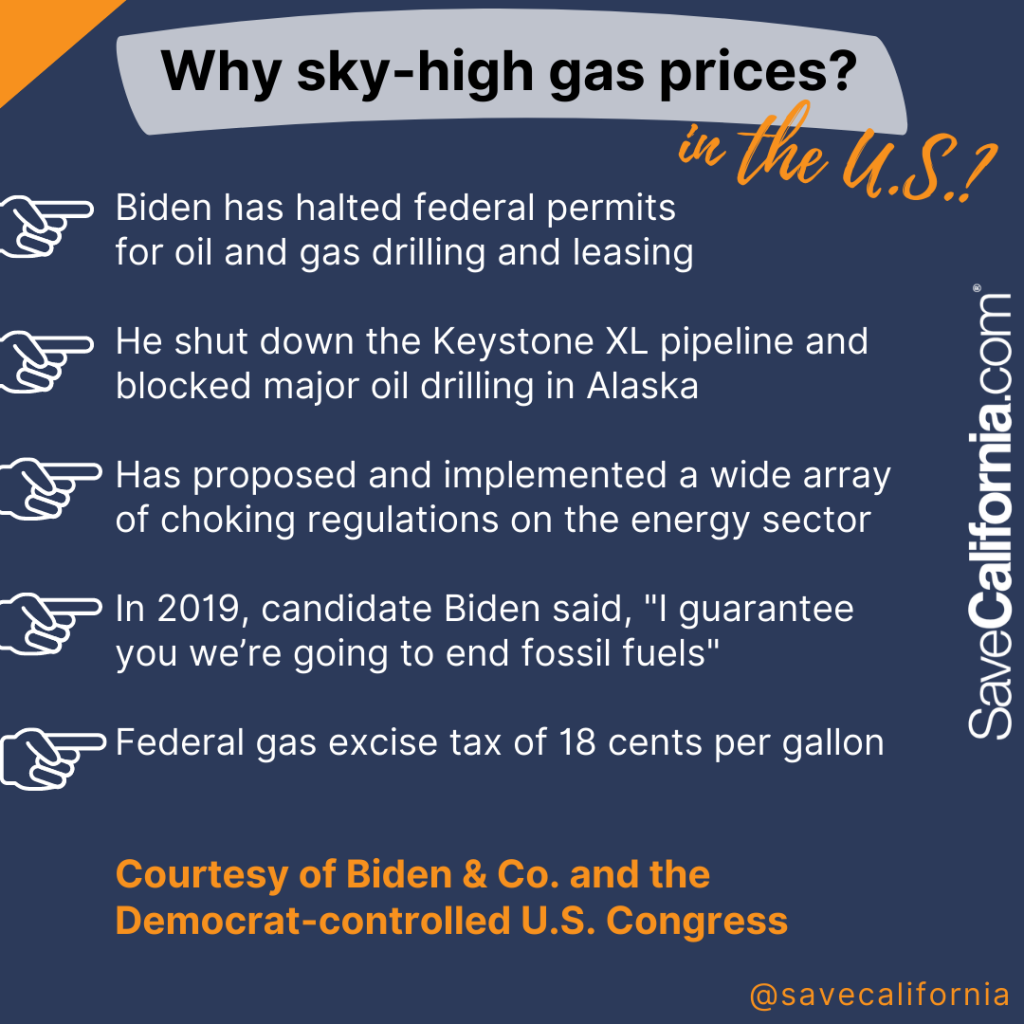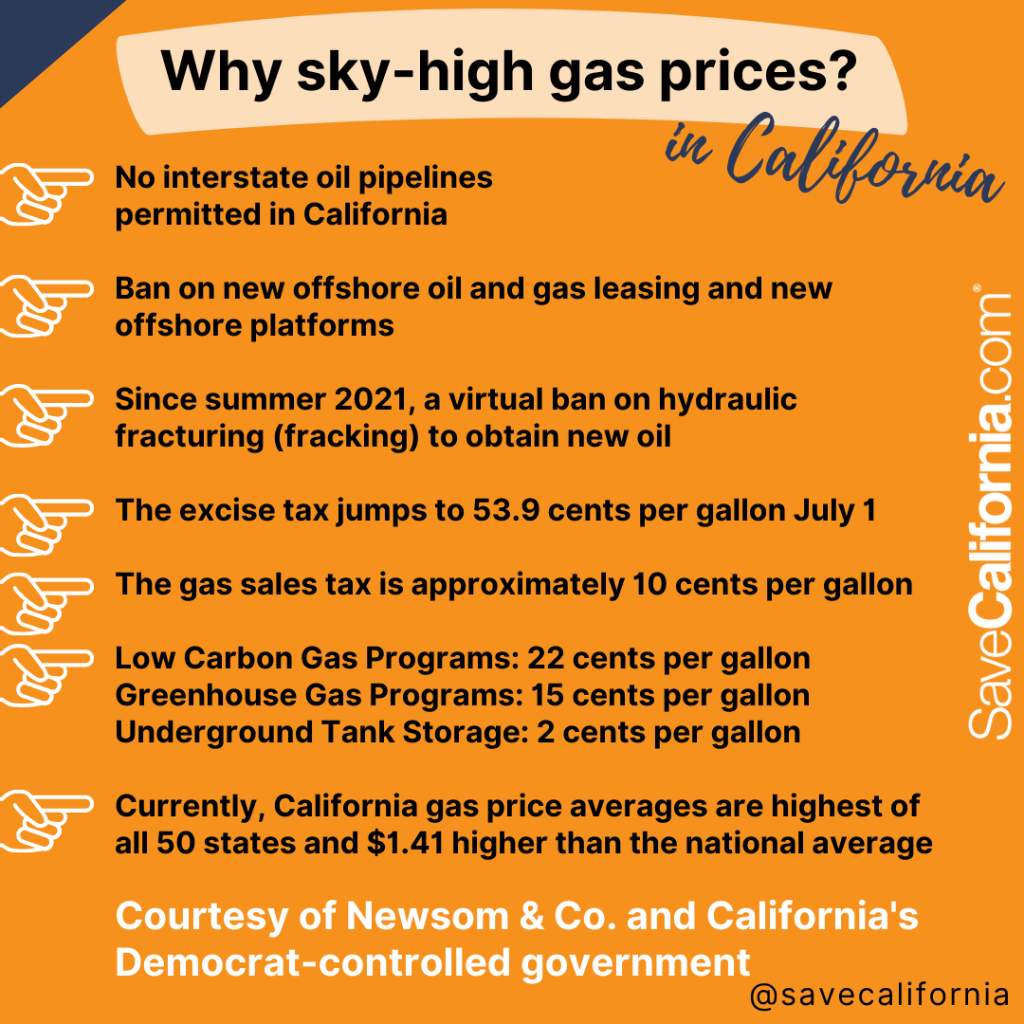 "A democracy cannot exist as a permanent form of government. It can only exist until the voters discover that they can vote themselves largesse from the public treasury. From that moment on, the majority always votes for the candidates promising the most benefits from the public treasury with the result that a democracy always collapses over loose fiscal policy, always followed by a dictatorship. The average age of the world's greatest civilizations has been 200 years. These nations have progressed through this sequence: From bondage to spiritual faith; From spiritual faith to great courage; From courage to liberty; From liberty to abundance; From abundance to selfishness; From selfishness to apathy; From apathy to dependence; From dependence back into bondage."
Alexander Fraser Tytler (1747-1813, Scottish advocate, judge, writer and historian