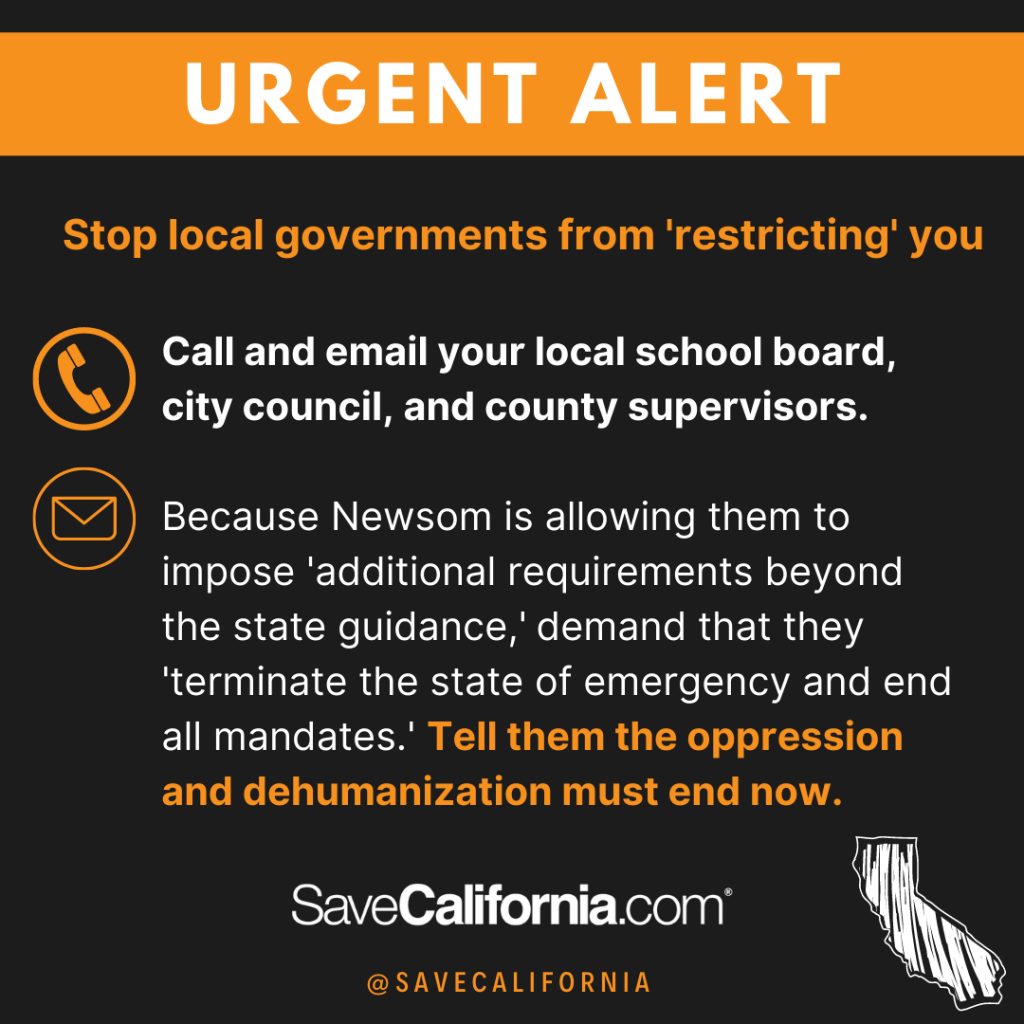 Pressured by reality and political peers, Democrat Governor Gavin Newsom has done the minimum "he had to do" by providing some facial relief to children and adults in California.
It's GOOD for schoolchildren and small children, and adults who work for companies and school districts that will drop their unscientific, useless, harmful, dehumanizing "mask mandates."
But it's BAD where local governments continue their medical tyranny (because Newsom is permitting them to continue abusing Californians), and in select environments where supposedly masks work, when they somehow don't work elsewhere.

In his February 28 news release (which was coordinated between three Democrat governors, so none of them would act first and embarrass the others), Newsom, still erroneously believing what comes out of his mouth is the actual law of the land, said:

"In California, starting March 1, masks will no longer be required for unvaccinated individuals, but will be strongly recommended for all individuals in most indoor settings. After March 11, in schools and child care facilities, masks will not be required but will be strongly recommended. Masks will still be required for everyone in high transmission settings like public transit, emergency shelters, health care settings, correctional facilities, homeless shelters and long-term care facilities. As always, local jurisdictions may have additional requirements beyond the state guidance."

In his release, Newsom also claimed "Masks are an effective tool to minimize spread of the virus and future variants, especially when transmission rates are high. We … will continue to take measures rooted in science." 
Yet the science conclusively shows masks do not prevent viral transmission, because small viruses go right through masks' larger holes. No, despite Newsom's mantra that masks are effective, the science clearly shows masks did not slow the spread of Covid in the U.S.

My advice: Stop covering your face, your children's and your grandchildren's faces today. Show your God-given face and smile whenever and wherever you shop (do NOT declare your vaccination status). Encourage businesses to get with reality and be pro-people and stop needlessly masking their employees. Call and email your local school board, city council, and county supervisors to demand they terminate their local state of emergency and end all their Covid mandates now.
If a ruler pays attention to lies,
All his servants become wicked.
Proverbs 29:12

Because of the transgression of a land, many are its princes;
But by a man of understanding and knowledge
Right will be prolonged.
Proverbs 28:2