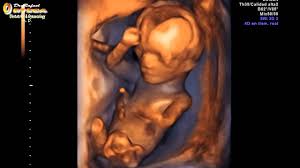 Amazing 4D videos: Baby 15 weeks pregnancy | Baby 8 weeks pregnancy
After 40+ years of killing babies in the womb with your federal tax dollars, Planned Parenthood abortionists have taken a big step to separate themselves from you.
On August 19, 2019, America's abortion giant announced it will officially withdraw from the Title X "family planning" program instead of abiding by a new Trump Administration requirement preventing grant recipients from referring clients for abortions.
This reveals that Planned Parenthood's singular mission is slaughtering pre-born babies, not continuing to receive federal funding for "women's health," absent abortions.
This is also a significant victory for our Constitution and for restoring constitutional judges, those who abide by the written words and original intent of the U.S. Constitution. Upholding the Trump rule separating contraception funding from abortion funding in July were 7 Republican judges versus 4 pro-abortion Democrat judges. And this was on the West Coast's 9th Circuit Court of Appeals!
Planned Parenthood will lose some $60 million in federal funding, but not all. They will still receive about $500 million from Medicaid, the joint federal and state "welfare" medical program, of which the federal government provides most of the funding. And I expect the ruling Democrats in the California State Legislature to "in-fill" this "lost" abortion funding, with your state tax dollars, per Planned Parenthood's request.
Trump Defunds Planned Parenthood, Abortion Biz Loses $60 Million in Taxpayer Dollars
Gov't Funding of Planned Parenthood: A Dark History
Timeline: Your Baby's 9 Months in the Womb
For You formed my inward parts;
You covered me in my mother's womb.
I will praise You, for I am fearfully and wonderfully made;
Marvelous are Your works,
And that my soul knows very well.
My frame was not hidden from You,
When I was made in secret,
And skillfully wrought in the lowest parts of the earth.
Your eyes saw my substance, being yet unformed.
And in Your book they all were written,
The days fashioned for me,
When as yet there were none of them.
Psalm 139:13-16