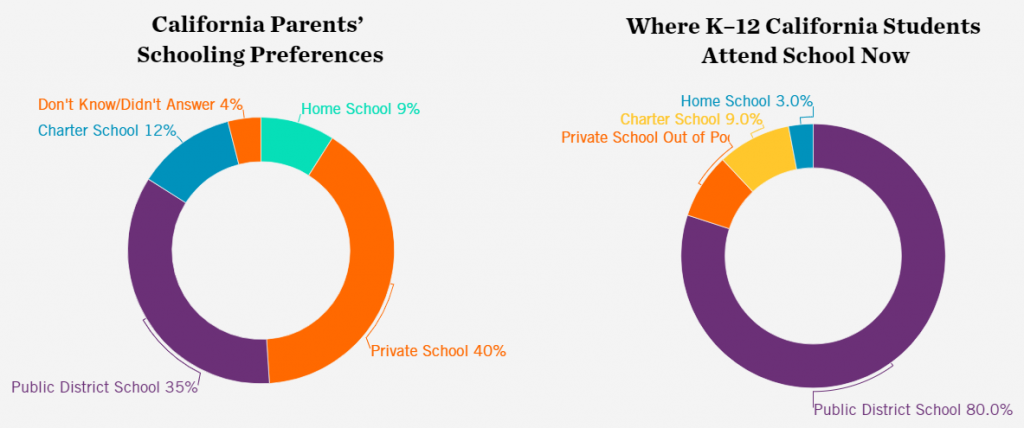 When Democrat politicians Gavin Newsom, his attorney general Rob Bonta, and state schools chief Tony Thurmond attacked parents' God-given rights this summer, more parents understood the only way to rescue their kids is by exiting the government schools.
So expect more California families to homeschool! Because each year, an increasing number of parents are realizing Democrat-run schools are bad. Look at these stats:
On Oct. 31, the Washington Post reported California homeschooling increased a whopping 78% between the 2017 and 2022 school years. What momentum to rescue defenseless boys and girls!
And California's most recent stats (updated Nov. 8) demonstrate public support for real school choice is growing:
70% of adults and 75% of parents of school-aged children support the idea of education savings accounts (a synonym for vouchers).
59% of parents of school-aged children want 1 or more days a week of home-based education for their kids.
48% of parents of school-aged children would choose homeschooling or private school if they could afford it.
35% of adults say the main purpose of education is to instill "values, moral character, religious virtues"
And a thrilling trend nationally — 2023 has been the year of universal (full) school choice. Rejoice that this year, EIGHT states have either created a new universal choice program or expanded an existing program to include all students.
As reported in late September by Ed Choice:
North Carolina joins Iowa, Utah, Arkansas, Florida, Indiana, Oklahoma, and Ohio in creating new universal choice programs this year or expanding existing choice programs to include all or nearly all students. They join Arizona and West Virginia, where universal programs previously existed. Today, some 36% of students nationwide are eligible for a private choice program, a 60% increase from just two years ago.
This national momentum for real school choice (receiving back money for private school or homeschooling) will create a better national character and will eventually bring private school choice to California.
Despite the lying Establishment defeating universal school choice on the California ballot in 1994 and 2000, parental discontent with government-controlled "education" has kept growing. And it might be near the "tipping point." Because over time, California parents and grandparents are going to want what children in other states enjoy — the financial means to exit bad schools!
TAKE ACTION:

1. Rescue your own children and grandchildren with the help of our special site, RescueYourChild.com.
2. Tell others how parents need to be able to spend their own tax money on the school of their choice.
Train up a child in the way he should go,
And when he is old he will not depart from it.
The Bible, Proverbs 22:6