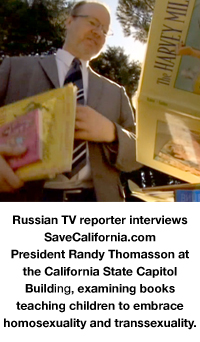 You'll be pleased that God's values for children and families were seen and heard on a leading Russian TV news program.
In November, SaveCalifornia.com and the Sacramento mom we brought to talk to a Russian reporter and cameraman helped educate millions of Russian-speaking people in Eastern Europe, as well as in the United States.
Right now, Russia and other Slavic nations are being intensely targeted by homosexual-bisexual-transsexual activists, who are demanding official approval.
But my evidence-based moral arguments and the reporter's eye-opening details from San Francisco and Sacramento are convincing Slavic families of the unnatural, unhealthy, unbiblical, tyrannical "LGBT" threat to children, parental rights, and religious freedom. We're motivating them to stand and fight, and not back down.
Watch the 13-minute RTR report and read the partial English-to-Russian-to-English transcript below:
Reporter: These brightly colored children's books are the ABC's of gay love and non-traditional lifestyles introduced into American schools in the state of California starting from kindergarten age 5.
This illustrated book titled "Daddy's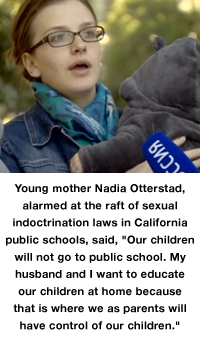 Roommate" is meant for readers as young as 4-years-old. The story is simple: dad divorces mom and marries a brunette man in a bright Hawaiian shirt. They live together and the book indicates that this is normal. They sleep together, shave together, and here we see the mom who is clearly supporting their relationship.
The children are also taught in their schools about their friends, the transsexuals. How to dress like a man or woman is described here in this book. [reading from book] Ruby was born male, she identifies as female. Ruby sometimes wears her favorite dress and puts on lipstick and eyeshadow.
Randy Thomasson: "They're trying to normalize what's not normal. For example, if a boy says that I want to dress like a girl, then governmental American schools will reply that, 'Oh! This is a good feeling, so we will help you change your clothing.' But this child is in need of psychological help. More than often, the reason for this psychological disorder is the child was subjected to sexual abuse in his family."
Nadia Otterstad: "This small minority group is changing all of our laws and this is putting pressure on us — normal traditional families — because we are increasingly losing our rights as parents. We honestly don't have rights, I would say. Our children will not go to public school. My husband and I want to educate our children at home because that is where we as parents will have control of our children."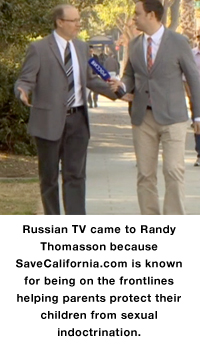 Randy Thomasson: "The LGBTQ activists all say that they are the victims but are in fact victimizing everyone else. For example, here in California, if you own a Christian bookstore, selling religious church books, and a man that is dressed like a woman — a transsexual — applies for a job — if you don't hire him, you may be subjected to a fine of $150,000. The same also goes for all other businesses."
Randy Thomasson: "Sexual practices are not civil rights, but a behavior. That is why many African Americans are offended with this — they know what true civil rights are and aren't. Race is obviously identity, but LBGTQ groups stole this idea of civil rights, they hijacked it."
TAKE ACTION: Educate others with the truth. Please forward or share this information with your friends today.
ADDITIONAL RESOURCES: Visit Not Born This Way at SaveCalifornia.com to understand the negative consequences of homosexuality, bisexuality, and transsexuality to individuals, families, and our society. And realize the sexual indoctrination happening in K-12 government schools by visiting SaveCalifornia.com's RescueYourChild.com.
"Have I not commanded you? Be strong and of good courage; do not be afraid, nor be dismayed, for the Lord your God is with you wherever you go."
Joshua 1:9 NKJV