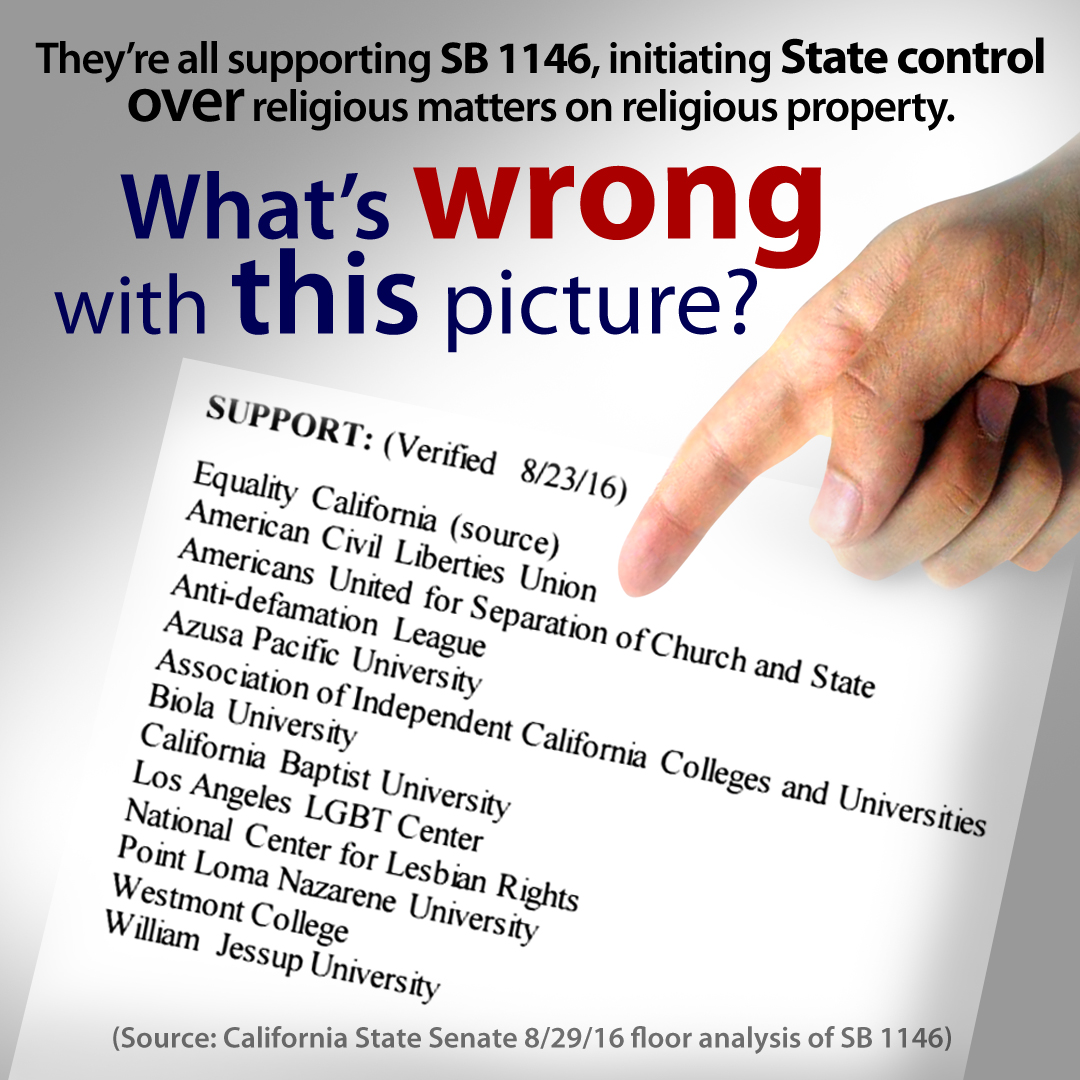 SaveCalifornia.com provides this solely for educational purposes
and does not support or oppose candidates for public office.
I never thought I'd see the day when professing Christians help anti-Christian bills pass.
But that's what happened with some of the worst, anti-family bills of the year in California.
When Governor Jerry Brown, a Democrat, signed SB 1146 to initiate State control over religious matters on religious property, favoring the unnatural, unhealthy, unbiblical, tyrannical homosexual-bisexual-transsexual agenda over constitutional religious freedom, he could only do it because the presidents of six large "Christian" colleges in California had dropped their opposition and instead supported this unprecedented, unconstitutional, subjective bill.
These "Christian" universities supporting the amended SB 1146 were Azusa Pacific, Biola, Cal Baptist, Point Loma Nazarene, Westmont, and William Jessup. Together, they issued a statement saying they "appreciate" and are "grateful" to homosexual activist and SB 1146 author Ricardo Lara, even saying they "look forward to working with Sen. Lara…to strengthen this partnership."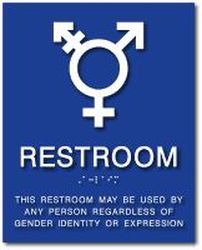 And when Gov. Brown signed AB 1732 to tear down "men," "women," "boys," and "girls" signs, and replace them with pro-transsexuality "all gender" signs at single-user restrooms at every business, including home businesses, and every church school, religious daycare center or religious senior home, etc., it was because some professing Christians supported this intrusive bill, empowering it to pass.
In the California State Assembly, Republican Catharine Baker of Dublin voted "yes" for both AB 1732 and SB 1146. Yet Baker has publicly said she's a "Christian" and has been a Sunday school teacher at San Ramon Valley United Methodist Church.
And in the California State Senate, Republican Anthony Cannella of Ceres is known as a professing "Christian" to locals and also to reporters. But Cannella spoke in favor of and voted for AB 1732 to force small and home businesses and church schools to replace "men" and "women" signs with "all-gender" signs at single-user restrooms.
Yet in California's pro-family community, the most shocking support for AB 1732 came from a pro-family legal organization leader, who said the bill "makes a lot of sense," that he say "nothing with laws" like AB 1732, that he would not oppose it, and commended the bill for being "sensitive to many transgendered people."
What's the upshot of all this? Pastors who preach and individuals who teach must purposefully strive to a) hold people in leadership positions accountable to biblical sexual standards, b) teach separateness from evil (holiness), c) warn against partnering with evil people, d) condemn political prostitution, and e) urge people to vote for candidates with proven moral-values integrity.
Because sadly, these dark days, a "Christian" who won't "compromise" seems a rarity.
The harm of SB 1146 | SB 1146 votes
The harm of AB 1732 | AB 1732 votes
Do not be deceived: "Evil company corrupts good habits."
1 Corinthians 15:33
Do not be unequally yoked together with unbelievers. For what fellowship has righteousness with lawlessness? And what communion has light with darkness? And what accord has Christ with Belial? Or what part has a believer with an unbeliever? And what agreement has the temple of God with idols?
2 Corinthians 6:14-16