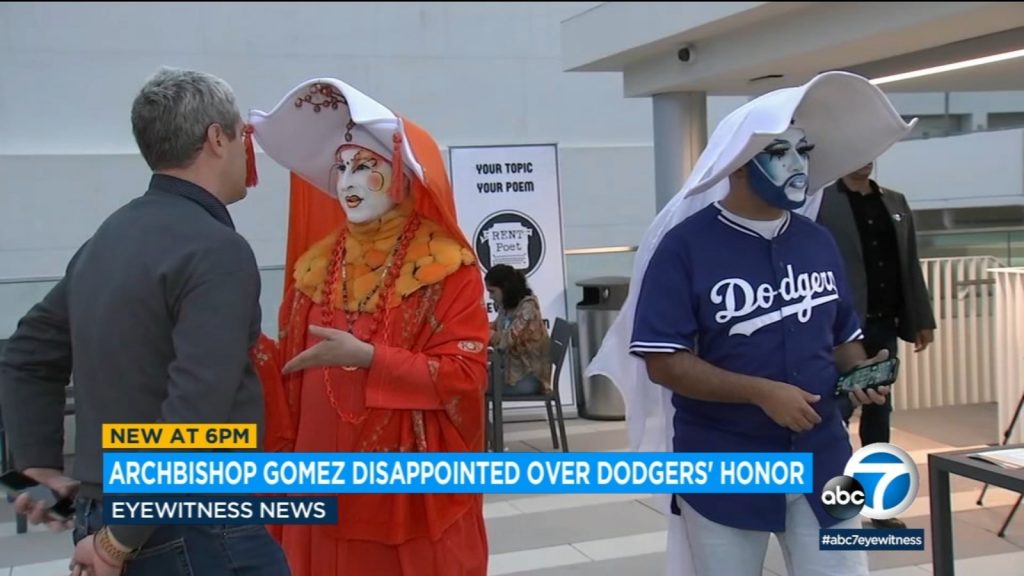 If you're upset about perverse drag queens, who call themselves "the Sisters of Perpetual Indulgence," being put on a pedestal of public honor, stop and realize it's happening because of homosexual activists and younger Democrats in positions of power.
June 5, California's State Capitol: Inviting and honoring the "Sisters" were the group of Democrat legislators who are open homosexuals.
June 7, Angel Stadium: Inviting and honoring the drag queens was the Democrat mayor of Anaheim, Ashleigh Aitken, who's from a "staunchly Democratic" family of lawyers.
June 16, Dodger Stadium: Inviting and honoring the "Sisters" is Dodgers executive Erik Braverman, an open homosexual, who started Dodgers' "LGBTQIA+" "Pride Nights" in 2013 and last year "married" his "husband" on the pitcher's mound.
You see how this is being pushed by open homosexuals and Democrat politicians? And if you support giving them positions of power, you're indirectly supporting the transsexual agenda too.
Remember, no one can "change" their sex. You are either male or female. If you've inherited a Y chromosome from your biological father, you're male; if not, you're female.
Both transsexual and homosexual behavior are unhealthy, with higher rates of STDs, cancer, and early deaths. And "trans" surgery causes irreversible damage.
Today, before "Pride Night" at Dodger Stadium in Los Angeles, there's a Catholic-led protest. Yet the best protest is to stop voting for or supporting Democrats or homosexuals. Because they're the ones ushering in sexual anarchy and ruining children.
"A woman shall not wear anything that pertains to a man, nor shall a man put on a woman's garment, for all who do so are an abomination to the Lord your God."
Deuteronomy 22:5
"You shall not lie with a male as with a woman. It is an abomination."
Leviticus 18:22