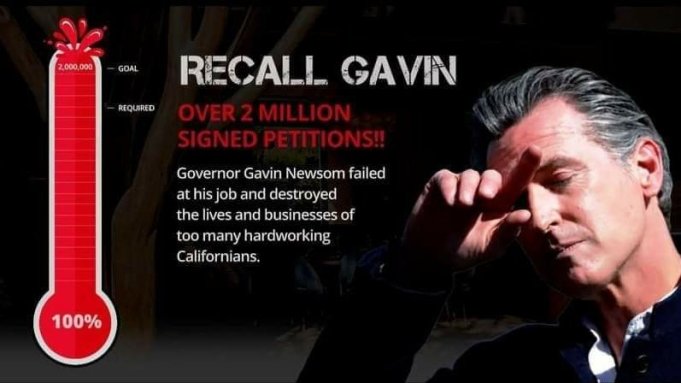 SaveCalifornia.com provides this solely for educational purposes
and does not support or oppose candidates for public office.
When the final signatures for the recall of Democrat Governor Gavin Newsom were turned in with California county registrars of voters on March 17, the Recall Gavin Newsom campaign reported 2,117,730 total signatures were filed. What a historic civic achievement.

Hypothetically, if there's a 75% validity rate, this means 1,588,297 valid signatures, which would be 92,588 valid signatures above the minimum number needed, which is 1,495,709 valid signatures. So I'll bet money this will be on the ballot this fall.

I want to remind you how important it is to vote your values. Remember the 2003 California recall election when many conservatives chose social-liberal Arnold Schwarzenegger over rock-solid conservative Tom McClintock? Don't vote for personality or non-policy issues, but vote for someone who'll consistently veto every bad bill (most all of them) passed by the Democrat-controlled State Legislature.

At this time, your main "Republican" choices are (there are other minor candidates), according to the public-policy records of "On the Issues" are: Ric Grenell, a homosexual "married to a man" (no legislative record); two half-conservatives: "Moderate" Kevin Faulconer, and Doug Ose, a "Moderate" who leans conservative; and "Hard-Core Conservative" John Cox. Will moral conservatives rally around one candidate to replace Newsom to represents their values? If so, the math says that candidate can win the necessary plurality on the second question on the recall ballot, even with 30-35% support.
"'Choose wise, understanding, and knowledgeable men from among your tribes, and I will make them heads over you.' … Then I commanded your judges at that time, saying, 'Hear the cases between your brethren, and judge righteously between a man and his brother or the stranger who is with him. You shall not show partiality in judgment; you shall hear the small as well as the great; you shall not be afraid in any man's presence, for the judgment is God's."
Deuteronomy 1:13,16-17