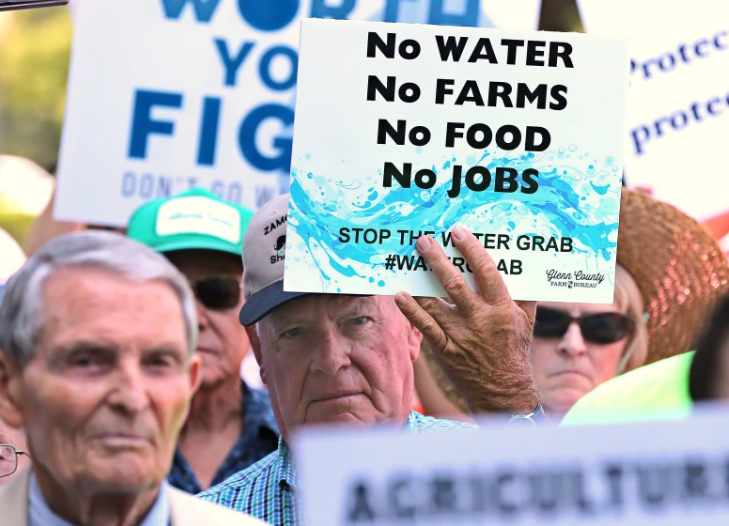 All the rain California has been receiving is good, right? Filling up water storage, replenishing ground water tables, deepening the snow pack? Yet the ruling Democrats are failing to adequately capture and store rainwater, causing devastating flooding.
A new example is Democrat Gov. Gavin Newsom made sure 95% of the recent rainfall in the Greater Sacramento region — which, instead of being captured by new dams — flowed into the Sacramento-San Joaquin Delta, where it was then pumped into the Pacific Ocean.
What's more, in the last 30 years, Democrat politicians, at the behest of environmental groups, have demolished over 100 small dams in California, with major dams on the North Coast and in Ventura County scheduled for destruction. This is anti-people to the core!
A hopeful sign, however, is some non-political Democrats are seeing the light. Liberals at both NPR and U.C. Santa Cruz are proposing more water storage for California. The last major dam built was Oroville Dam in Butte County, in 1970. Since then, the state's population has doubled.
Are people and farms that grow our food more important than the fish environmental groups and their Democrat politicians claim to protect? SaveCalifornia.com says yes. Because people are made in the image of God, Who gave us animals to use and eat, among other things.

Want to stop the insanity of robbing water from people? Peacefully work against Democrats and RINOs, who push the environmental-group, anti-water-storage agenda.
…Gavin Newsom announced final approval of a plan to remove four dams on the Klamath River in Northern California, along with Oregon Governor Kate Brown, U.S. Secretary of the Interior Deb Haaland, Congressman Jared Huffman and leaders of the Yurok and Karuk tribes. Newsom refers to the dam removal project as "transformative" and says "it will revitalize nearly 400 miles of the Klamath River and tributaries."
"Lawsuit Filed to Halt Removal of Northern CA Klamath River Hydroelectric Dams," California Globe, 12/14/22