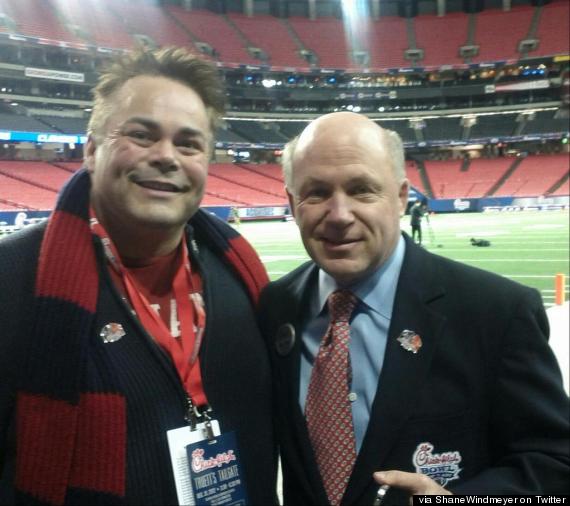 11/27/19 update: Chick-fil-a donated to Southern Poverty Law Group (SPLC), a top hater of U.S. Christian values, in 2017, in addition to funding other anti-family groups. Documentation: Townhall | The Federalist
Are you disturbed by how Chick-fil-A will no longer donate to Christian organizations that oppose the unnatural, unhealthy, tyrannical, unbiblical "LGBTQIA+" agenda?

I'm sad about it too. But I'm not shocked, because I saw this coming.
You see, in 2012, which is the same year that more than a million pro-family Americans showed up at local Chick-fil-A's to support the outspoken man-woman marriage virtues of Chick-fil-A's "Christian" CEO Dan Cathy, this mild-mannered heir to his father's restaurant business quietly met with a homosexual activist, who "helped" the fast-food giant play "nice" and redefine "love" as going silent about people's sins.

This happened the very same year that SaveCalifornia.com followed Mike Huckabee's call for "Chick-Fil-A Appreciation Day" and urged all our consitutents to spend money at Chick-fil-A, and in the process produced an exciting 10-minute SaveCalifornia.com video to promote Chick-fil-A's (at the time) Christian values.

Sadly, it took less than six years for Chick-fil-A to totally sell out by siding with homosexual and transsexual activists against the Salvation Army and the Fellowship of Christian Athletes, all because the tyrannical "LGBTQIA+" mob had labeled SA and FCA "anti-LGBT" organizations.

I'm not alone in my sadness about Chick-fil-A siding with evil against good. Joining me in blasting Chick-fil-A for rejecting biblical and family values and instead advancing the "LGBTQIA+" agenda are national pro-family leaders, including the founder of the August 1, 2012 "National Chick-fil-A Appreciation Day" Mike Huckabee, Focus on the Family president Jim Daly, Family Research Council president Tony Perkins, Liberty Counsel chairman Mat Staver, American Family Association president Tim Wildmon, Christian radio talk host Janet Mefferd, Christian blogger Matt Walsh, and Christian apologist Michael Brown, among others.
For the love of God and to love people, they're correctly rebuking Chick-fil-A for claiming to be "Christian," but caving to "LGBTQIA+" activists, while selling out biblical Christian ministries and instead funding pro-"LGBT" organizations, such as "Covenant House." (See the evidence)

For this reason, it is love for all moral conservatives to rebuke and shun Chick-fil-A. Because Chick-fil-A's new policy PUNISHES Christianity, we must do what we can to remind everyone that moral speech is free speech and religious freedom that is enshired in our U.S. Constitution.
I mean, do you want Chick-fil-A to prosper in its message and example of trampling Christian values? And do you want want Chick-fil-A to snuff out the Gospel message of repenting of sins and what sexual sins include? Every person who believes in God's Word should say "absolutely not!"
Here are just some of the the loving outcomes if lots of people with moral values avoided Chick-fil-A:
People learn to not support evil policies.
Christians, especially, learn that loving Jesus Christ is to not partner with evil.
Children, especially, learn that it is evil to oppose the Bible and religious freedom.
Christians, especially, learn to act upon their values.
Other businesses, seeing how Chick-fil-A is losing, not gaining, customers, will be more likely to tolerate Christian values instead of punishing Christian values.
Homosexuality and transsexuality are not promoted as much, resulting in more respect for religious freedom and fewer children being damaged.
Constitutional religious freedom (loyalty to God) is promoted more in our land.
Bottom line, it's healthier when we avoid fast food, and America will get better, not worse, if Christians and other moral conservatives cling to what's right and shirk what's wrong. As for me, I'm sticking with the Bible and telling Chick-fil-A to take a hike. "No mor" of their chicken for me.

For this reason God gave them up to vile passions. For even their women exchanged the natural use for what is against nature. Likewise also the men, leaving the natural use of the woman, burned in their lust for one another, men with men committing what is shameful, and receiving in themselves the penalty of their error which was due.
Romans 1:26-27