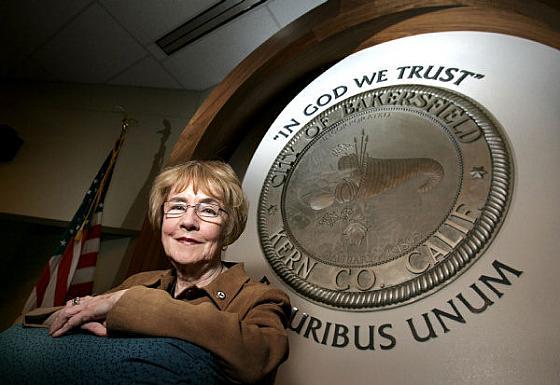 June 6, 2019 update — Bakersfield City Council approves "In God We Trust" on police and fire vehicles! See more on this significant win on SaveCalifornia.com's Facebook page.

Did you know "In God We Trust" was first engraved on coins in the United States of America in 1864? 
And despite legal challenges by atheists, the federal appellate courts have upheld "In God We Trust" as completely constitutional (as they should — a no-brainer).
On April 2, Pastor David Vivas of Delano (a city near the north border of Kern County) spearheaded the Delano city council's approval of "In God We Trust" on the sides of police vehicles. The city council approved the idea and decals are being designed now.
There are more than 100 California cities and counties that already have "In God We Trust" prominently displayed either on one, some, or all of their local government buildings. Our national motto on police vehicles is as constitutional as "In God We Trust" on our money.
Then, on May 22 in Bakersfield, Pastor Angelo Frazier and City Councilwoman Jacquie Sullivan led the way to put a vote for "In God We Trust" on city police vehicles on the June 5 Bakersfield city council agenda. Atheists, who hate "In God We Trust" on U.S. currency, spoke against it.
TAKE ACTION
Right now, your voice of support for "In God We Trust" is needed so Creator God's Name can be publicly honored. SaveCalifornia.com makes it simple to take action:
It's easy for you to email the 7 Bakersfield city councilmembers. Without revealing where you live, simply click this link to send a pre-written email (which you can edit), reading:
Please vote YES to approve "In God We Trust" decals on the sides of police vehicles in the City of Bakersfield. It's our national motto, it's on Bakersfield city buildings, and it's a much-needed message in our culture today. People young and old will benefit, as will our public servants who are sworn to uphold the law for the good of everyone. Please vote in favor of this worthy proposal to honor our national motto, which, in turn, honors the Creator of us all. Thank you.
And if you live within the city limits of Bakersfield, please also call the city council main phone number at 661-326-3767. You can easily leave a brief voicemail, saying, "This is for all seven councilmembers," then deliver the rest of your message, saying "Councilmembers," (then read the pre-written message or use your own words). You can also call during the week to leave live messages with city staff (which could be more complicated). Please do what you can to stir up more calls of support in Bakersfield, in church congregations and from others who share your values. Remember, the city council will vote on June 5.

The fear of the Lord is the beginning of wisdom,
And the knowledge of the Holy One is understanding.
Proverbs 9:10
Let us hear the conclusion of the whole matter:
Fear God and keep His commandments,
For this is man's all.
For God will bring every work into judgment,
Including every secret thing,
Whether good or evil.
Ecclesiastes 12:13–14