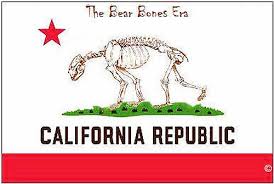 SaveCalifornia.com provides this solely for educational purposes
and does not support or oppose candidates for public office.
Do you know why Nevada and Arizona have gone, or are going, Democrat? Because many California Democrats, concerned about sky-high housing costs, scary crime, and bad "public schools," have left here for there, without considering the cause of the effect.

Yet the cause of their problems was and is the Democrat "rulers" of California. And while former Californians who are still Democrats didn't stop to think that deeply, you can help concerned Democrats and independents in California to wake up and connect the dots.
What is causing the unprecedented "mandates" and "division" and "shortages" you're seeing — including high gas prices, "coin shortages," and hospital nurses being fired?

Because these societal ills didn't "just happen." No, each has been caused by political entities, i.e. "the government." But just who is "the government"?
Ask yourself — where are you seeing the anti-people policies of firing folks who don't get the so-called "Covid vaccine, punishing health-conscious people for opposing masks and jabs, and paying people not to work? Nearly everywhere Democrat politicians are in control — in California, in other Democrat-run states, in Democrat-controlled companies and colleges, and in policies emanating from Democrat-controlled Washington, D.C.
And if there are any Republicans participating in this institutional evil, they have become "prostitutes" of their Democrat "pimps," being richly rewarded for their slavish loyalty.

Now think of all of California's chronic problems: bad public schools, rising crime, destructive wildfires, water mismanagement, unaffordable housing, the homelessness epidemic, high taxes and fees, higher prices on most everything, record-high STDs, providing every magnet for illegal immigrants, sexual anarchy, the legalizing "recreational" drugs, attacking free speech and religious freedom, decreeing hyper-controlling "mandates," and unscientifically masking children.

Who can you "thank" or blame for all these problems? The Democrat politicians. Remember, Democrats control the California State Legislature — since 1957 in the State Senate and 1959 in the State Assembly.* Everything's been on their watch for decades.

This is why every "monster fire" on state lands is a Democrat fire, why violent crime is Democrat crime, why too-high housing prices are Democrat prices, and why people losing their jobs and their small businesses last year and this year are the Democrats' doings.

TAKE ACTION: Share this information with everyone you can. Show them what they get with the Democrat politicians are anti-people policies resulting in widespread misery.

*The exceptions to Democrat control of the California Legislature since the late 1950s was in 1969 to 1970 when Republicans controlled both houses for over a year, and in 1996 when Republicans controlled the Assembly for just one year (in 1995, two "Republicans" became speaker after agreeing to give Democrats control of all the committees).
When the righteous are in authority, the people rejoice;
But when a wicked man rules, the people groan.
Proverbs 29:2