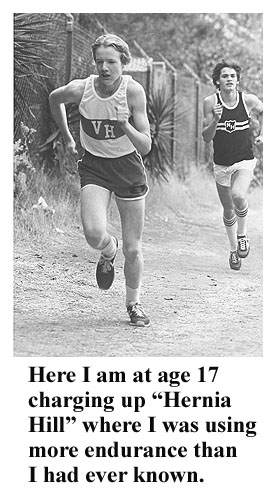 Sometimes, the most powerful story of perseverance is your own.
Like that impossible situation you determined to take on…
Or that amazing opportunity where you gave your all…
Or that crucible where you did what's right, despite temptation or opposition.
For me, learning about perseverance started on "Hernia Hill." It was an incredibly steep hill I faced many times running on the cross-country team in high school.
That hill was dreaded by every guy on the team, including me. But oh, the goodness that awaited just beyond the peak as "Hernia Hill" descended to flat land — the coveted finish line!
During one race, I ran my best and found myself in second place just before the steep incline. Pressing ahead in pain when my body was telling me to quit, I pushed myself past my opponent and won, setting a school record.
At the time, I didn't realize the impact that conquering "Hernia Hill" had on me. I could have quit when it looked impossible. I could have walked away when it got too hard.
Thankfully, I didn't.
That young story of perseverance helped build in me the fortitude that I would eventually need to work in Sacramento for pro-family values, and ultimately the leadership of SaveCalifornia.com.
To be bold and persistent. To stay the course when it gets hard. And to do what's right for our side — no matter the outcome — and despite opposition from enemies of the moral and Biblical values you and I hold dear.
Yes, the lessons then prepared me to live out of my comfort zone. Like lobbying politicians at the State Capitol; debating liberal opponents on local and national TV; working on a slew of challenging issues impacting moral values and our freedoms in this state.
I hope as you reflect on your times of perseverance — your own "Hernia Hill" — you will recall the magnificent endurance you learned, and how it helped you be a stronger person today.
Because we both know that perseverance is absolutely required by moral patriots such as you and me.
And just as you have persevered so many times, like I persevered in cross country, SaveCalifornia.com has been persevering for children and families in California since 1999.
THANK YOU for being a part of who we are and what we do. Thank you for allowing me and our Team to work FOR you and your family, and AGAINST the radical Left that desperately wants to silence our voice for Godly values and remove our freedoms.
Together, let's keep persevering for all that is good and right and true. Let's keep running the race and fighting the good fight in California. Thanks again!
P.S. It's an honor to represent your voice and your values in the fight for what's right in California. As we persevere on behalf of your family values, we would be honored to receive your generous support. Your tax-deductible gift to SaveCalifornia.com will give a voice to your values, and provide bold representation on key issues impacting your family. Together, let's make sure our voices are heard, not silenced! Give your gift here.
Blessed is the man who endures temptation;
for when he has been approved,
he will receive the crown of life
which the Lord has promised to those who love Him.
James 1:12
And not only that, but we also glory in tribulations,
knowing that tribulation produces perseverance;
and perseverance, character; and character, hope.
Roman 5:3-4