2ND UPDATE Tuesday Oct. 24: In tonight's Republican caucus meeting, a fourth round of voting to choose a House speaker nominee. And, with 128 votes, Mike Johnson of Louisiana has the majority. Among all the speaker candidates so far, with Liberty Score of 74%, Mike Johnson is the 5th-most conservative (after Byron Donalds (100%), Jim Jordan (94%), Kevin Hern (82%), and Gary Palmer (80%). So will the RINOs finally fold and support Johnson?
UPDATE Tuesday Oct. 24: Today, RINO Tom Emmer (Majority Whip under former speaker Kevin McCarthy) won the majority vote of the Republican caucus. Yet it took four ballots, more Emmer and his moderate/liberal "Republican" allies expected. Then Emmer requested a roll call vote of Republicans and more than 20 conservative, moral-values Republicans said "no way" to Emmer's left-leaning candidacy. So after 4 hours of hard questions in this private "town hall meeting," Emmer ended his bid for speaker (see latest updates).
As soon as Wednesday, Oct. 25, another round — five Republicans will speak to the Republican caucus members about why they should be speaker. Among the five now running, can you spot the RINOs (Republicans in Name Only)? Hint: They have low grades on conservative, constitutional policies:

Byron Donalds of Florida
Liberty Score 100% (A grade)

Chuck Fleischmann of Tennessee
Liberty Score 56% (F grade)

Mark Green of Tennessee
Liberty Score 85% (B grade)

Mike Johnson of Louisiana
Liberty Score 74% (C grade)

Roger Williams of Texas
Liberty Score 76% (C grade)

Call your Republican U.S. Rep now at 202-225-3121 to demand Byron Donalds as speaker!
* * *
After rejecting both RINO Steve Scalise and pro-family constitutionalist Jim Jordan, the registered Republicans running the U.S. House of Representatives are now on "round three" of speaker candidates.
Demonstrating how this race is now wide open, there are several who have thrown their hats into the ring. On Friday, SaveCalifornia.com showed our social media followers the conservative moral/social/fiscal issues Liberty Scores of the speaker candidates: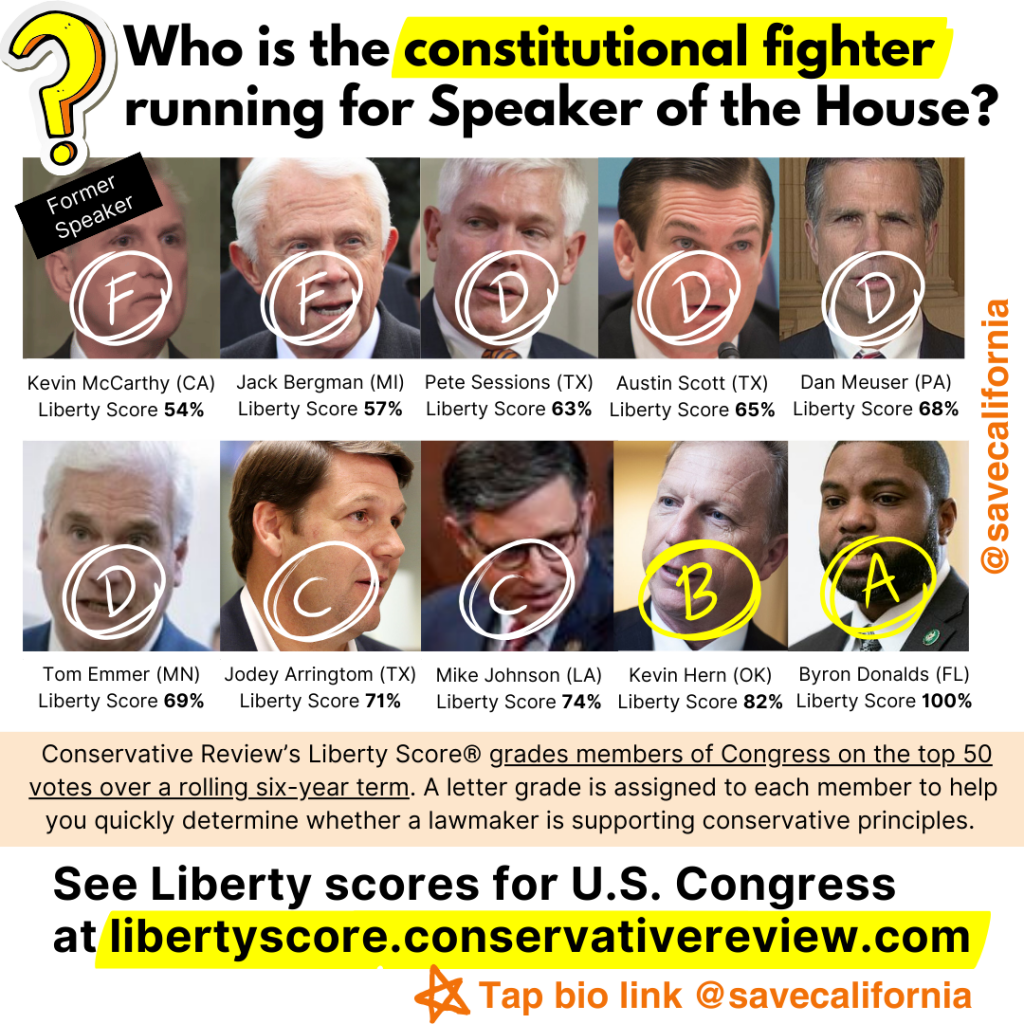 Today's update is Jodey Arrington of Texas is not running, but Gary Palmer of Alabama is. And among the Republican speaker candidates, Palmer has the third-highest Liberty Score — 80%. The Republican caucus is expected to hold internal votes as soon as this Tuesday.

UPDATE Monday, Oct. 23: RINO Republican Dan Meuser has dropped out.

Why do these scores, based on member's actual votes, matter? Because we need a conservative constitutional fighter as the powerful Speaker of the House to: short-term, steadfastly stop all bad bills; mid-term, aggressively use the House's investigatory powers to expose the Deep State, the Bidens, election fraud, and much more; and long-term, to help true conservatives (not RINOs) be elected.
TAKE QUICK ACTION: Call your own Republican U.S. Representative (if you have one), to say "Support a conservative constitutional fighter for speaker." It would also be wise to name your top 1, 2, or 3 speaker picks, since at Tuesday's private, internal meeting, there might be several ballots in an elimination process. Call 202-225-3121 and provide your zip code, or send an email via house.gov when you enter your zip code.
"We're fighting against humanism, we're fighting against liberalism…we are fighting against all the systems of Satan that are destroying our nation today…our battle is with Satan himself."
Moral Majority founder Jerry Falwell (1933-2007)