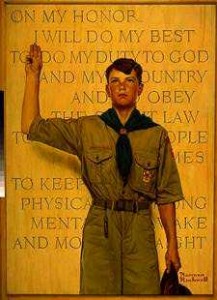 The latest attack of homosexual activists against the Boy Scouts is very important, perhaps more important than the Boy Scouts and scouting families know.
First, let's establish some facts about what's being debated. There is no "gay gene" and no biological basis to homosexuality. Homosexual behavior is unnatural, unhealthy, unbiblical, and its political agenda is tyrannical against those who don't support it. So keeping out homosexual-bisexual-transsexual role models and influences is definitely in the best interest of training boys to be "morally straight."
Understand the first two facts by visiting SaveCalifornia.com's Not Born This Way page. Understand why all sexual activity outside of man-woman marriage is immoral by seeing Matthew 19:4-6, Mark 7:21-23, Romans 1:26-27, and 1 Corinthians 6:9-11, to name a few scriptures.
The good news is the newest push by homosexual activists to invade scouting tents has been temporarily stalled. But the bad news is the homosexualization of the Boy Scouts may eventually occur, unless they get back to the Bible.
I fully acknowledge the likelihood that, in May, the 1,400-member national council of the Boy Scouts of America will affirm the current policy against homosexual staff, scoutmasters, and members.
But  as long as the Boy Scouts remain a non-religious/non-Biblical organization and don't insist on board members who love morality more than money, I'm concerned that their days as a "morally straight" youth organization are numbered.
Consider all the Christian-format hospitals and universities that were founded more than a century ago, but are now bastions of unbiblical values. And don't forget the Christian church denominations that have been systematically taken over by those who despise the revealed word of God in Scripture. For if "Christian" institutions can fall when future generations of leaders ignore Biblical standards, how much easier can officially "non-religious" organizations with only "moral" principles eventually implode from within?
To protect boys from immoral values emanating from within Scouting, I recommend the Boy Scouts consider doing the following:
1.    Make the Bible the standard of the Boy Scouts, not merely holding beliefs based on society's frequently-changing perspectives on "God" and "morality." Draft new bylaws stating its commitment to Biblical values and name core principles.
2.    Prohibit anyone from being in the Scouts unless they agree, in writing, with these core principles.
3.    Dramatically downsize the paychecks of Scout executives and size of Scout offices to reduce the temptation to pursue money over morality.
4.    In order to maintain religious freedom, be willing to abandon its Congressional charter and government support, if necessary.
5.    Restore this policy statement to the Boy Scouts' official websites, which was posted from 2004 to 2010, when it was taken down: "Boy Scouts of America believes that homosexual conduct is inconsistent with the obligations in the Scout Oath and Scout Law to be morally straight and clean in thought, word, and deed. The conduct of youth members must be in compliance with the Scout Oath and Law, and membership in Boy Scouts of America is contingent upon the willingness to accept Scouting's values and beliefs. Most boys join Scouting when they are 10 or 11 years old. As they continue in the program, all Scouts are expected to take leadership positions. In the unlikely event that an older boy were to hold himself out as homosexual, he would not be able to continue in a youth leadership position."
The new policy, posted on June 7, 2012, is: "While the BSA does not proactively inquire about the sexual orientation of employees, volunteers, or members, we do not grant membership to individuals who are open or avowed homosexuals or who engage in behavior that would become a distraction to the mission of the BSA."
And now, here in 2013, some national board members in the Boy Scouts reportedly agree with homosexual activists — and agree with both Barack Obama and Mitt Romney — to get rid of this standard altogether. Do you see the slide?
As the Boy Scouts struggle comes to a head, it's time for a spiritual reality check about what's best for morally-sensitive families, which is why, over the years, many "Bible-based" and "Christian discipleship" alternatives to Boy Scouts — and Girl Scouts — have sprung up.
Let love be without hypocrisy. Abhor what is evil; cling to what is good.
Romans 12:9 NASB