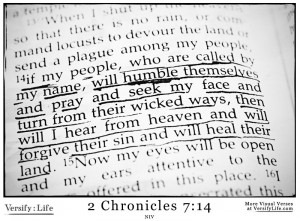 Daily prayer to God is essential for the soul to be filled, not empty; solid, not confused. I find that when I don't pray to God each morning, it's much easier for me to sin that day.
But will God hear your prayers if you're not truly sorry for your sins? Consider this top Bible verse for the National Day of Prayer, from 2 Chronicles 7:14:
…if My people who are called by My name will humble themselves, and pray and seek My face, and turn from their wicked ways, then I will hear from heaven, and will forgive their sin and heal their land.
Note how this is a conditional promise from God. For only "if" God's people follow God's three requirements will God "then" do three miraculous things in response. What does God require of us?
1. "Humble themselves": Humility means recognizing our lowly and dependent status before God, and to recognize and confess our sins and guilt before the Creator.
2. "Pray and seek My face": This is your sincere prayer to your true God. Praying to Him "in spirit and in truth" (John 4:24) is how Jesus Christ described true worshipers that the Father seeks. In the context of 2 Chronicles 7:14, this is appealing to the Judge of the Universe, who is offering forgiveness for His People if they fulfill these requirements: a) become humble, b) pray to God in light of His judgment of sin and power to forgive, c) repent of all known sin.
3. "Turn from their wicked ways": This is the required condition for forgiveness that too many people ignore. "Turn from" means to depart from or abandon. All sinful practices are wicked to God. Fulfilling this condition requires deep humility and fear of God. Turning is an action that proves your attitude. Turning from your sins and turning to God means to replace your desire and practice of sin with a desire for God and His holiness. This hard work requires "putting to death" sinful practices. "For if you live according to the flesh you will die, but if by the Spirit you put to death the deeds of the body, you will live" (Romans 8:13).
So when you pray daily or pray to God with others on National Day of Prayer on Thursday, May 2, remember to take personal inventory and intend to repent of all known sin in Jesus' name. For then God will hear from heaven and forgive your sin.
Locate a May 2 National Day of Prayer event near you and participate
(if you don't find a public prayer event online, ask a pastor or friend what's happening in your community)
"When you spread out your hands,
I will hide My eyes from you;
Even though you make many prayers,
I will not hear.
Your hands are full of blood.
Wash yourselves, make yourselves clean;
Put away the evil of your doings from before My eyes."
Isaiah 1:15-16 NKJV