Is back from school better than back to school?
The government schools' sexual indoctrination laws, failure to teach reading proficiency, and bad peer pressure was the topic August 19 when I was on VCY America's CrossTalk with Jim Schneider (heard in the Great Lakes / Midwest states).*
This very informative interview is must-listening for concerned parents

and grandparents. Listen now (takes about a half minute to load)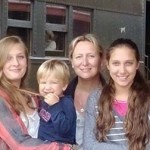 After the show, Patty posted on our SaveCalifornia.com Facebook, "Just heard the show on VCY today. So much information! Thanks for the encouragement! I believe if there is a will, there is a way! Thank you!! I got my kids out of GS as a single parent 7 yrs ago. God knew the desire of my heart and he provided a job for me at a Christian school where my kids got to attend and then I have my own biz on the side that is flexible. God so provided!! Anyone can do this if they REALLY want to! Vacations and retirement funds are over rated! Loving your kids gives the best satisfaction!"
* In the 53-minute interview, I made two errors that deserve public correction:
At 27:30, I say that America's immorality is causing despair among children and "anger against children." While it's true that immoral adults can become anti-child, I meant to say societal and family immorality causes despair and anger in children.
At 29:05, I say that liberal public education founder John Dewey "created the Dewey decimal system for libraries." That is incorrect. The Dewey decimal system was named after its inventor, Melvil Dewey (1851-1931). My apologies to pro-family library workers!
There are now 10 sexual indoctrination laws impacting children in every California public school. There is no parental opt-out and no child is exempt. See these bad laws, then rescue your child.
Our special site, RescueYourChild.com