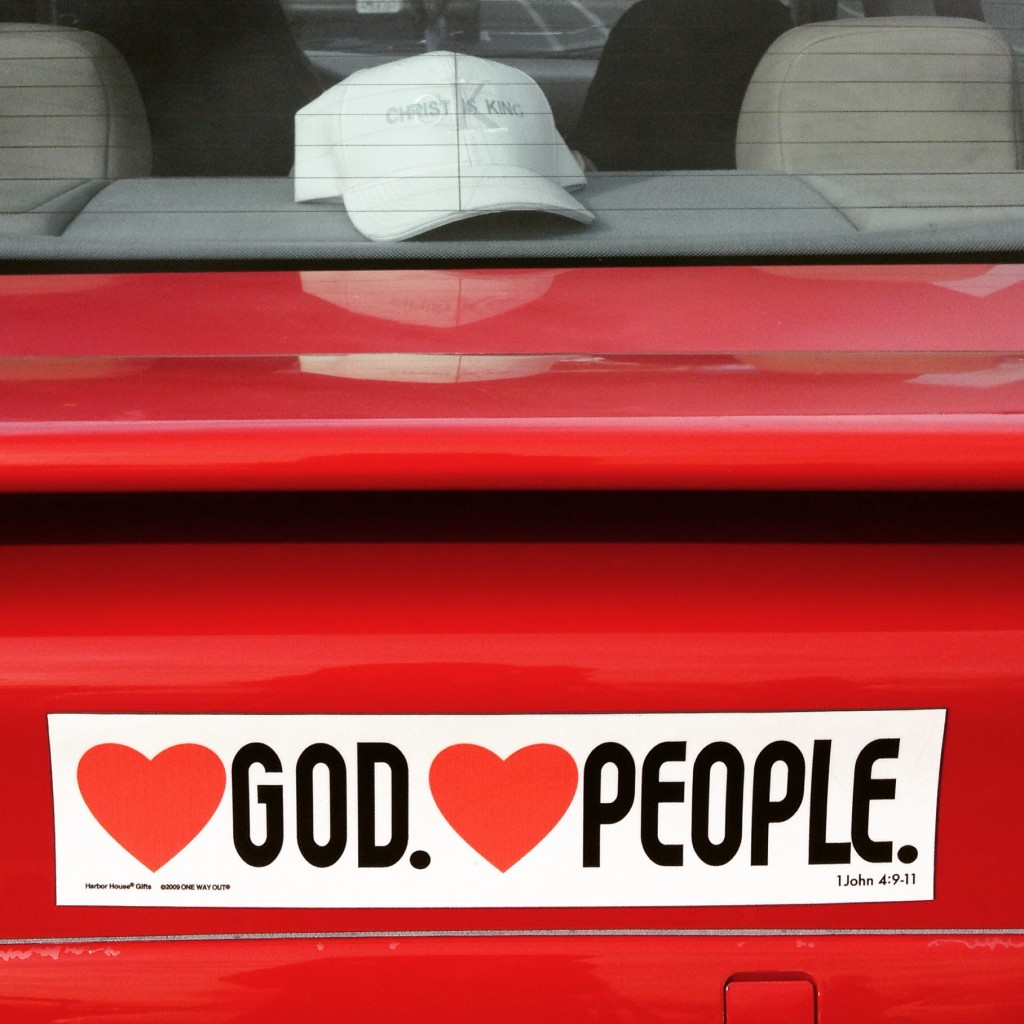 I saw this car in a parking lot and just had to take a picture. The bumper sticker "Love God / Love People" can and should be the singular goal of people who claim (like on the cap behind the window) that "Christ is King."
The older I get, the more I question my motivations. Am I here on earth to serve myself, or to serve my Maker and His created people?
For if my self-satisfaction relies on my own comfort and pleasure, isn't this the very definition of selfish? And if my values are merely "traditional" and not my heart beating hard with love, how quickly my values can be ignored under pressure or diminish over time.
Think about. Every baby is born selfish. This is why each one of us must teach ourselves God's principle of love, unless it was drummed into our heads by wise parents (which is exceptional).
I've tried to define love Biblically as "giving God's goodness." One of my favorite Bible commentators, Adam Clarke, who was a protégé of John Welsey, defined love as simply "pleasing God" (how different from the love definitions of Hollywood, the world, and our own flesh!).
What's more, I'm remembering that "speaking the truth in love" (Ephesians 4:15) means a God-approved truth with a God-approved motive. And I remind myself that my act of love for others is not dependent on people recognizing it as love or even their reaction to my love. Most of all, I'm holding fast to the reality that God defines Truth, but I decide whether to love with the right motive followed by the right action.
So if, like me, you find yourself deficient in love, just sincerely confess and repent of it before God. Then you'll bear fruit in life and get good things done because your mind is refocused to love people on God's terms. Don't think it's too hard, because you were created for this!
Jesus said to him, "'You shall love the Lord your God with all your heart, with all your soul, and with all your mind.' This is the first and great commandment. And the second is like it: 'You shall love your neighbor as yourself.'''
Matthew 22:37-39 NKJV
The love of our neighbor springs from the love of God as its source; is found in the love of God as its principle, pattern, and end; and the love of God is found in the love of our neighbor, as its effect, representation, and infallible mark. …This is the religion of Jesus! How happy would Society be, were these two plain, rational precepts properly observed! Love Me, and love thy Fellows! Be unutterably happy in me, and be in perfect peace, unanimity, and love, among yourselves. Great fountain and dispenser of love! fill thy creation with this sacred principle, for his sake who died for the salvation of mankind!
"Prince of Commentators" Adam Clarke on Matthew 22:39