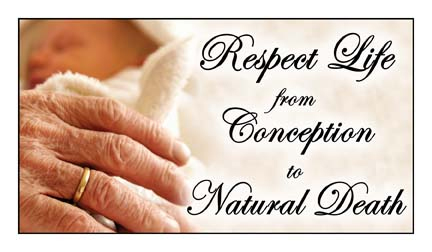 Is innocent human life sacred? Should doctors be able to kill any patients?
If you answered YES to the first question and NO to the second, please make this 1 phone call right now.
You are needed to oppose the Democrat state legislators' bill, SB 128. This very bad bill would permit California physicians to prescribe deadly drugs to so-called "terminal" patients. Don't let California become the Suicide State!
1. Call your own state senator's State Capitol and district office too (the bill will be voted on first in the State Senate).
Enter your address here to find your California state legislators,
then click your state senator's web page
On the senator's home page there are phone numbers or a tab with phone numbers
Leave a message such as, "Please vote NO on SB 128. Patients don't need to be killed with a deadly drug, they deserve counseling, referrals to natural medicine physicians, and pain management if needed. Suicide is not the answer to anyone's problems, and suicide is not something the State of California should ever promote."
2. Want to do more? Call the members of the Senate Health Committee which is scheduled to decide SB 128 on March 25. The bill needs 5 votes to pass the 9-member committee, so please especially call the 3 undecided Democrats (marked with **) and the 2 Republicans on the committee (marked with *):
Senator Ed Hernandez (Chair) SD22 (coauthor of SB 128)
*Senator Janet Nguyen (Vice Chair) SD34
Senator Isadore Hall, III SD35 (coauthor of SB 128)
**Senator Holly J. Mitchell SD30
Senator Bill Monning SD17 (coauthor of SB 128)
*Senator Jim Nielsen SD04
**Senator Richard Pan SD06
**Senator Richard D. Roth SD31
Senator Lois Wolk SD03 (coauthor of SB 128)
3. Have a business, organization, ministry, or school? Add your name to the official list of SB 128 opponents that all the committee members see. You can help make this a long list! Fax your one- or two-page opposition letter on your business, organization, ministry, or school letterhead to the Senate Health Committee office at 916-266-9438 before noon March 18. Don't have a fax? You can also email your opposition letter to Teri.Boughton@sen.ca.gov.
Your letter can include relevant talking points you agree with in SaveCalifornia.com's Jan. 21 news release or Life Priority's March 9 alert. The point is that it's on your official letterhead, with your signature and your title at the end of it, and following this general format at the top:
March 12, 2015
The Honorable Ed Hernandez
Chair, Senate Health Committee
State Capitol, Room 2191
Sacramento, CA 95814
RE: SB 128 — OPPOSE
Dear Senator Hernandez,
_____________________ (name of business, organization, ministry, school) opposes SB 128…
* * *
(After faxing the committee at 916-266-9438, please also fax your letter to SaveCalifornia.com at 916-848-3456 or paste your email in our web form. Thank you!)
I will not give a lethal drug to anyone if I am asked, nor will I advise such a plan; and similarly I will not give a woman a pessary to cause an abortion.
Hippocratic Oath