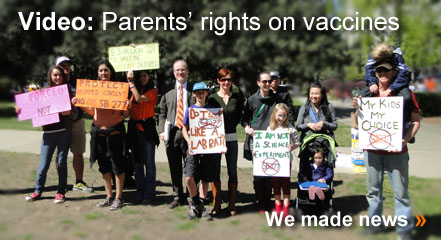 If you're like me, sometimes you don't even watch the news because it's so one-sided. But sometimes, when SaveCalifornia.com seizes the opportunity, the news can be one-sided…for parental rights!
Enjoy these two Sacramento-area news reports from March 25 featuring parents of vaccine-injured, autistic children, along with Dr. Robert Rowen, in front of the State Capitol:
Then, please pick up the phone and urge these key senators to oppose the anti-parents'-rights, anti-informed-consent bills, SB 277 and SB 392.
Thank you for all who support our Campaign for Children and Families, as we stand true for parental rights, constitutional rights, and basic human rights.
No man is good enough to govern another man, without that other's consent.
I say this is the leading principle—the sheet anchor of American republicanism.
Abraham Lincoln in 1854