If you've been tracking with SaveCalifornia.com lately, you know it's been a hard-working two weeks serving you and your moral values.
In fact, we've has been so busy, we haven't mailed out any updates on what your financial help has been doing and how you can do even more good as we persevere for righteousness.
If you want God's design of marriage, family, and gender to be lifted up, not torn down, will you stand with me today with a gift of $10? Together, we can shine the light of truth that heals and protects — in California.
I appreciate you wonderful moral values and especially for you kindness if you've donated to SaveCalifornia.com recently. You are on a winning team! Because whenever you stand for what's right in God's sight, it's a success — no matter the outcome.
In the last two weeks, your moral and family values have been championed in these three important areas: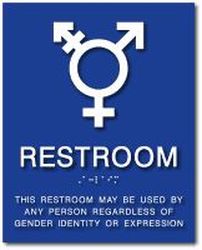 1. "All gender" bathrooms: First, transsexuals want to eliminate man/woman differences for all single-person restrooms (AB 1732). Then, once the younger generation is desensitized, "sex change" activists will push for every multi-person restroom to be "all gender" too. It will the abolition of natural gender and will make restrooms dangerous places.
On behalf of you and your family, I was the only one to testify against AB 1732 in committee. I sorely wish others were there. Now is the time for pro-family Californians to rise up, because this radical bill can and should be defeated.
Will you help SaveCalifornia.com today with a gift of $10 or more — to help fight to protect man-woman distinction — and to strongly oppose the tyrannical and unhealthy transsexual agenda that's harming everybody? Please give to SaveCalifornia.com today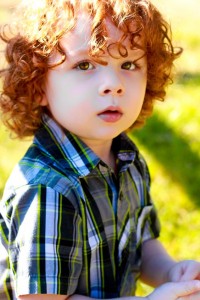 2. "LGBT" indoctrination in schools: In California, there are 10 K-12 government school laws teaching children as young as kindergarten that homosexuality, bisexuality, transsexuality, and heterosexual fornication at "a ready age" are good, natural, and maybe even for them.
Because children and families matter in the sight of God, SaveCalifornia.com is faithfully serving you and your family by urging parents to protect their children from the perverse "Day of Silence" on April 15 and "Harvey Milk [Gay] Day" the week prior to May 22.
Please stand with me and SaveCalifornia.com to warn parents and grandparents and wake them up to reality. They desperately need to recognize the threat and rescue their children from sexual indoctrination!
On these two upcoming days and, if possible, 365 days a year. Will you help us reach California parents who need to see, hear, know, and take action? Please donate to SaveCalifornia.com here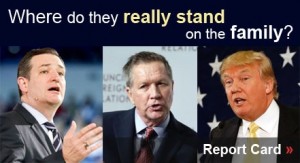 3. Truth about the Republican presidential candidates: If you hunger and thirst for a new President of the United States of America that God can bless, you'll going to like our one-of-a-kind Report Card on the Natural Family.
SaveCalfornia.com's and SaveAmerica.com's accurate, fair, and documented Report Card shows that Donald Trump supports much of, John Kasich part of, and Ted Cruz none of the "LGBT" political agenda.
And now that pro-family Californians can decide who does or doesn't become the Republican nominee, it's imperative that more people see our Report Card before they vote, on or before June 7. Will you shine your light with us in this historic presidential contest for our nation? Please donate to SaveCalifornia.com now
Thank you for your generous donation of any size, which is tax-deductible. You need SaveCalfornia.com and we need you. Because together, we're stronger and can reach more people with God's beneficial truth! Thank you for donating $10 or more today.
Finally, if you haven't had the pleasure of being thoughtfully energized by what I said while hosting conservative talk radio in Modesto and Stockton on March 28, you can still hear it: Hour 1 | Hour 2 | Hour 3. God helped me speak, so enjoy listening!
Everywhere possible, SaveCalifornia.com and you can make a difference for the love of God and people. Let's have the ethic of "help where needed." Thank you for standing with us for the best values the world has ever known!

Now when Moses saw that the people were unrestrained (for Aaron had not restrained them, to their shame among their enemies), 26 then Moses stood in the entrance of the camp, and said, "Whoever is on the Lord's side—come to me!" And all the sons of Levi gathered themselves together to him.
Exodus 32:25-26