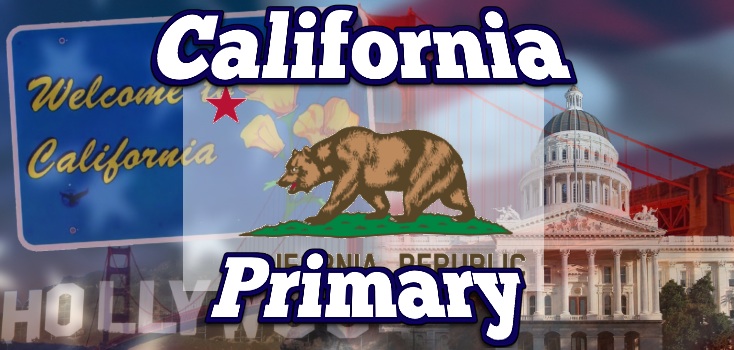 SaveCalifornia.com provides this solely for educational purposes
and does not support or oppose candidates for public office.
The 2 statewide races — for president and for U.S. Senate — were dominated by Democrats, and they energized and brought out more Democrats to vote than Republicans.
Official election results | Steve Frank: "Republican Party in California in ICU"
I always hunger for Church renewal, which would not just "balance" the evil forces with the forces of good but would overcome sin. Of course, without repentance, this won't happen personally or politically.
So, on June 7, there were more wins for anti-family Democrats and notable losses for good Republicans who would have actually fought for children and families.
There won't be any Republican — liberal or conservative — in the U.S. Senate runoff in November. Instead the "choice" will be between two staunch liberals, Democrats Kamala Harris (40%) and Loretta Sanchez (18.5%). Among the Republican candidates, mostly conservative Tom Del Beccarro gained only 4.2%, while liberal, moneyed Republican Duf Sundheim gained 8%. Stalwart conservative Phil Wyman did surprising strong at 4.9%. Add up all the votes for the 12 Republican candidates in this race, and it totals 29.4%. Can you say divide and conquer?
I'm personally sad that pro-family champions Andy Pugno of Folsom and Mike Spence of West Covina have fallen short in their Assembly races, that Samuel Anderson lost his Stockton-area state Senate campaign, and that Tim Donnelly of San Bernardino County came short in his congressional bid. These losses for these pro-family fighters are losses for California families.
A strong, pro-family conservative named Justin Fareed has gotten more votes than wimpy Republican Katcho Achadjian in the congressional district covering Santa Barbara and San Luis Obispo counties. This could be a conservative pick-up in November, as could another congressional seat in San Bernardino County, where a strong pro-family fighter, Republican Paul Chabot, could replace incumbent Democrat Pete Aguilar.
Looking ahead, there's a chance for greater conservative turnout in November if full-blown marijuana legalization joins the grocery store plastic bag ban on the statewide ballot. But that won't be enough for victory, unless many more individuals and pastors work to define what's constitutional and pro-family and challenge California voters to open their eyes and ears to the existence and evidence of absolute good and evil.
Let love be without hypocrisy. Abhor what
is evil. Cling to what is good. Romans 12:9