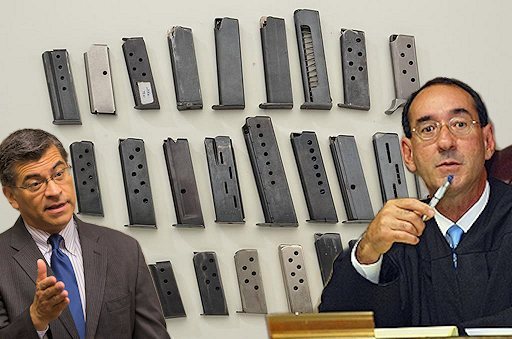 Unconstitutional California Attorney General Xavier Becerra versus constitutional U.S. Judge Roger Benitez
What a great victory for innocent families in California!

A federal judge in San Diego has ruled as unconstitutional a 2016 voter initiative limiting ammunition to 10 rounds in the magazines of handguns, shotguns, and rifles.

On March 29, U.S. Judge Roger Benitez, an anti-communism, Cuba-born, constitutional judge — who President George W. Bush nominated in 2003 — has ruled that the Second Amendment of the Constitution of the United States of America defeats the bad law passed three years ago by foolish or anti-family California voters.

Benitez ruled that in response to "a few mad men with guns and ammunition," California's law "turns millions of responsible, law-abiding people trying to protect themselves into criminals." Benitez wrote that "Individual liberty and freedom are not outmoded concepts."
The judge also said that Proposition 63 "hits at the center of the Second Amendment and its burden is severe."

Prop. 63's path to the ballot was led by Democrat Governor Gavin Newsom, who raised money and collected signatures statewide. His unconstitutional heart must be aching over his unexpected defeat. He must hate that this constitutional judge got here to California!

What's next? You can expect that uber-liberal California Attorney General Xavier Becerra will appeal this just and constitutional ruling to the full Ninth Circuit federal appeals court. But win or lose, I expect this issue to ultimately go to the U.S. Supreme Court and win for family protection nationwide.

Meanwhile, you can still match bullet for bullet any home invasion attacker. He will never obey limits on guns and ammunition, and thanks to a pro-Second-Amendment judge who didn't lie about his allegiance to the United States Constitution, you can have as many bullets as a would-be killer has, like in this KSG25 25-round shotgun. Because whoever has the most rounds in his gun — wins.

Personally, I'm relieved that I can keep my 15-round magazines that go with my home-defense handgun without fearing that firing it to save innocent lives could result in me going to jail for a year under Prop. 63. What nonsensical tyranny Gavin's initiative is and was!