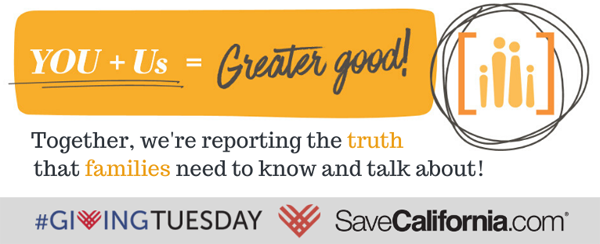 Can you imagine if your free speech and religious freedom were outlawed?
It may sound far-fetched, but that seems to be the dream of Liberal Left politicians and their unconstitutional allies in California.
And while the ruling Democrats and their accomplices in the Big Media don't want you to hear, see, or speak the truth about the damage they're doing, WE DO. Which is a big reason that SaveCalifornia.com is here for you.
I want you to know that tomorrow's an important day around the world. It's called "Giving Tuesday." And I can tell you that California's left-wing groups are already working hard to raise millions of dollars for their immoral agenda that opposes (and even seeks to eliminate) your voice, your values, and your constitutional rights.
But here's the good news. SaveCalifornia.com is also here, working hard to tell families the Truth that Big Government and Big Media don't want you to know. Because our mission is to champion and defend all that you hold dear. Yes, this is war!
Here's where you come in. On December 3's Giving Tuesday, SaveCalifornia.com needs your tangible help to speak up, speak out, and stand strong for you and your family. We also need your help to resist, expose, and oppose left-wing tyranny.
Will you join me in saying NO to the harmful liberal agenda against you and your family? And will you partner with me to say YES to God's design of marriage and family, and your constitutional rights as an American?
On Giving Tuesday, or even today, will you give a special gift to help SaveCalifornia.com report the TRUTH that the Liberal Left and Big Media are hiding from you?
Because it's you and other moral Californians who empower our work. Which is why, with your participation, SaveCalifornia.com will boldly represent and equip you and countless other individuals and families.
Can you help? You can make an immediate impact at our special Giving Tuesday page: https://securedonors.com/savecalifornia+givingtuesday2019
Thank you in advance for participating in SaveCalifornia.com's Giving Tuesday campaign. Because you + us = greater good!
Who will rise up for me against the evildoers?
Who will stand up for me against the workers of iniquity?
Psalm 94:16