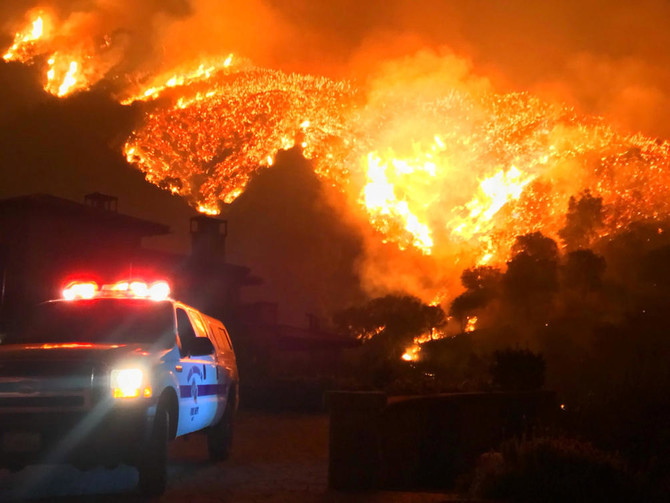 With Democrats controlling all 8 statewide elected offices since 2012, and with 60+ years of virtual Democrat control of the California State Legislature, and with Democrat politicians loyal to the environmental groups, which worship trees and weeds (which is why California has 150+ million dead trees and untold acres of dead brush), why accept smoke-filled air the "new normal'?
Foul air covers all of Northern California: 'It's smoke all over the place' https://tinyurl.com/yyf5vju3
'Brutal' smog from fires to worsen L.A. air, prompting some to weigh relocating https://tinyurl.com/y2ow7eh8
All this is happening on the Democrat politicians' watch. Denying his responsibility and proclaiming his unmerited "climate change" theory, Democrat Governor Gavin Newsom is firmly siding with environmental wacko groups that oppose clearing away 150+ million dead trees and untold acres of dead brush — and forcing California children and families to breathe smoke.
On September 8, with more wildfires raging, Newsom said, "I quite literally have no patience for climate change deniers." But how unscientific and irresponsible is this statement?
California's two last Governors, Jerry Brown and now Gavin Newsom, conveniently blame "global warming" for the massive destruction. But even granting that summer the temperatures have crept up, one would think this would lead to improved management of forests and brush — after all it is science! But the green allies have long stood against the harvesting of dead trees and the aggressive clearing of bush and attempts to do so in 2016 were vetoed by Governor Brown. Money that could have gone for undergrounding electrical lines went instead to green energy schemes. Overall, the state Legislative Analyst Office found, the fires were less driven by global warming, but by purposeful policies that allowed for the accumulation of fuel, as well a growing development in certain exurban areas, in part as a way to escape the extremely high housing prices along the coast. A 2018 Little Hoover Commission report similarly called for more aggressive forest management in the Sierra, an area that has been devastated in some fires. Last year's fires cost the state economy $2 billion; we may surpass it this year. These fires are not great for the environment or for reaching the state's super-ambitious GHG goals: According to the US Geological Service, the 2018 fires emitted roughly as much greenhouse gas as an entire year of electricity generation. Source
Global cooling! Low solar activity to cause temperatures to plummet, say scientists; Sun has now recorded 2 consecutive years of record setting spotlessness Source
"On behalf of environmentalists everywhere, I would like to formally apologize for the climate scare we created over the last 30 years," he wrote. Source
Why is California on fire, both now and the last few years? Because Newsom and the ruling Democrats refuse to clear out 150+ million highly-combustible dead trees and even more dead brush (https://tinyurl.com/y68bkbrt).
California experienced 7,117 separate wildfires in 2017, 6,284 separate wildfires in 2018, 6,592 separate wildfires in 2019, and, so far in 2020, 5,924 separate wildfires (https://tinyurl.com/y629q3yy).

This combination of unloving Californians who spread sparks by neglect or on purpose, plus Democrat politicians married to environmental activist groups that worship trees and weeds, thus providing endless "fuel" for a small fire to become a "monster" fire, means Democrat-controlled California is forcing you to breathe smoke, and for many, threatening to burn your house down too. Be glad it's an election year!
"Smokey Says – Care will prevent 9 out of 10 forest fires …
Remember … Only YOU Can Prevent Forest Fires."
Smokey the Bear anti-wildfire campaign slogan over the years