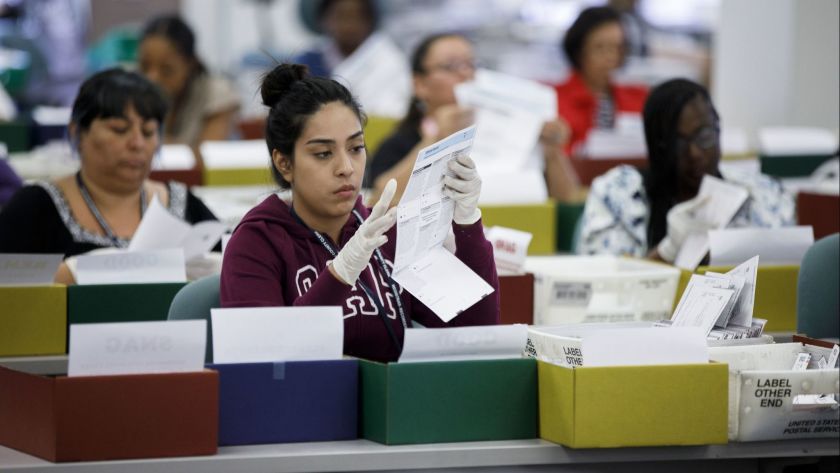 In our era of mail-in ballots, there are still many votes to be counted in California. But here's what we know so far, at this moment, with 100% of California's voting precincts partially reporting: 

U.S. House of Representatives:
Nationally, it will take 18 seats to flip from blue to red for Republicans to recapture the U.S. House and remove Nancy Pelosi's gavel. Already 5 House seats outside of California have flipped, and RealClearPolitics says "Republicans Poised to Pick Up Over Ten Seats in House"

Adding to this national count are 1 to 4 flipped seats that could still occur in California. Here are the updated vote totals as of 6:21 p.m. on November 4:

In CD 21, Republican David Valadao is 3,033 votes ahead of Democrat TJ Cox
In CD 48, Republican Michelle Steel is 2,851 votes ahead of Democrat Harley Rouda
In CD 39, Republican Young Kim is 1,503 votes ahead of Democrat Gil Cisneros
In CD 25, Republican Mike Garcia is 1,722 votes behind Democrat Christy Smith
See the ongoing count

Worst California propositions defeated:
In California, it was a victory for what's right in God's sight when Proposition 22 resoundingly won freedom for gig-economy drivers (Uber, Lyft, Doordash, Postmates, Instacart) to work as independent contractors, rather than as employees. This victory paves the way for the eventual elimination of the Democrat politicians' destructive, dysfunctional, and tyrannical AB 5.

More good news is the worst propositions are current losing:

Prop. 15 raising property taxes of commercial and industrial properties
Prop. 16 legalizing both racial and sex discrimination in government jobs
Prop. 21 statewide rent control (would have resulted in fewer places to rent)
Prop. 23 oppressive regulation of kidney dialysis (would have resulted in fewer clinics)
Prop. 25 eliminating money bail system
See the ongoing count

And now the bad news:
Due to lack of money to inform California voters on a massive scale, Prop. 20 was defeated. This good, corrective proposition would have made our streets safer by restricting early parole for more violent crimes, and by permitting more mostly non-violent crimes to be treated as felonies, rather than misdemeanors.

Bad propositions that passed because most people didn't know what they were voting for:

Prop. 14 to spend $7.8 BILLION in taxpayer dollars for more research on dead pre-born babies' stem cells, which has been an utter, unethical failure
Prop. 17 to permit tens of thousands of convicts who were released early (paroled) to vote
Prop. 19 to impose taxes when non-primary-residential property is inherited
Prop. 24 to create a new online privacy bureaucracy that's likely to make things worse
Thank you for voting and for helping others to vote. California's results could have been worse, and could have been better. But SaveCalifornia.com knows it was better because of your patriotic participation!
When the righteous are in authority, the people rejoice;
But when a wicked man rules, the people groan.
Proverbs 29:2

Is anyone among you suffering? Let him pray.
Is anyone cheerful? Let him sing psalms.
James 5:13