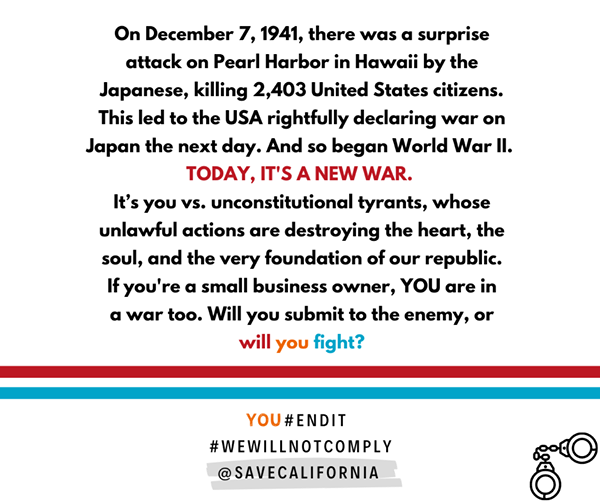 It's painfully obvious that when ungodly people are in power, they unleash the mechanisms of hell against you. Because they either enjoy doing evil or don't know what they're doing.

In California, we have a mix of tyrants (those who gain false significance by controlling the most people they can), prostitutes (those who sell themselves to gain pleasure or avoid pain, such as most county supervisors, who are handsomely paid to support the unscientific lockdown), and officials who are incompetent, since they are consistently wrong about science, the constitution, and the nature of man.

Because malicious, unfaithful, and foolish people are running the show (see what happens when pastors don't rally their congregations to support true Christians for public office?), for your own sake and the sake of others, please declare your God-given liberties and constitutional rights and resist tyranny.

Small businesses owners must not commit financial suicide, but should stay open despite opposition, to earn, profit, provide, and survive.
Biblical pastors should fully reopen with confidence in the New Testament, the First Amendment, and science. Open your doors to minister to people's souls!
When will the destructive lockdown be over? When most people stop complying with it.

Ask yourself, would you rather live with the risk of opposition, and survive — or die in a self-inflicted act of suicide? Would you rather have some "arrows" shot at you, or take those arrows and plunge them into your own heart? The choice is light, life, and liberty — or darkness, death, and slavery.

Realize there's not enough enforcement (police departments and sheriff's departments generally won't enforce lockdowns, and state and local licensing inspectors are spread too few and far between), most California resisters will experience mild to no opposition. Yet if small businesses incur a verbal warning, a written warning, or even a fine, isn't risking this mild oppression worth the reward of survival?
"Rebellion to Tyrants is Obedience to God"
Battlecry of our American Revolution

Then Nebuchadnezzar, in rage and fury, gave the command to bring Shadrach, Meshach, and Abed-Nego. So they brought these men before the king. Nebuchadnezzar spoke, saying to them, "Is it true, Shadrach, Meshach, and Abed-Nego, that you do not serve my gods or worship the gold image which I have set up? Now if you are ready at the time you hear the sound of the horn, flute, harp, lyre, and psaltery, in symphony with all kinds of music, and you fall down and worship the image which I have made, good! But if you do not worship, you shall be cast immediately into the midst of a burning fiery furnace. And who is the god who will deliver you from my hands?" Shadrach, Meshach, and Abed-Nego answered and said to the king, "O Nebuchadnezzar, we have no need to answer you in this matter. If that is the case, our God whom we serve is able to deliver us from the burning fiery furnace, and He will deliver us from your hand, O king. But if not, let it be known to you, O king, that we do not serve your gods, nor will we worship the gold image which you have set up."
Civil disobedience in Daniel 3