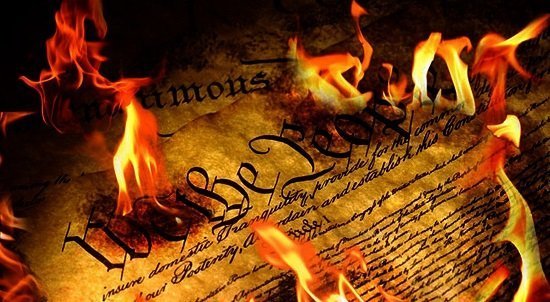 SaveCalifornia.com provides this solely for educational purposes
and does not support or oppose candidates for public office.
If you're reeling from the unconstitutional carnage you've witnessed this week, realize Creator God said it would be like this. Yes, putting the blame solely on sinners, the New Testament informs us:

…in the last days perilous times will come: For men will be lovers of themselves, lovers of money, boasters, proud, blasphemers, disobedient to parents, unthankful, unholy, unloving, unforgiving, slanderers, without self-control, brutal, despisers of good, traitors, headstrong, haughty, lovers of pleasure rather than lovers of God, having a form of godliness but denying its power. And from such people turn away!
Have more Americans become "lovers of themselves" instead of loving their neighbors as themselves? Yep.
Does America have more "lovers of money" than lovers of Jesus Christ? Yes, we're guilty. And, in politics, there are definitely many "prostitutes" that sell out to avoid pain or to gain pleasure.
Have facts, evidence, logic, as well as the Natural Family and Christian holidays, been ridiculed and rejected by those who are puffed-up-with-pride "boasters" and "blasphemers"? You got it — and that pretty much describes your Radical Democrat rulers.
If you continue through the list, you'll quickly realize America is checking all the boxes of self-willed sins. So, it's spiritually accurate when Christian leader Franklin Graham says, "the sins of our nation are great and they are a stench in the nostrils of our Creator."
Therefore, it's not surprising the big sins of theft and false witness were committed by Democrat operatives in the presidential election. For to manipulate ballots and votes is stealing indeed, and proclaiming the candidate who legitimately lost to be the winner is being a false witness to the world.
Consider the oath of office for every local, state, and federal elected representative:
"I, __, do solemnly swear (or affirm) that I will support and defend the Constitution of the United States against all enemies, foreign and domestic; that I will bear true faith and allegiance to the same; that I take this obligation freely, without any mental reservation or purpose of evasion; and that I will well and faithfully discharge the duties of the office on which I am about to enter. So help me God."
For when the U.S. Constitution, Article IV, Section 4, reads, "The United States shall guarantee to every State in this Union a Republican Form of Government," and when U.S. Founding Father and 4th U.S. President James Madison said this means states must obey their "written constitution and its existing laws," every member of Congress must reject ballots (and electoral votes) that violated the written state laws. For, to accept fraudulent electoral votes is to violate the Constitution they publicly swore to defend.
Especially when Article II, Section 1 says the Legislature of each State — meaning the statutes passed by each state's legislature — determines the manner of voting (NOT Governors, Secretaries of States, or county registrars of voters who violate state election laws because they lied during their oath of office).
Thank you for following SaveCalifornia.com's lead to lobby 11 California Republican Members of Congress to reject fraudulent electoral votes. Because of your phone calls and emails, you helped 7 of the 11 to oppose election fraud. Yet, because Republican principles were eroded this week, only two of the battleground states' election fraud had sponsors for floor votes.
How did California's Republican congressional delegation vote on election fraud?
121 YES votes (objecting to Arizona's fraudulent electoral votes for Biden)
YES Doug LaMalfa
NO Tom McClintock
YES Jay Obernolte
ABSENT David Valadao (but said he would have accepted all Biden electors)
YES Devin Nunes
YES Kevin McCarthy
YES Mike Garcia
ABSTAIN Young Kim
YES Ken Calvert
ABSENT Michelle Steel (self-quarantining with Covid)
YES Darrell Issa
138 YES votes (objecting to Pennsylvania's fraudulent electoral votes for Biden)
YES Doug LaMalfa
NO Tom McClintock
YES Jay Obernolte
ABSENT David Valadao (but would have voted NO)
YES Devin Nunes
YES Kevin McCarthy
YES Mike Garcia
NO Young Kim
YES Ken Calvert
ABSENT Michelle Steel
YES Darrell Issa

Please remember this — and resolve to fight for honest elections. With the presidential election stolen from Donald Trump, I hope he starts a nationwide election integrity organization that aggressively convinces more states to implement strict photo ID laws, permit only in-person voting, and ban voting machines.
Because our legislative and judicial branches have failed us, the executive branch has been captured by thieving traitors, and only an increasingly moral People can turn this around. And for the People to have power, election integrity is a must. But Donald Trump surely has motivation to clean up America's election fraud, don't you think?
Watch this satirical video "The Capitol was stormed!" by comedian commentator JP Sears, who spots liberal lies and knows how to jest to avoid being censored by Big Tech, yet still make insightful points.