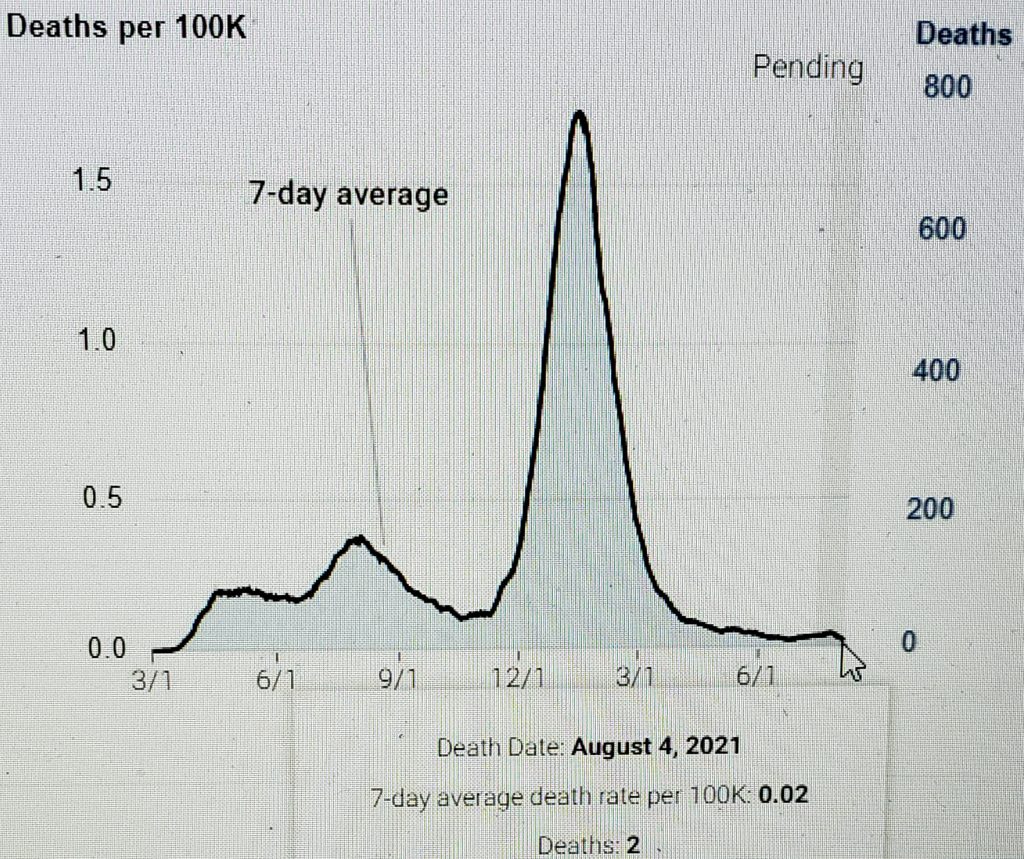 Dr. Marty Makary, a Johns Hopkins Hospital surgeon, says unscientific variant hysteria is being "used to manipulate people to get vaccinated" for a mild virus variant that has "a case fatality rate similar to seasonal flu."

And although the corrupt CDC and Democrat politicians don't care about truth, and therefore ignore these facts, I care, you care, and other concerned people care.
Which is why, just about every day, I'm checking the State of California's Covid database for what really matters with viruses, which is the death rate. And what I'm seeing proves there's no justification for dehumanizing masks, invasive tests, and non-vaccine "Covid vaccines" that are killing tens of thousands and injuring millions.
The above chart spanning March 2020 to the present week from the State of California's Covid-19 dashboard currently reports a "7-day average death rate" of 0.02 per 100K, which means if you catch any form of Covid in California (this chart includes "variants"), you have a 1 in 5 million chance of dying from it (0.02 x 50 = 1; 100,000 x 50 = 5,000,000).
This is an extremely low death rate — much lower than your chance of dying from eating, walking, driving, or being struck by lightning. Which means it's not an epidemic defined by a high death rate and overflowing hospitals. And California is experiencing neither.
Please show this to others. Because if reasonable people grasped this reality, their unhealthy fear and compliance with unscientific tyrants would cease.