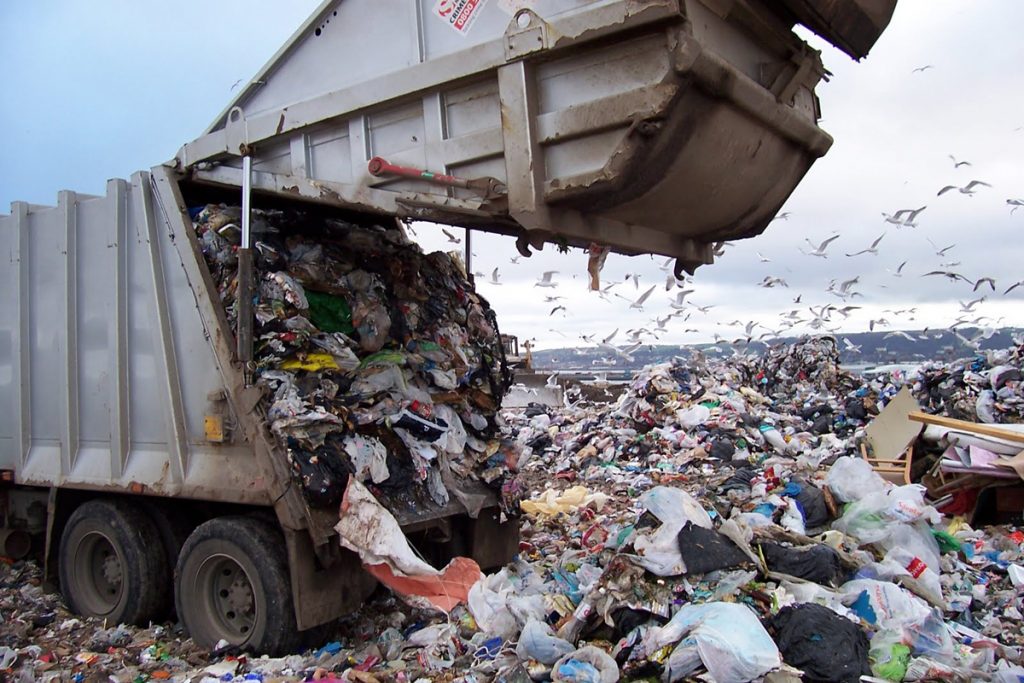 Thank you to you and all who followed SaveCalifornia.com by participating with our straightforward, principled message of "kill the bill." You are a steadfast pro-family advocate who stayed true, when others faltered.
The hard lesson of AB 659, the tyrannical Gardasil bill, passing its first committee after being successfully stalled for two whole months, is never amend a bad bill.
"Never amend a bad bill" has been a proven rule for family-values activists for decades. Yet the awful AB 659 passed its first important hurdle April 18 because too many ignored this important ethic. Because when a bad bill is in trouble, amending it make it easier for the bad bill to pass.
The big mistake that helped AB 659 pass committee was the "Freedom Angels" (Tara Thornton and Denise Aguilar) actually made a deal to remove their opposition when the Democrat bill author replaced mandatory-shot language with deceptive, threatening, coercive language, reading, "it is the public policy of the state" that students "are expected" to receive Gardasil shots before advancing to 8th grade or enrolling in college.

Sadly, the bill author had a whole week to tell the wavering Democrats on the committee the "mandate" and the opposition had been "removed."

As Aguilar said on her April 18 Instagram, "Freedom Angels was called into the author's office last week, stating that if the mandate was removed, would Freedom Angels remove our opposition. We agreed to this because we needed to remove the mandate. So that's why I was not at the podium opposing it. We came to an agreement, if the mandate was removed, then Tara and I would not oppose the bill. So it was like a muzzle on us."
So what now? The tyrannical, harmful, deceptive AB 659, which is still a functional "mandate," coercing painful Gardasil jabs upon children in public and private school (including all boys and including church schools) and upon UC, CSU, and community college students up to age 26 now goes to the Assembly Appropriations Committee on its way to the Assembly floor.
Please see (and share) SaveCalifornia.com's special report (in slides) below: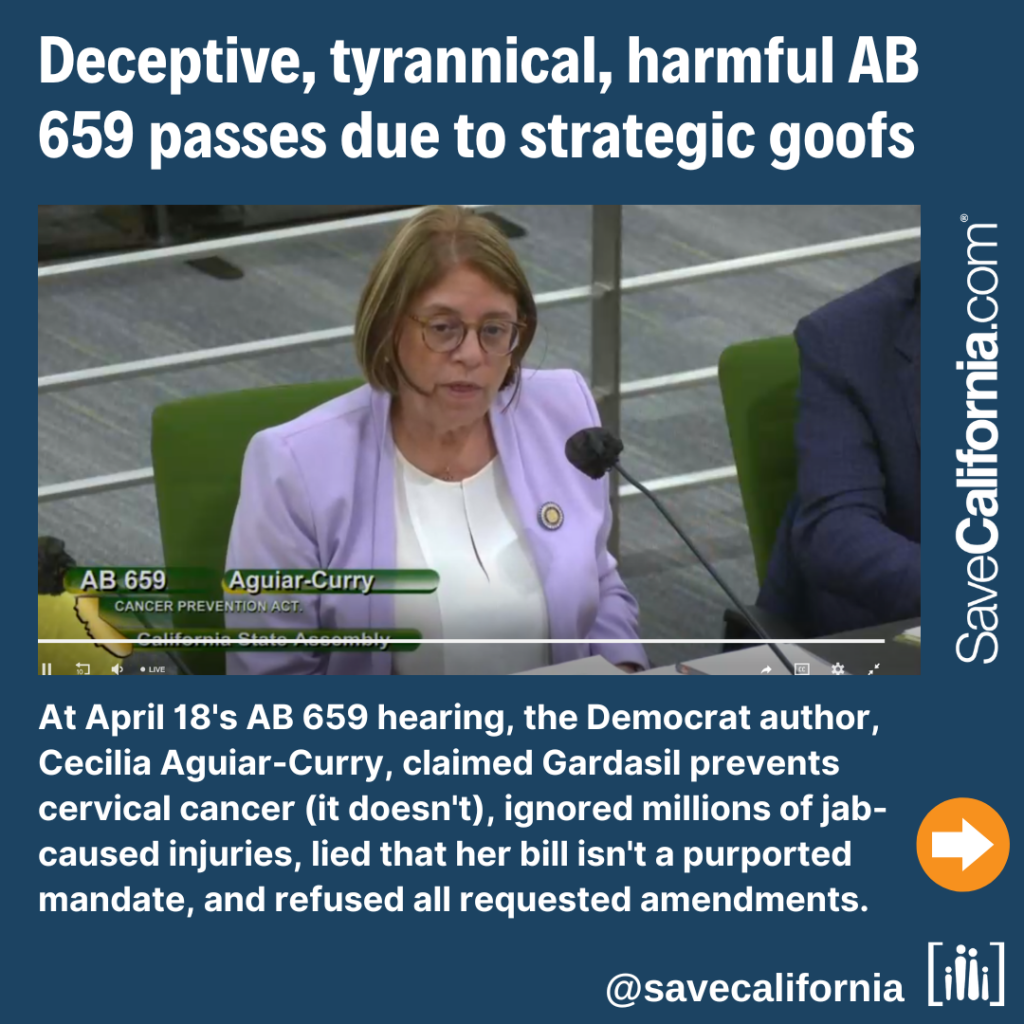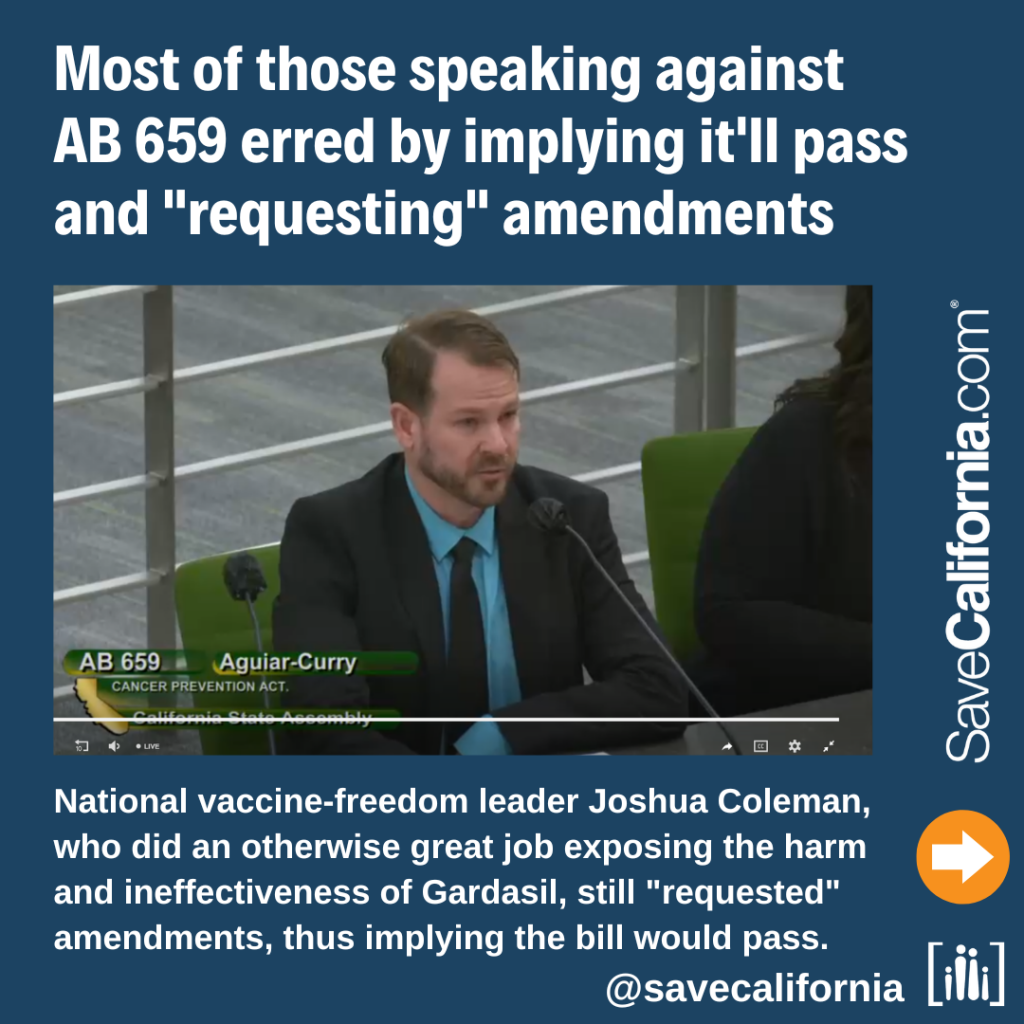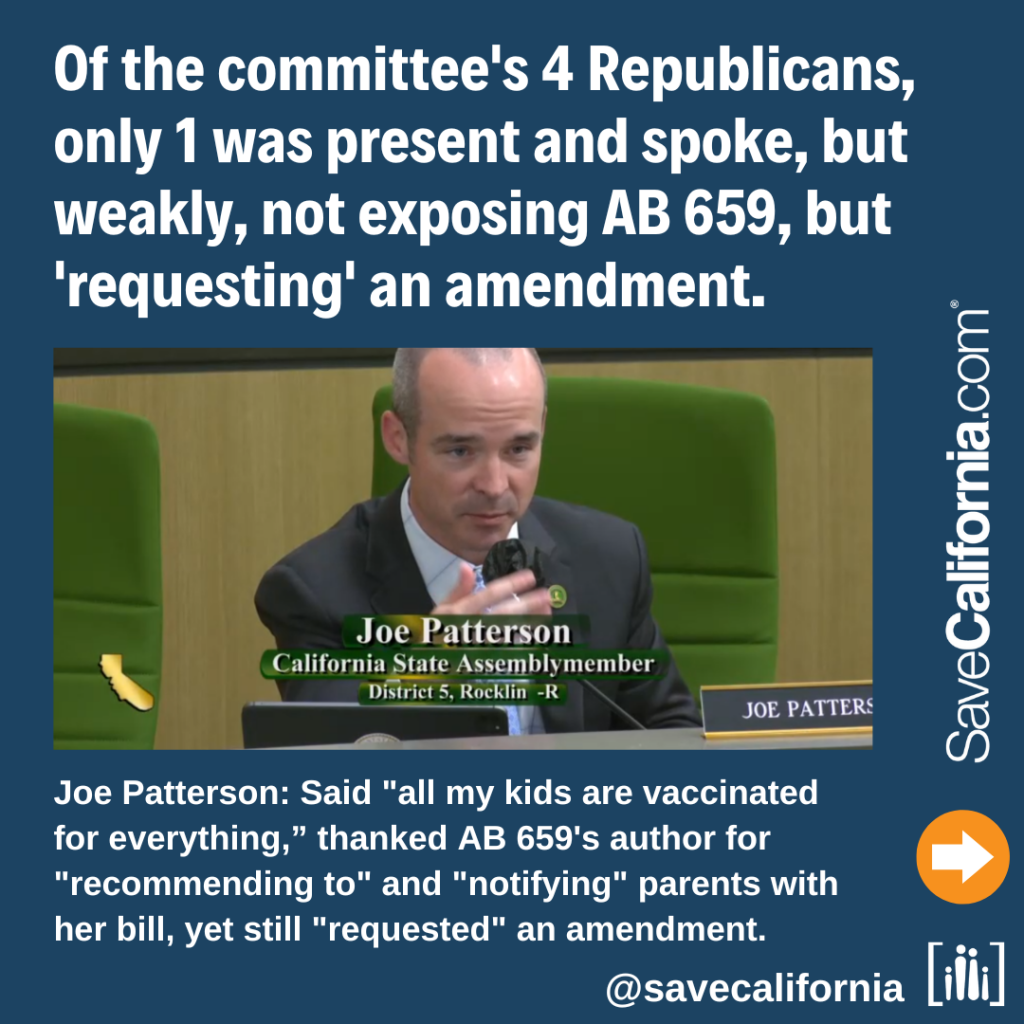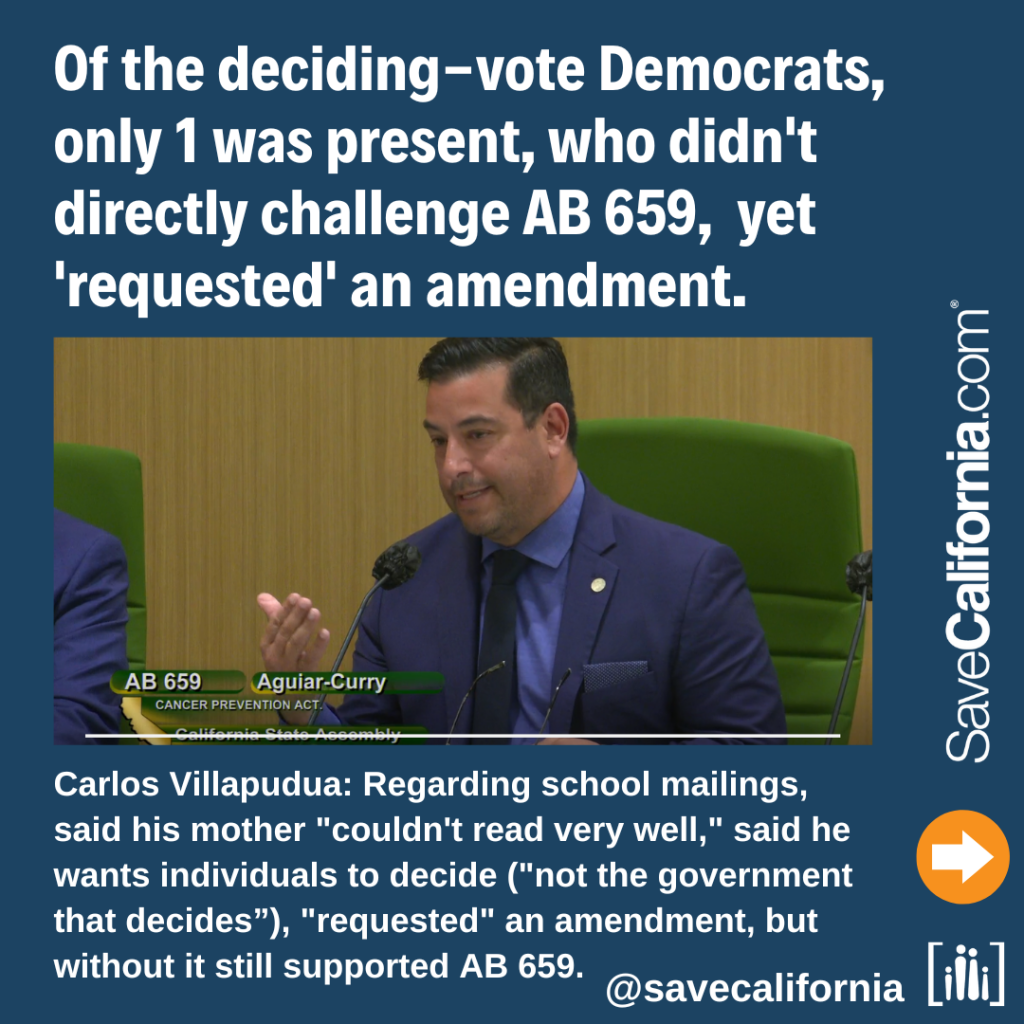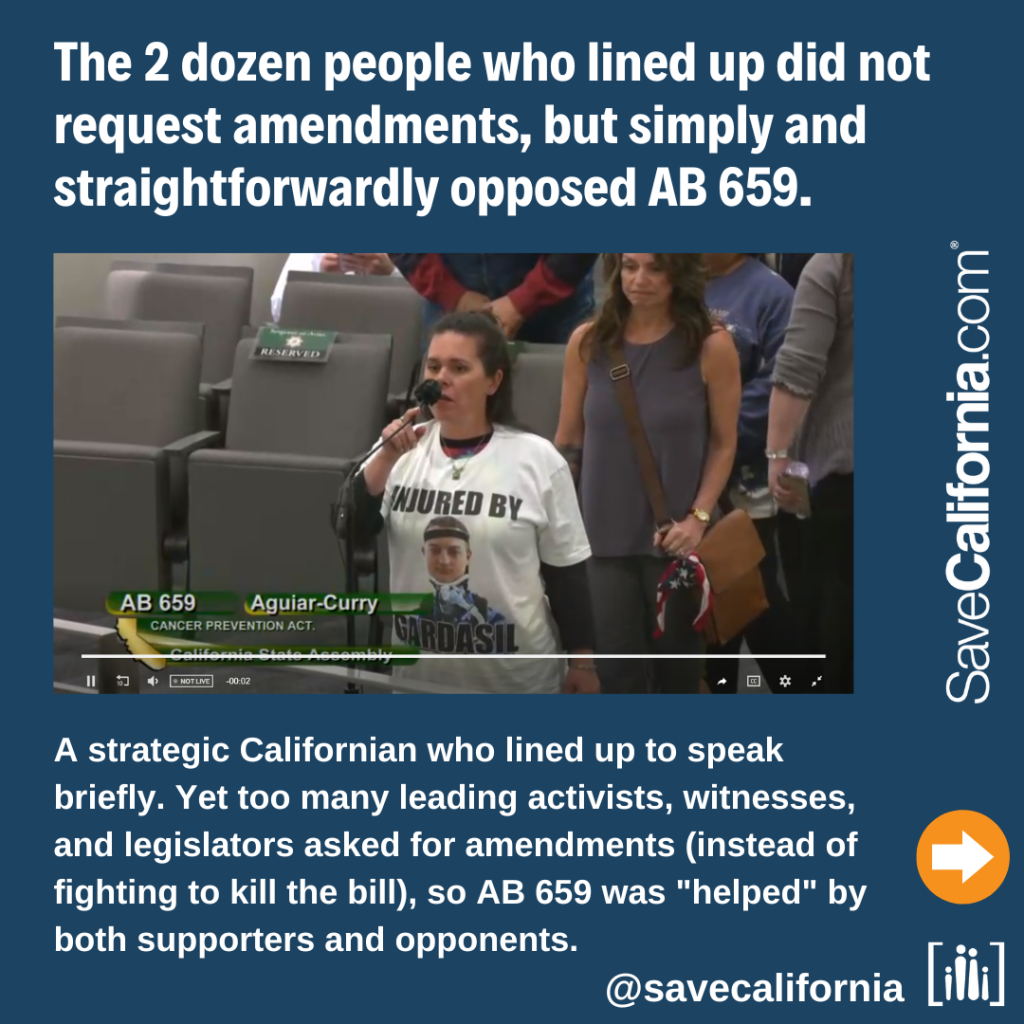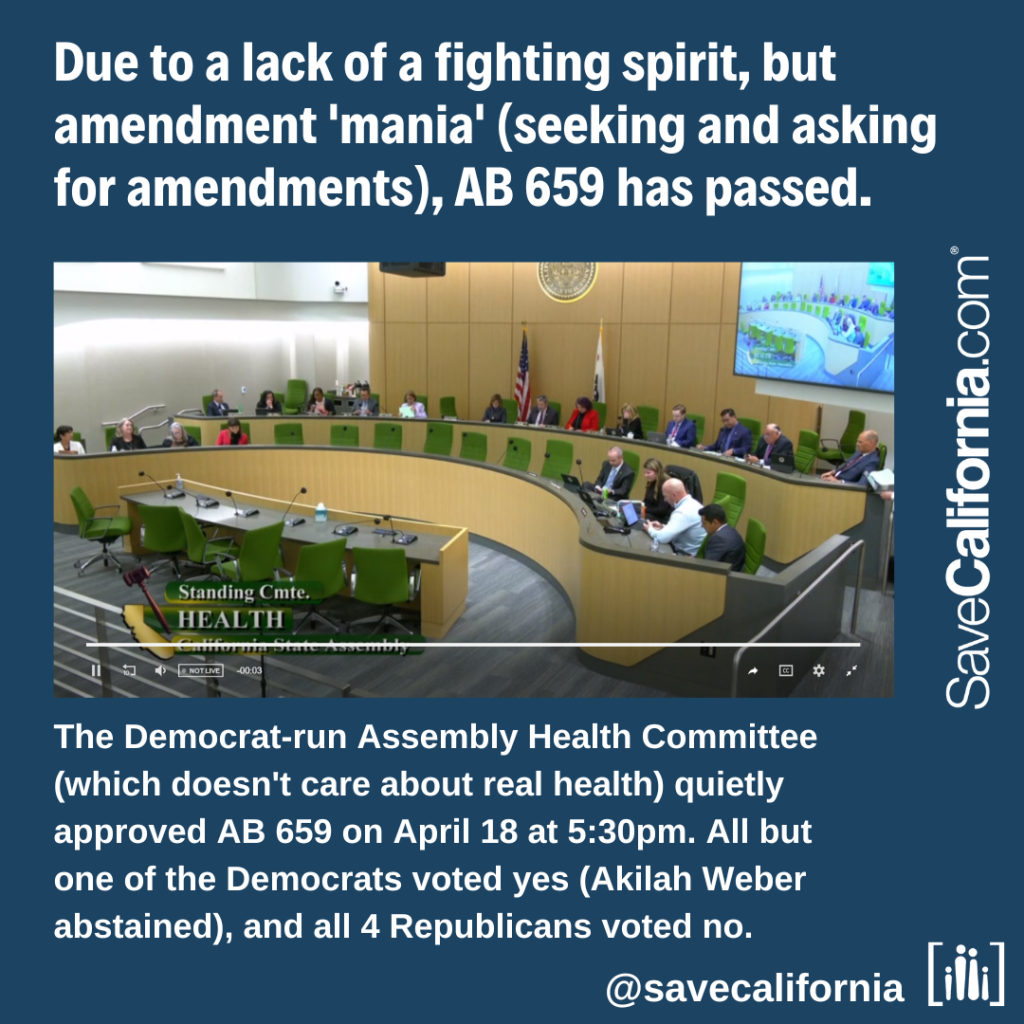 Do not be envious of evil men,
Nor desire to be with them;
For their heart devises violence,
And their lips talk of troublemaking.
Proverbs 24:1-2
If you faint in the day of adversity,
Your strength is small.
Proverbs 24:10