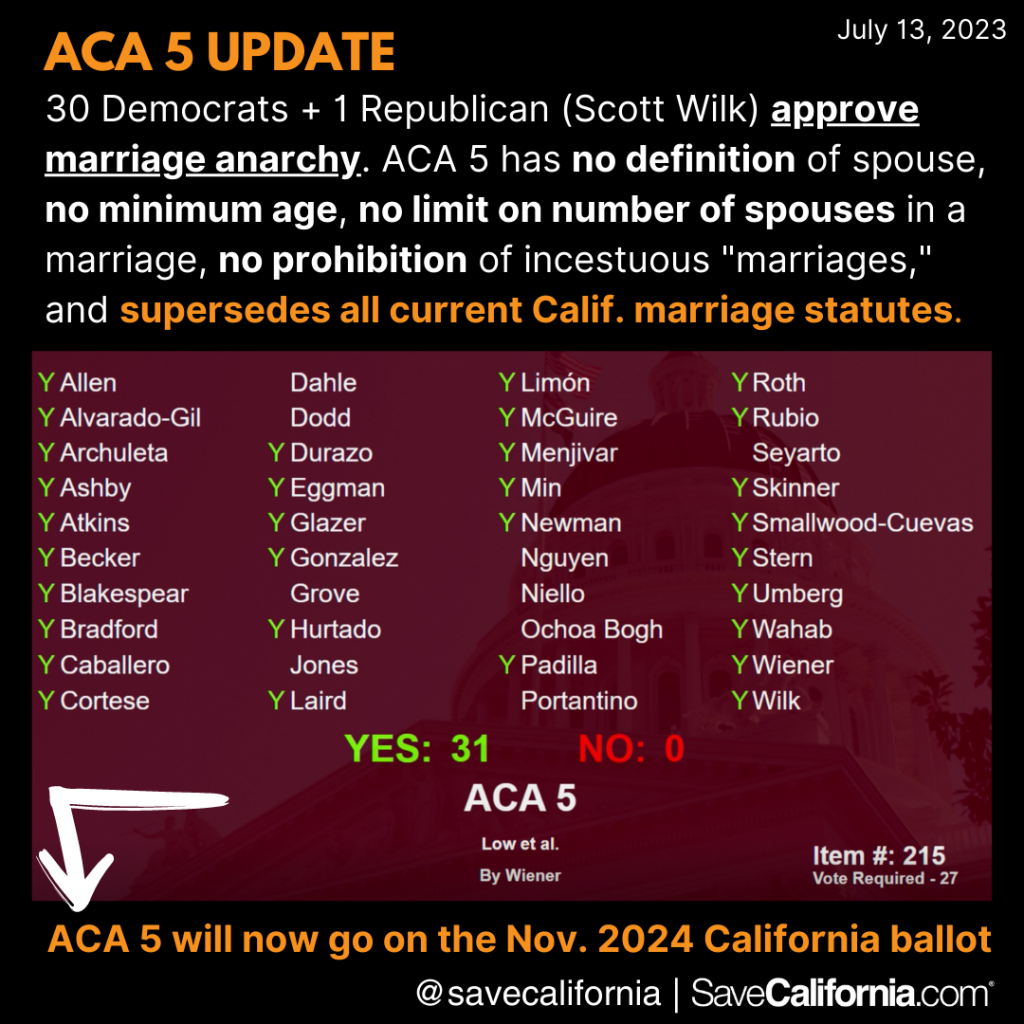 It's truly evil and harmful to children and society that Thursday morning on July 13th, the Democrat-controlled California Senate passed a legally powerful, radical, and completely subjective definition of "marriage," which, if foolish voters agree to add it to the State Constitution, would be dreadful.
Thank you for everyone who called. You did your job, SaveCalifornia.com fought hard, but the Senate Democrats were wicked and the Senate Republicans did not fight for you.
On the California State Senate floor, 13 Democrats spoke for, and only 1 Republican (Brian Dahle) spoke weakly against, ACA 5.
If approvated by a majority of California voters, it would deceptively insert 8 very broad, non-specific words, "The right to marry is a fundamental right," into the California State Constitution.
Yet ACA 5 has no definitions of marriage or spouse, and no limit on spouses. Placing marriage subjectivity into the California State Constitution and calling it a fundamental right, above all other marriage-regulating statutes and every other marriage standard (such as number of persons in the marriage, minimum age to be a spouse, prohibitions against incestuous marriages, the assumption that a spouse be a person, etc.) renders current marriage laws unapplicable. ACA 5 powerfully erases all marriage "limitations" and boundaries!
Yet, despite having our analysis, not one Republican state senator voted no or exposed ACA 5's radical legal effect – the very broad and subjective "right to marry," with NO definitions, NO standards, and NO boundaries.
Meanwhile, most of the Democrats speaking in favor of ACA 5 were open homosexuals, who childishly said a vote against ACA 5 was a vote to hate them personally. Especially disgusting were the Democrat senators who stood and spoke to either reject or redefine Christianity as "justification" for this radical, anti-family, immoral bill.
And don't forget that, on June 26 in the lower house, the California State Assembly, 58 Democrats and 9 Republicans voted for this monstrosity. The Republicans were Juan Alanis, Phillip Chen, Laurie Davies, Diane Dixon, Bill Essayli, Josh Hoover, Devon Mathis, Marie Waldron, and Greg Wallis.
ACA 5 will go on the November 2024 ballot as a proposed state constitutional amendment. Today, please share this with your friends so reasonable Californians can plan now to vote NO next year. Let's unite against polygamy, "child marriages," incestuous "marriages," and people-object "marriages"!
And He answered and said to them, "Have you not read that He who made them at the beginning 'made them male and female,' and said, 'For this reason a man shall leave his father and mother and be joined to his wife, and the two shall become one flesh'? So then, they are no longer two but one flesh. Therefore what God has joined together, let not man separate."
Jesus Christ, Savior of the world and God in the flesh, in Matthew 19:4-6