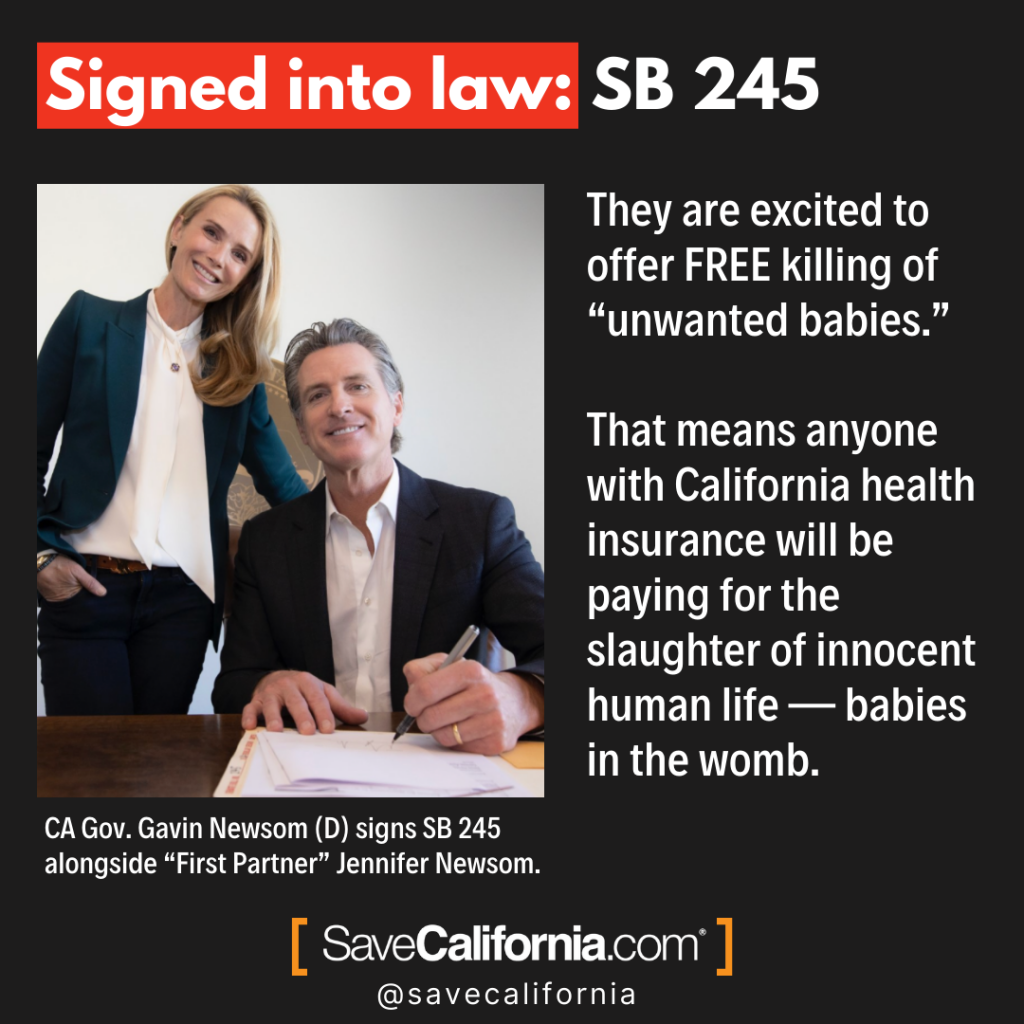 Uber-liberal Democrat California Governor Gavin Newsom was such in a rush to sign more innocent babies' death warrants, his hair got out of place.

With his "First Partner" by his side, Newsom on Tuesday, March 22 signed SB 245 to force health insurers to 100% pay to kill pre-born babies via abortion (no more co-pays).
Said Newsom: "As states across the country attempt to move us backwards by restricting fundamental reproductive rights, California continues to protect and advance reproductive freedom for all. With this legislation, we'll help ensure equitable, affordable access to abortion services so that out-of-pocket costs don't stand in the way of receiving care."
So if you're "unwanted" or an "accident" (unplanned conception by your father and mother), Newsom and "Partner" (and all the Democrat legislators who voted for it) want you to be torturously murdered. How unjust! Mr. and Mrs. Newsom (if the "First Partner" consents to this traditional title) support and make you subsidize ongoing life for convicted murderers (no capital punishment during Newsom's reign), and at the same time the Newsoms support and force health insurers and ratepayers (you) to subsidize the inhuman torture and murder of innocent pre-born babies. They're evilly calling wrong "right" and right "wrong."
A two-year bill, SB 245 passed the Democrat-controlled State Senate last year, but was "held" by the State Assembly before the recall election. This year, it was rushed through the Democrat-controlled State Assembly, with an Assembly floor vote March 17, then a Senate concurrence vote March 21.

See more about SB 245 and other awful Democrat bills at our Legislation Center

IMPORTANT NOTE: There are pregnancy support groups in California and across the nation who are there to help women through unexpected pregnancies, whether they choose to keep their baby or place him or her for adoption. Please help mothers in crisis pregnancies to find pro-life help, not pro-death harm.
For You formed my inward parts;
You covered me in my mother's womb.
I will praise You, for I am fearfully and wonderfully made;
Marvelous are Your works,
And that my soul knows very well.
My frame was not hidden from You,
When I was made in secret,
And skillfully wrought in the lowest parts of the earth.
Your eyes saw my substance, being yet unformed.
And in Your book they all were written,
The days fashioned for me,
When as yet there were none of them.
Psalm 139:13-16