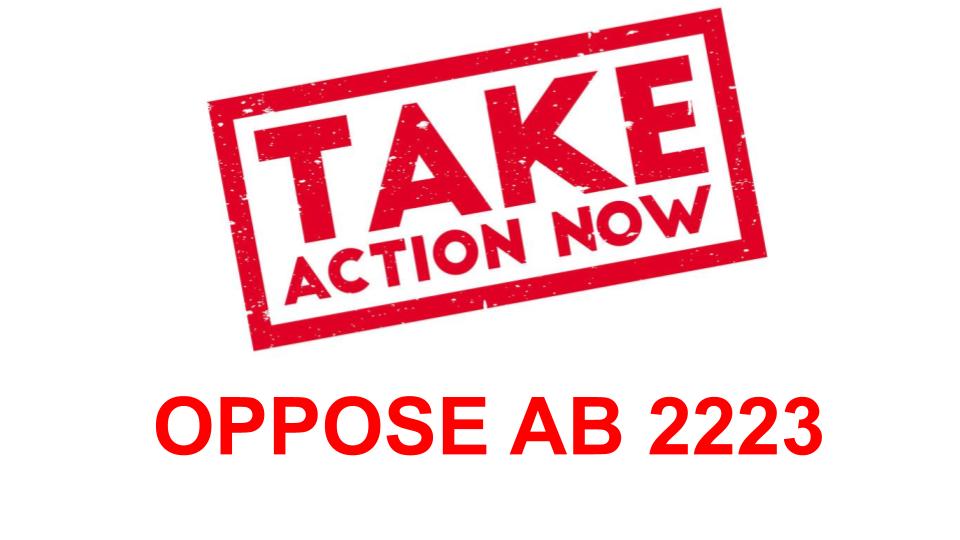 The bad news is AB 2223 to legalize 'perinatal death' (infant death up to a month after birth) — in other words, legalizing infanticide — has passed two Democrat-controlled committees in the Assembly.
Due to all the opposition calls and opposition witnesses, it was hard to pass AB 2223 in the Assembly Health Committee April 19. Several Democrats had left the hearing, and probably the Capitol building, before 6pm. But AB 2223 sponsor Planned Parenthood and bill author Buffy Wicks of Oakland corralled them back — so all the Democrat committee members returned to vote yes for this infanticide bill. See our updated analysis

Yet the good news is AB 2223 might be defeated on the Assembly floor. Because Planned Parenthood abortionists aren't on the floor, and the floor is where even Democrat members have traditionally been allowed to vote their conscience.

Who to call? SaveCalifornia.com has done the research for you. Below are the names and telephone numbers of 28 Assembly targets. These are Democrat assemblymembers who are either termed-out, new and untested, running in a new district, running in a formerly Republican district, or who have a history of sometimes abstaining on the most radical Democrat bills.
Here's the math: If none of the Assembly's 19 Republicans and 1 independent (former Republican Chad Mayes) vote for AB 2223, and if 17 of the current 59 Democrats abstain or vote no, this horrific bill will be defeated.
Instructions for calling
Unless you see your own assemblymember on this list below, please call only during non-business hours (8pm to 8am and weekends) and remain anonymous. The reason is so your calls will have impact and not be "trashed" (the Democrat legislators' M.O. is to disregard every message not from their own constituents). By leaving anonymous voicemails only, the offices cannot reliably "trash" your calls, and you'll "mix" in and be part of the flood of opposition calls.
Leave a strong voicemail message against AB 2223. Use your own words or our suggested message, such as: "Oppose AB 2223. This bill permits 'perinatal deaths,' which means permitting killing newborns up to a month after birth. Oppose AB 2223, which opens the door to infanticide."

Source: The MedicineNet website definition of perinatal period is "starts at the 20th to 28th week of gestation and ends 1 to 4 weeks after birth."
If you're calling your own assemblymember, you should call during business hours, and identify yourself as living in his or her legislative district.
28 Assembly Democrat floor targets on infanticide bill, AB 2223
Their State Capitol offices and legislative district offices:
Joaquin Arambula of Fresno County 916-319-2031 and (559) 445-5532
Tasha Boerner-Horvath of north San Diego County 916-319-2076 and 760-434-7605
Ken Cooley of Sacramento County 916-319-2008 and 916-464-1910
Jim Cooper is running for sheriff of Sacramento County 916-319-2009 and 916-670-7888
Tom Daly of central Orange County 916-319-2069 and 714-939-8469
Mike Fong of Monterey Park to Arcadia in L.A. County 916-319-2049 and 323-264-4949
Eduardo Garcia of Imperial and Riverside counties 916-319-2056 and 760-347-2360
Mike Gipson of South-Central Los Angeles 916-319-2064 and 310-324-6408
Adam Gray is running for the new Central Valley congressional seat that includes West Modesto, Ceres, Patterson and Newman among other central and eastern Stanislaus County communities 916-319-2021 and 209-726-5465
Timothy Grayson of northeast Contra Costa County 916-319-2014 and 925-521-1511
Jacqui Irwin of southwest Ventura County 916-319-2044 and 805-482-1904
Brian Maienschein of north San Diego 916-319-2077 and 858-675-0077
Chad Mayes of Palm Springs/Yucca Valley/Yucaipa 916-319-2042 and 760-346-6342
Al Muratsuchi of the Los Angeles South Bay 916-319-2066 and 310-375-0691
Adrin Nazarian of Van Nuys 916-319-2046 and 818-376-4246
Patrick O'Donnell of Long Beach 916-319-2070 and 562-429-0470
Cottie Petrie-Norris of coastal Orange County 916-319-2074 and 949-251-0074
Sharon Quirk-Silva of Fullerton/Buena Park/Anaheim 916-319-2065 and 714-525-6515
James Ramos of Redlands/Loma Linda/Highland/north San Bernardino and Rancho Cucamonga 916-319-2040 and 909-476-5023
Eloise Reyes of San Bernardino/Rialto/Fontana 916-319-2047 and 909-381-3238
Luz Rivas of northeast San Fernando Valley 916-319-2039 and 818-504-3911
Robert Rivas of Monterey, San Benito, and San Cruz counties and Gilroy 916-319-2030 and 831-759-8676
Freddie Rodriguez of Ontario/Chino/Pomona 916-319-2052 and 909-902-9606
Blanca Rubio of Azusa/Glendora/Covina and other east L.A. County communities 916-319-2048 and 626-960-4457
Miguel Santiago of downtown Los Angeles 916-319-2053 and 213-620-4646
Rudy Salas is running for a new congressional seat covering parts of Fresno, Kern, Kings, and Tulare counties 916-319-2032 and 661-335-0302
Carlos Villapudua of Stockton and Tracy 916-319-2013 and 209-948-7479
Lori Wilson of Fairfield/Vacaville/Rio Vista/Antioch/Brentwood 916-319-2011
Behold, children are a heritage from the LORD,
The fruit of the womb is a reward.
Psalm 127:3