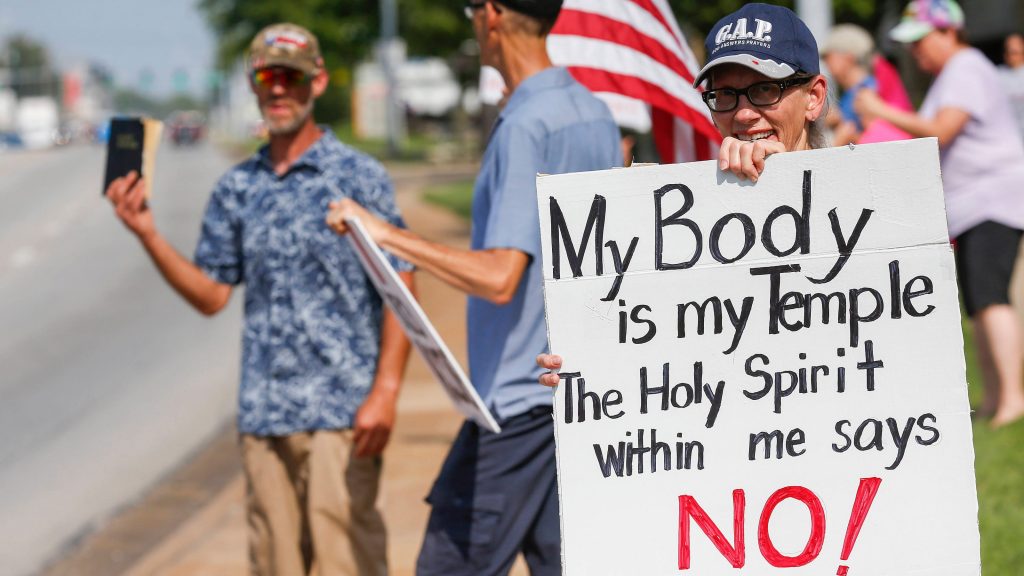 Feb. 22, 2022 update: The day after posting my "great hope" blog, I'm now wondering if the U.S. Supreme Court will indeed protect religious freedom, let alone medical freedom for all. My confusion — and angst — is because this morning SCOTUS silently turned down an appeal from medical workers in Maine, who are crying out for their First Amendment religious freedom and their 1964 Civil Rights Act religious rights. Only four votes were needed, and there were supposed to be four justices to take this case (on January 13, when the Supreme Court narrowly upheld Biden & Co.'s health worker "Covid vaccine mandate" nationwide, there were four dissenters — Clarence Thomas, Samuel Alito, Neil Gorsuch, and Amy Barrett). All I can say is that if Barrett's looking for the "right case" and she turned down the Maine petition because it's "not the one," hopefully she'll overcome perfectionism, embrace the whole constitution, and vote to hear the very next religious exemption case that petitions the nation's high court. Because millions of health-conscious Americans — especially in "blue states" such as California — are suffering big-time from violations of their God-given liberties, constitutional rights, and 1964 Civil Rights Act guarantees! My friend Mat Staver of Liberty Counsel (it's their case), is also bewildered by the court.
* * *
The U.S. Supreme Court's one-paragraph denial of a San Diego student's religious exemption injunction request on February 18 is pregnant with great hope for conscientious Californians and Americans.

Because the court majority implied it only turned down the injunction because San Diego Unified School District board members voted February 8 to delay any "Covid vaccine" mandate upon students. Notably, the nation's high court invited a future injunction request on a religious-freedom basis "if circumstances warrant." Realize this order took at least 5 votes!

The Thomas More Society, which is representing the San Diego minor, wrote: "We are pleased with the current posture of this case for several reasons. First, our client's goal was to attend school in person, and play sports, without being forced to comply with an illegal vaccine mandate – and she can do that for now. Second, the Supreme Court made clear that it is watching this case and that our client can come back and seek emergency relief in the future should the need arise. Thus, our legal team will be poised and ready to seek further relief at the Supreme Court if and when SDUSD reinstates all or part of their unconstitutional vaccine mandate."

While a constitutional majority on the 9-member Supreme Court would quickly strike down every infringement of medical freedom and religious freedom, this court led by the unreliable John Roberts wants to do things "its own way" — meaning millions of people will continue suffering from injurious medical tyranny until the "right cases" come before the court, with full briefings.

Yet a case about the religious freedom of Maine healthcare workers to refuse unwanted "Covid vaccines" could soon be accepted by the Supreme Court (it takes 4 justices to accept a case). SaveCalifornia.com currently counts 4 justices in favor of medical freedom (Clarence Thomas, Samuel Alito, Neil Gorsuch, and Amy Barrett). Therefore, it would take just one more justice — probably Brett Kavanaugh — to agree on the religious right to be exempt from vaccines, providing nationwide relief in June or sooner.
The hope of the righteous will be gladness,
But the expectation of the wicked will perish.
Proverbs 10:28