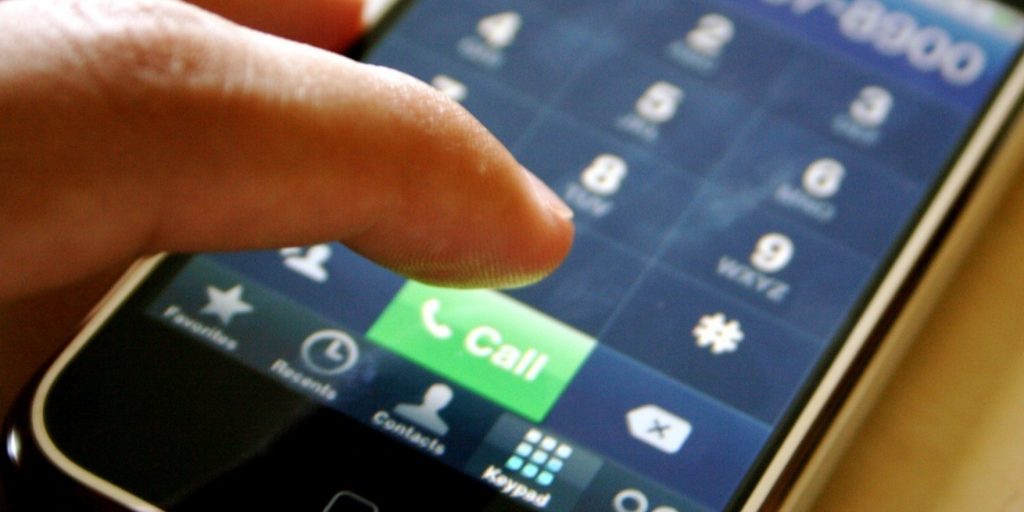 UPDATE — Tuesday, August 23, 10 am: Please call Sacramento RIGHT NOW because the Assembly floor vote on the amended SB 1146 could be Tuesday.
Be glad that SaveCalifornia.com has delivered to state assemblymembers the awful truth about the amended SB 1146. If you can back us up — please leave brief messages to their office right now and ask staffers to take your message to the floor, which is in session.
Your immediate help is especially needed because homosexual activists are urging a yes vote on SB 1146.
Please continue calling your own assemblymember and the deciding votes to urge defeat of the unconstitutional, subjective, and oppressive SB 1146. SCROLL DOWN FOR PHONE NUMBERS.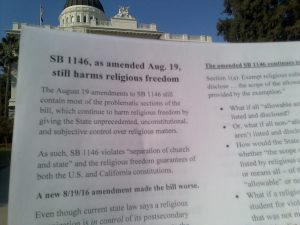 See our analyses of the amended SB 1146 and why is still harms religious freedom:
NEW Analysis: SB 1146 as amended August 19
How the Amended SB 1146 violates the First Amendment
"Separation of Church and State" means no State interference
PLEASE EXPRESS YOUR CONCERN NOW.
SB 1146's ASSEMBLY FLOOR VOTE COULD BE AUGUST 

22.


SCROLL DOWN FOR PHONE NUMBERS TO CALL.
Status: The amended SB 1146 is on the Assembly floor and can be voted on as soon as August 22.

Needed to win: In the 80-member Assembly, it takes 41 votes to pass bills. If no Republican supports SB 1146 and at least 12 Democrats refuse to support it, the bill will be defeated.

WHAT TO SAY: Leave a short voicemail message at their Capitol office (and also, if you can, their district office). Just say: "Please oppose the amended SB 1146. The August 19 amendments still harm religious freedom by giving the State subjective and unconstitutional control over religious colleges. Oppose the amended SB 1146 — this bill is still bad!"
Find the Capitol phone numbers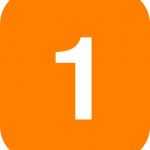 for your own state assemblymember and state senator. Call them right now. These are the only legislators for whom you should identify yourself.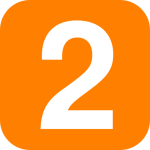 Leave VOICEMAILS for the deciding votes on the Assembly floor from 6pm to 8am Pacific Time. This is when no person answers the phone in legislators' offices. IMPORTANT: Don't identify yourself — not your name or where you live — just leave the suggested message on the voicemail urging them to vote NO on the amended SB 1146:
5 pro-'LGBT' Republicans:
Catharine Baker of Walnut Creek/San Ramon/Pleasanton/Livermore (916) 319-2016 and (925) 328-1515
Brian Maienschein of north San Diego/Rancho Santa Fe/Poway (916) 319-2077 and (858) 675-0077
David Hadley of Torrance/Gardena/Redondo Beach/Palos Verdes (916) 319-2066 and (310) 375-0691
Ling Ling Chang is running to represent state Senate district 29 (Walnut, Rowland Heights, Diamond Bar, Chino Hills, Yorba Linda, Placentia, Brea, La Habra, Fullerton, Anaheim, Stanton, Cypress) (916) 319-2055 and (714) 529-5502
Young Kim of Fullerton, Buena Park, Cypress, Stanton (916) 319-2065 and (714) 521-6505
24 Democrats who MIGHT be persuaded:
Adam Gray of Modesto/Merced (916) 319-2021 and (209) 521-2111 and (209) 726-5465
Joaquin Arambula of Fresno County (916) 319-2031 and (559) 445-5532
Cheryl Brown of San Bernardino/Rialto/Fontana (916) 319-2047 and (909) 381-3238 and (909) 350-7646
Patty Lopez of San Fernando/Sunland-Tujunga (916) 319-2039 and (818) 365-2464
Ken Cooley of Rancho Cordova/Carmichael/Citrus Heights (916) 319-2008 and (916) 464-1910
Tom Daly of Anaheim/Santa Ana (916) 319-2069 and (714) 939-8469
Sebastian Ridley-Thomas of Culver City/Ladera Heights (916) 319-2054 and (310) 342-1070
Freddie Rodriguez of Pomona/Ontario/Chino (916) 319-2052 and (909) 902-9606
Rudy Salas of Kern and Kings counties (916) 319-2032 and (661) 335-0302 and (559) 585-7170
Miguel Santiago of Downtown L.A./Koreatown/Huntington Park (916) 319-2053 and (213) 620-4646
Eduardo Garcia of Palm Springs area and Imperial County (916) 319-2056 and (760) 347-2360 and (760) 355-8656
Mike Gatto of Glendale/Burbank (916) 319-2043 and (818) 558-3043
Mike Gipson of Willowbrook/Compton/Carson (916) 319-2064 and (310) 324-6408
Shirley Weber of San Diego, La Mesa, Lemon Grove, Otay Ranch (916) 319-2079 and (619) 531-7913
Jimmy Gomez of Eagle Rock / Chinatown / East L.A. (916) 319-2051 and (213) 483-5151
Das Williams of Ventura, Santa Paula, and most of Santa Barbara County (916) 319-2051 and (805) 564-1649 and (805) 641-370
Lorena Gonzalez of Chula Vista, National City, south San Diego (916) 319-2080 and (619) 338-8090
Susan Bonilla of Concord/Pittsburg/Vallejo (916) 319-2014 and (925) 521-1511
Ed Chau of Monterey Park/Temple City/El Monte/Arcadia/San Marino (916) 319-2049 and (323) 264-4949
Roger Hernandez of West Covina//Baldwin Park/Azusa/Glendora (916) 319-2048 and (626) 960-4457
Chris Holden of Pasadena/Monrovia/San Dimas/Upland (916) 319-2041 and (626) 351-1917 and (909) 624-7876
Jacqui Irwin of Thousand Oaks/Camarillo/Oxnard (916) 319-2044 and (805) 482-1904 and (805) 483-4488
Patrick O'Donnell (916) 319-2070 (562) 429-0470 (310) 548-6420 Long Beach, San Pedro, part of Lakewood
Luis Alejo (916) 319-2030 (831) 759-8676 Monterey and San Benito counties plus Watsonville, Gilroy and Morgan Hill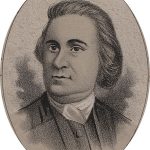 It does not take a majority to prevail … but rather an irate, tireless minority, keen on setting brushfires of freedom in the minds of men.
Samuel Adams, "Father of the American Revolution"