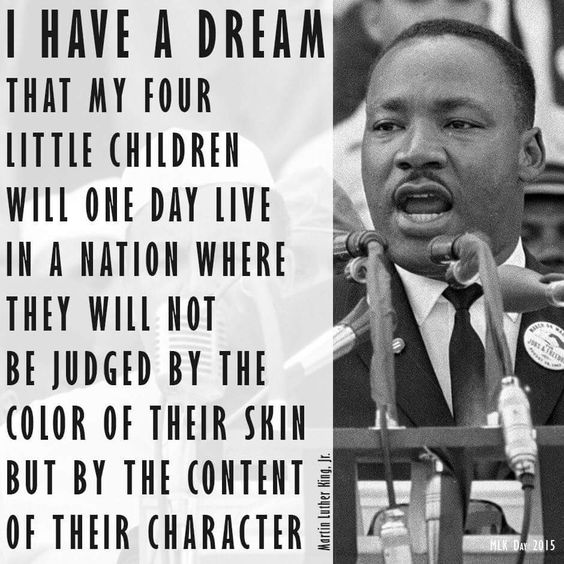 Do you see people's souls?

As a want-to-be disciple of Jesus Christ, I want to see people's souls, to motivate me to love them more deeply.

But I also want to see people's souls because I don't want to be distracted by false identities.

Because ultimately, we're all souls with skin on. And on Judgment Day, every human being will be in one of two groups — saved or lost, forgiven or condemned.

This is why I'm attracted to the 1963 "I Have A Dream" speech of Martin Luther King, Jr., who said, in part, "I have a dream that my four little children will one day live in a nation where they will not be judged by the color of their skin, but by the content of their character." How Christian this practical, moral perspective is!

Yet in my generation, I've heard even more profound wisdom from biblical Christian pastor E.V. Hill of Los Angeles, who, during the 1992 L.A. riots, was a guest on the Christian-format radio show I was producing at the time. (Back in 1957, Hill and MLK were two of seven pastors who formed the anti-segregation Southern Christian Leadership Conference.)

While portions of Los Angeles and Long Beach were burning — a criminal response to white police officers being acquitted of using excessive force against Rodney King, who was resisting arrest — Hill uttered these wise words on the air:

"I don't understand the verdict, but this I know — I know who I am: First, I'm a Christian. Second, I'm an American. Third, I'm a man. Fourth, I'm a black man."

E.V. Hill got it right. He knew his main identity must be in Christ, and he moved race to the back of the line, where it belongs. For in the New Testament, true Christians have a spiritual identity that's literally out of this world:

For you are all sons of God through faith in Christ Jesus. For as many of you as were baptized into Christ have put on Christ. There is neither Jew nor Greek, there is neither slave nor free, there is neither male nor female; for you are all one in Christ Jesus. And if you are Christ's, then you are Abraham's seed, and heirs according to the promise. (Galatians 3:26-29)

This is why true Christians should think of themselves as "in Christ" and avoid competing identities. Likewise, when asking the introspective question, "Who am I?", the correct Christian answer is "I'm a saint," or "I'm a child of the King," or "I'm a sinner saved by grace," or "I'm a happy slave of Jesus Christ."

This means my primary identity is:

not in my race, ethnicity, or nationality
not in my sex
not in my age
not in my performance
not in my looks
not in my possessions
not in my status
and not dependent on people liking me

I can tell you, I'm not totally there yet. Because developing my identity in Christ requires me to daily "die to myself" and to replace the lies I've believed with the truth of the Bible, which tells me the truth about God, the truth about myself, and the truth about the devil. The pursuit of a Christian identity is the quest for true mental health. Real peace, real security, real significance, real knowledge, real love, and real life are its satisfying fruits.

As for a non-Christian in the United States of America, his or her main identity should be as an American. For if citizens of a particular nation do not identify with their own country first, it's all to easy for them to become unreliable in matters of faith, duty, and love.
"There is no room in this country for hyphenated Americanism. When I refer to hyphenated Americans, I do not refer to naturalized Americans. Some of the very best Americans I have ever known were naturalized Americans, Americans born abroad. But a hyphenated American is not an American at all … The one absolutely certain way of bringing this nation to ruin, of preventing all possibility of its continuing to be a nation at all, would be to permit it to become a tangle of squabbling nationalities, an intricate knot of German-Americans, Irish-Americans, English-Americans, French-Americans, Scandinavian-Americans or Italian-Americans, each preserving its separate nationality, each at heart feeling more sympathy with Europeans of that nationality, than with the other citizens of the American Republic … There is no such thing as a hyphenated American who is a good American. The only man who is a good American is the man who is an American and nothing else."
Theodore Roosevelt, 26th U.S. President (1901-1909), in 1915

"I want to say — I cannot say too often — any man who carries a hyphen about with him carries a dagger that he is ready to plunge into the vitals of this Republic whenever he gets ready. If I can catch any man with a hyphen in this great contest I will know that I have got an enemy of the Republic."
Woodrow Wilson, 28th U.S. President (1913-1921), in 1919