Parental rights. Most parents assume they have them. 

And they do … for thousands of years … because Marriage and Family were created by God, not by government. This is why pre-constitutional parental rights have been recognized as sacrosanct since time was recorded.

Yet bad government ignores, tramples, and eliminates your God-given parental rights. So I'm saddened, but not surprised, that a Democrat-controlled California Senate committee has killed a parental rights bill on party lines, Republicans for, Democrats against.

The good bill of pro-family State Senator Mike Morrell of Rancho Cucamonga, SB 673, which was defeated January 15 in Sacramento, would have prohibited sex education from being imposed on a child, whether under "health" or "HIV prevention education," in pre-kindergarten through sixth grade, unless a parent voluntarily provides his or her written permission.

The bill would have also required school districts to make available for inspection, and translated into different languages, anything videos and handouts related to AB 329, California's latest and most blatant sexual indoctrination law.

But the ruling Democrats, who long ago sold out to pro-abortion and pro-homosexual-transsexual agenda forces, aren't open to reason or even local pressure. They see themselves as servants of abortionists and "LGBTQIA" groups. So they don't mind trampling parental rights, religious freedom, or children's innocence. Their minds are that darkened and their hearts are that hardened.

Because of the ruling Democrat's entrenched submission to the agendas of abortion and perversity, every pro-religious freedom and pro-parental-right bill will be stopped in its tracks by the Democrat prostitutes of their evil pimps. They are bought and sold!

So what can you do? In light of AB 329 and 10 other state school sexual indoctrination laws, there are few choices for California parents with moral values:

1. You can permanently exit the government-run system, and instead, home school or church-school your children.

2. You can tell yourself that AB 329 is the sole problem (in light of 10 other sexual indoctrination laws, it isn't), and you can try to opt-out your children from its reach.

3. A pro-family multimillionaire out there (perhaps a friend of Senator Morrell?) can fund a rock-solid parental rights state constitutional amendment to require a parental opt-in for all "sex," "health," and "HIV prevention" education in California state schools.

But the stark reality is this — if you want to rescue your children from sexual indoctrination of every kind, you must permanently exit the government schools. This is why SaveCalifornia.com has created our School Indoctrination Center, to inform parents and grandparents so they'll rescue their children and grandchildren. Please act now!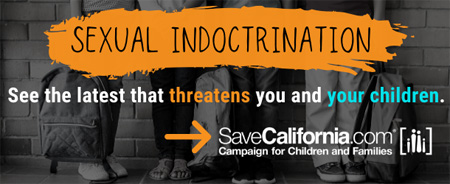 "But whoever causes one of these little ones who believe in Me to sin,
it would be better for him if a millstone were hung around his neck,
and he were drowned in the depth of the sea."
Jesus Christ, the Savior of the world, in Matthew 18:6