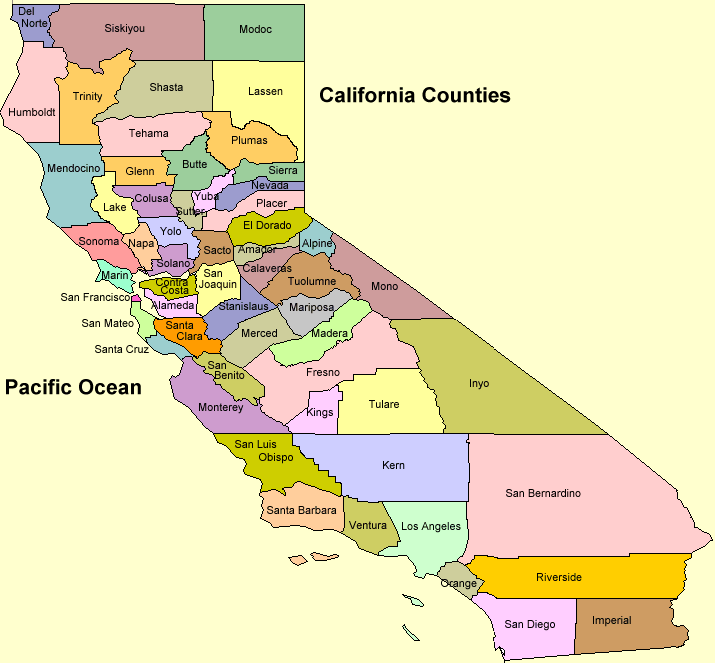 MAY 28, 2020 UPDATE: Colusa Colusa has rejected enforcement of Newsom's lockdown order, proclaiming liberty for "all citizens, businesses, schools, churches, and organizations in exercising their constitutional rights."
Do you believe the "cure" of the lockdown is worse than COVID-19 itself? Then you're invited to join SaveCalifornia.com's campaign to fully reopen California. The strongest and fastest way to take back territory is by lobbying boards of county supervisors.
Already, six conservative counties have rebelled against Gov. Gavin Newsom's destructive lockdown, and are permitting most, if not all, businesses to reopen. There are 22 remaining counties that voted Republican. Which ones can you help to declare liberty?
PLEASE TAKE IMMEDIATE ACTION
Copy and paste SaveCalifornia.com's message into your own email and send to the county supervisors in 22 conservative counties won by Republican John Cox in the 2018 governor's race. We've found their email addresses to make this easy. Unless you're emailing your own county supervisors, you should not reveal your name, address, or any other identifying information, if possible. Type a relevant subject line, such as "Fully open _____ County now." It is OK to email all five supervisors of a particular county at the same time.
COPY OR EDIT OUR SUGGESTED MESSAGE (this is somewhat "hard," since these boards are insensitive and irresponsible to how they're hurting real people):
I strongly urge you to immediately and fully end this harmful, unnecessary lockdown, as Modoc, Sutter, Yuba, Stanislaus, Kings, Tulare, and Colusa counties have done. A continued lockdown makes no sense when COVID-19's death rate is 3X lower than the seasonal flu, when the COVID-19 recovery rate is above 97%, and when COVID-19 death counts are being fraudulently padded. People are being financially destroyed. Attempted suicide, alcohol abuse, drug abuse, and child abuse are all going up. Please put a stop to this and don't hide behind your appointed health officer. You represent us and need to protect our livelihoods. Fully lift the lockdown now, so everyone can get back to work right away.
28 of 58 California counties won by Republican John Cox for Governor in November 2018, ranked by percentage of vote source
77.3% Lassen County
Five supervisors' email addresses:
cgallagher@co.lassen.ca.us
dteeter@co.lassen.ca.us
jhemphill@co.lassen.ca.us
aalbaugh@co.lassen.ca.us
thammond@co.lassen.ca.us

76.2% Modoc County: LIBERATED (revolted April 28)
California county defies Gavin Newsom, reopens
72.5% Tehama County
Send one email message to this address and all five supervisors get a copy:
tcbos@co.tehama.ca.us

70.9% Glenn County
Five supervisors' email addresses:
jviegas@countyofglenn.net
pbarr@countyofglenn.net
vminto@countyofglenn.net
kcorum@countyofglenn.net
lmcdaniel@countyofglenn.net

71.1% Shasta County
Five supervisors' email addresses:
jchimenti@co.shasta.ca.us
lmoty@co.shasta.ca.us
mrickert@co.shasta.ca.us
swmorgan@co.shasta.ca.us
lbaugh@co.shasta.ca.us

65.3% Colusa County: LIBERATED (revolted May 27)
"Colusa County Board of Supervisors Votes to Protect Civil Rights"

64.5% Amador County
Five supervisors' email addresses:
pcrew@amadorgov.org
rforster@amadorgov.org
jeffbrown@amadorgov.org
faxe@amadorgov.org
BOneto@amadorgov.org

64.1% Calaveras County
go to https://calaverasgov.us/Feedback/Board-of-Supervisors, then select the "All Supervisors" option

64.1% Sierra County
Five supervisors' email addresses:
supervisor1@sierracounty.ca.gov
phuebner@sierracounty.ca.gov
supervisor3@sierracounty.ca.gov
jbeard@sierracounty.ca.gov
sdryden@sierracounty.ca.gov

64.0% Yuba County: LIBERATED (largely revolted May 1)
Yuba, Sutter counties to reopen businesses Monday

63.0% Sutter County: LIBERATED (largely revolted May 1)
2 more California counties set to defy Newsom lockdown as pressure builds

62.8% Plumas County
Five supervisors' email addresses:
kevingoss@countyofplumas.com
sherrie.thrall@almanorpost.com
lorisimpson@countyofplumas.com
jeffengel@countyofplumas.com
pcbs@countyofplumas.com

61.3% Mariposa County
Five supervisors' email addresses:
rsmallcombe@mariposacounty.org
mlong@mariposacounty.org
mmenetrey@mariposacounty.org
kcann@mariposacounty.org
mjones@mariposacounty.org

61.1% Tuolumne County
Five supervisors' email addresses:
sbrennan@co.tuolumne.ca.us
rcampbell@co.tuolumne.ca.us
akirk@co.tuolumne.ca.us,
gray@co.tuolumne.ca.us
krodefer@co.tuolumne.ca.us

61.0% Madera County
Send one email message to this address and all five supervisors will receive a copy: supervisors@maderacounty.com

60.3% Siskiyou County
Five supervisors' email addresses:
bcriss@co.siskiyou.ca.us
dist2sup@sbcglobal.net
mkobseff@co.siskiyou.ca.us
lnixon@co.siskiyou.ca.us
rhaupt@co.siskiyou.ca.us

59.4% El Dorado County
Five supervisors' email addresses:
bosone@edcgov.us
bostwo@edcgov.us
bosthree@edcgov.us
bosfour@edcgov.us
bosfive@edcgov.us

59.4% Kings County: LIBERATED (revolted May 15)
Board votes to reopen the county

58.9% Kern County
Five supervisors' email addresses:
district1@kerncounty.com
district2@kerncounty.com
district3@kerncounty.com
district4@kerncounty.com
district5@kerncounty.com

58.8% Placer County
Five supervisors' email addresses (or their aides; 6 email addresses total):
SupervisorGore@Placer.CA.Gov
rweygand@placer.ca.gov
BRoberts@placer.ca.gov
tivaldi@placer.ca.gov
anbrown@placer.ca.gov
cindygustafson@placer.ca.gov

58.7% Del Norte
Five supervisors' email addresses:
rgitlin@co.del-norte.ca.us
lcowan@co.del-norte.ca.us
choward@co.del-norte.ca.us
ghemmingsen@co.del-norte.ca.us
bberkowitz@co.del-norte.ca.us

57.7% Trinity County
Five supervisors' email addresses:
kgroves@trinitycounty.org
jymorris@trinitycounty.org
bchadwick@trinitycounty.org
jbrown@trinitycounty.org
jfenley@trinitycounty.org

57.2% Tulare County: LIBERATED (revolted May 19)
Tulare Co. shuns Newsom, votes to reopen businesses

55.3% Inyo County
Five separate web forms for five supervisors:
https://www.inyocounty.us/contact-information?contact_id=315&origin=672
https://www.inyocounty.us/contact-information?contact_id=504&origin=673
https://www.inyocounty.us/contact-information?contact_id=516&origin=674
https://www.inyocounty.us/contact-information?contact_id=520&origin=675
https://www.inyocounty.us/contact-information?contact_id=522&origin=676

53.2% Butte County
Five supervisors' email addresses:
BConnelly@ButteCounty.net
DLucero@ButteCounty.net
TRitter@ButteCounty.net
District4@ButteCounty.net
DTeeter@ButteCounty.net

50.9% Fresno County
Five supervisors' email addresses:
District1@fresnocountyca.gov
District2@fresnocountyca.gov
District3@fresnocountyca.gov
District4@fresnocountyca.gov
District5@fresnocountyca.gov

50.8% Stanislaus County: LIBERATED (largely revolted May 12)
Stanislaus County will look the other way if businesses defy Newsom's stay-home order

50.2% Riverside County
Five supervisors' email addresses:
district1@rivco.org
district2@rivco.org
d3email@rivco.org
district4@rivco.org
district5@rivco.org

For even when we were with you, we commanded you this:
If anyone will not work, neither shall he eat.
2 Thessalonians 3:10