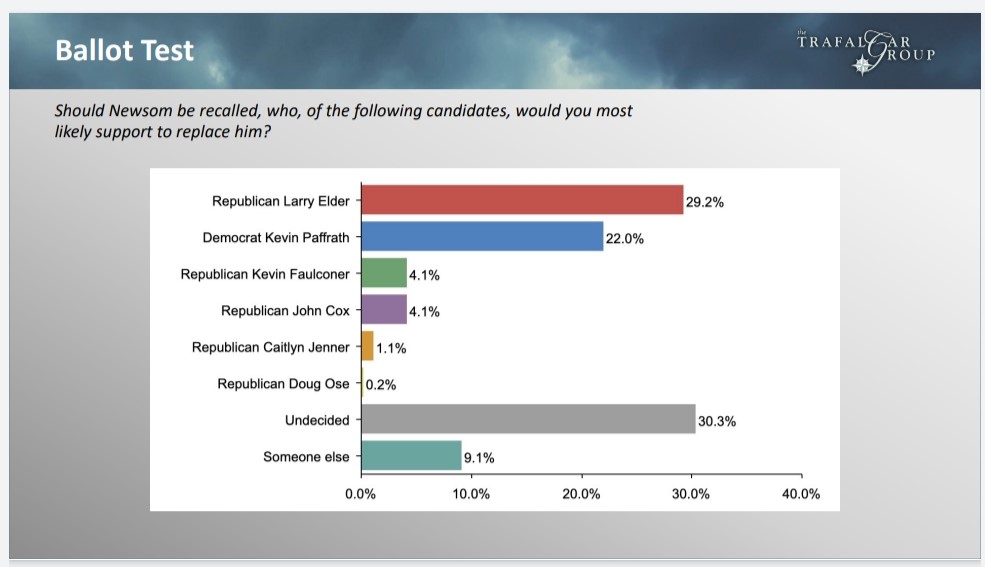 SaveCalifornia.com provides this solely for educational purposes
and does not support or oppose candidates for public office.
Look at this August 26-29 Trafalgar Group poll of more than a thousand likely California voters. For Question 2 in the Gavin Newsom Recall Election, it shows a potentially close race between Republican front-runner Larry Elder and Democrat upstart Kevin Paffrath.

This is from one of the most accurate U.S. pollsters. And while the poll mistakenly left out Kevin Kiley, that still doesn't change the big math problem for conservatives.

Because with the way California conservatives are splitting their votes between several Republican candidates, I wouldn't be surprised to see Democrat voters surge and cast more votes for the leading Democrat than conservatives' votes for the leading Republican.

This is why I'm urging conservatives to do three things right now, as the September 14 voting deadline looms:

Note which candidates can actually win
See the public policy positions of the front-runner candidates at SaveCalifornia.com
Vote and get others to vote like you (use email, social media, flyers on cars, etc.)
SaveCalifornia.com's research has found none of the candidates showing up in the several recall polls to be consistent, constitutional conservatives. However, there are definitely "mostly conservative" and "liberal Republican" candidates running. See them
So, without telling you who to vote for, it's logical that if you want conservative values to win, you'll want to support the mostly-conservative front-runner. Or else conservative votes will be split, and a Democrat could replace a Democrat (if most voters vote "yes" to recall Newsom).
"If I had an hour to solve a problem I'd spend 55 minutes
thinking about the problem and 5 minutes thinking about solutions."
Albert Einstein, renowned theoretical physicist (1879-1955)