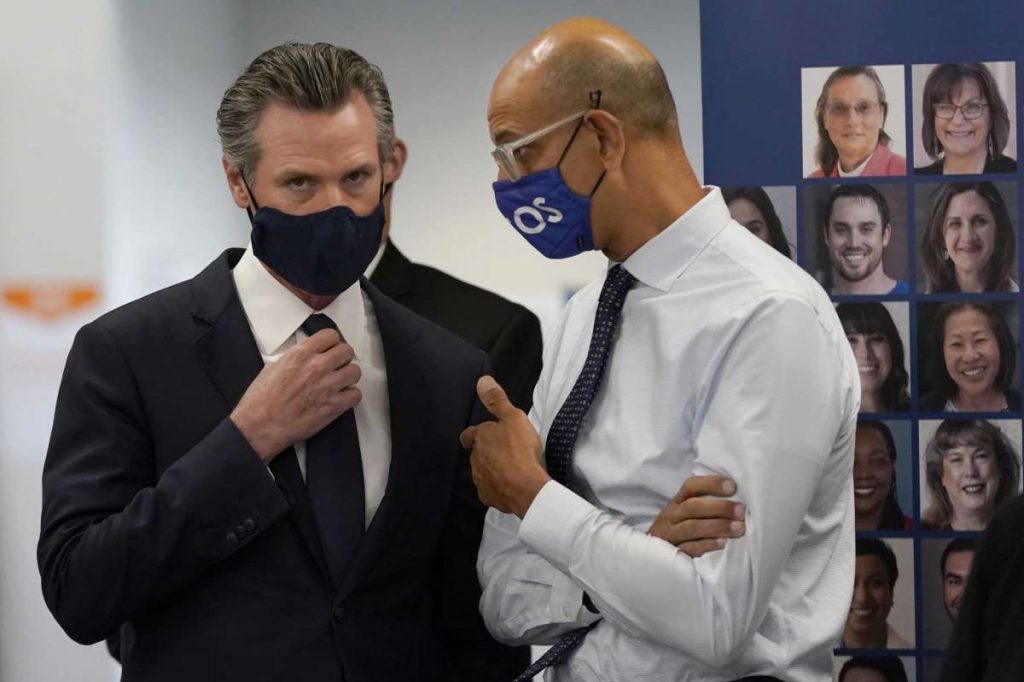 Good news! The December 15 mask mandate of Gavin Newsom is falling flat. People want their facial freedom after 1.75 years of unscientific oppression by unconstitutional Democrat politicians and bureaucrats, along with prostituting "Republican" county supervisors.

On our SaveCalifornia.com social media pages (primarily Facebook and Instagram), we've asked people to report in. And it appears that most California businesses – outside of the 10 tyrannical Democrat-controlled counties that have imposed their own mask mandates — are NOT requiring customers to wear masks, even if their door signs say so.

Stop and realize these door signs are the business owner's sign of submission to tyrannical, unscientific, anti-people government and to the aggressive, lie-based "Karens" out there, not a sign to you.
What people tell us is encouraging. Because most business owners and managers are showing they no longer believe in mask mandates. Especially since there's no new government enforcement.
And despite Costco's own statewide mask mandate, health-conscious Californians tell us they still walk in maskless and successfully shop. All you have to do is say "no thank you," or something else (or say nothing) when walking in and the door monitor says you need a mask. Apparently, no Costco employee stops shoppers who do this and confidently walk forward!
Molly told us, "My husband went to Costco and Target and they both said he needed a mask and he told both stores nope, I'm not wearing one & walked past them. They didn't enforce it on him."
"JWest" wrote in about his Costco experience, saying, "If you take a mask at the door and then take it off nobody says anything while you shop."
Jessica reported in, saying, "Also Costco Carlsbad hands you a mask at the door if you don't have one. After entering, I didn't wear it and shopped without receiving any comments."
And Jaremy told us: "Costco tried tonight. We said no three times, then asked to speak to a manager. Be polite but firm. Let them witness lions after herding the sheep. The manager was good and told us we could shop maskless. Told us to say we have a medical exemption next time to avoid any issues, but that shouldn't be necessary. Stand firm Californians."

So please, stop wearing these useless masks, even where signs are posted. Ignore them and just bravely walk in. We must be bold to turn this around. Because, like me, are you done with this lie-based near-slavery? California is not a "hospital," and we must get these useless signs of submission off our faces. Just remember the choice is yours.

Remember, no one has died from the Omicron variant (it's only been claimed one person in England has died "with" it). And the vaccine-caused Omicron variant has very mild symptoms.
What should alarm you? I'll tell you what's grieving me — all the people who are being injured or killed by these experimental biological agent called "Covid vaccines." We're seeing some very sobering statistics, both in the U.S. and in Europe, yet those are only the tip of the iceberg.
I mean, have you wondered why some young athletes are suddenly dropping dead? And there's a dire prediction that many more "vaccinated" people will die too.
So we must keep sharing with as many people as possible the facts, evidence, and logic Big Government, Big Pharma, Big Medicine, Big Media, and Big Tech won't. This is a matter of life, health, truth, and love!

Evidence shows cloth and paper face masks are useless and worse:

Cloth masks are useless in fight against Omicron, expert warns (on CNN; story by The Independent (12/22/21)

Do Masks Work? A review of the evidence (City Journal 8/11/21)
Medical Journal Warns About Masks' Potentially Devastating Consequences (American Institute for Economic Research, 4/15/21)
Do We Need Mask Mandates? The science suggests rescinding them (City Journal 3/22/21)
Masking: A Careful Review of the Evidence (American Institute for Economic Research, 2/11/21)
Tennessee Data for Masked vs. Unmasked Counties (Scott Morefield, Townhall, 11/28/20)

Masks Don't Stop Viruses — The Proof (Ben Armstrong, WSAU 7/31/20)

WND article database showing masks don't work but harm health

More evidence on masks at SaveCalifornia.com

Thus the Lord used to speak to Moses face to face,
just as a man speaks to his friend. (Exodus 33:11)
9 Bible Verses about Being Face To Face With God