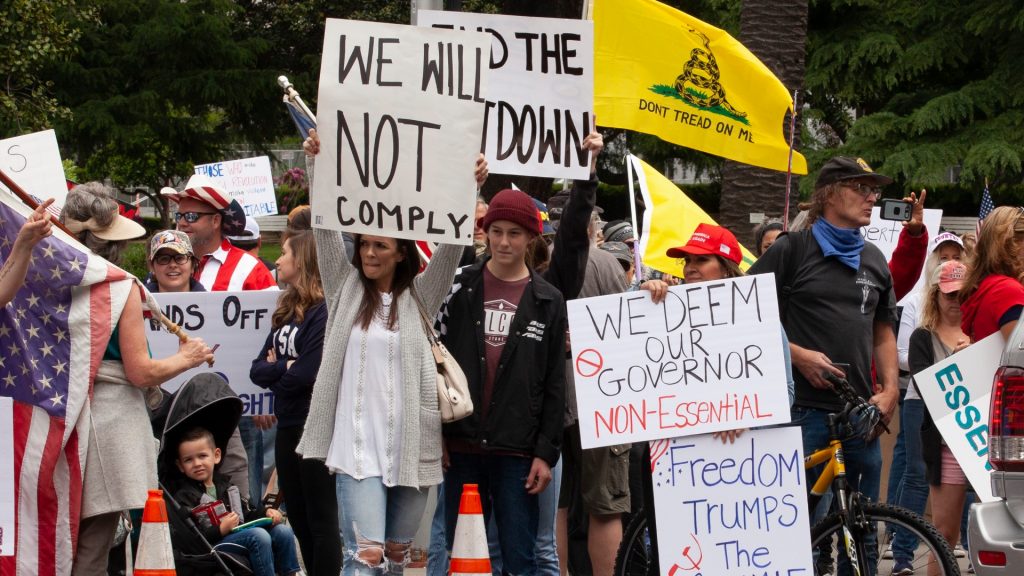 This is a very important, eye-opening blog. After reading it below, see my other Covid-related blogs:

(11/01/20) The latest evidence on face coverings
(10/17/20) Chipping away at the lockdown wall
(10/14/20) Science says face masks don't protect you from Covid
(09/24/20) Let's stop this lockdown madness together
(08/10/20) I admire these loving California pastors who've reopened
(08/07/20) Try to open your church school now — the State says you can
(07/22/20) How I'm still not wearing a mask
(06/20/20) Why I won't wear a mask
(06/13/20) 15 facts why the lockdown and mask mandates are wrong
(05/30/20) The facts are coming out about COVID-19 and the destructive lockdown
(04/13/20) Look what's curing COVID-19

Do lockdowns and mask mandates prevent transmission of Covid?
In July, the Lancet medical journal, after examining Covid data from fifty countries, concluded, "lockdowns…were not associated with a statistically significant reduction in … overall mortality." Get it? The novel idea of a "lockdown" doesn't save lives, despite doing a superb job of destroying people's livelihoods.
And earlier this month, a study published in the New England Journal of Medicine found lockdowns and masks do not prevent Covid transmission. Military recruits locking down, wearing masks, and social distancing experienced a 1.9% infection rate, while military recruits not doing any of this had a 1.7% infection rate. Therefore, not locking down, not masking up, and not social distancing is as "safe" (and even safer) than performing these establishment-ordered acts.
And a large study of more than 6,000 adults in the small nation of Denmark found there was no statistically significant infection difference between people who wear masks and those who don't. After one month, 1.8% of the people wearing masks had been infected and 2.1% in the unmasked group had also tested positive. This hardly-any-difference result explodes the myth of masks protecting you.
Remember, back in February and March, the medical establishment agreed that masks for the general public were ineffective in stopping the flu or Covid. But now, the opinion of these "authorities" has flipped, not based on science, but based on political correctness.

Let these facts stir you to rebel against the destructive, dehumanizing tyranny of lockdowns and mask mandates!
"Rebellion to tyrants is obedience to God"
U.S. founding father Benjamin Franklin and Thomas Jefferson