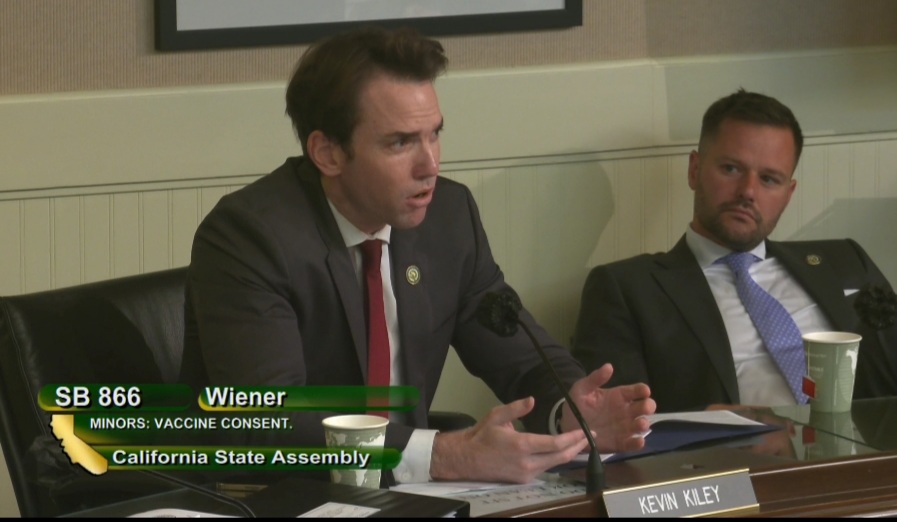 PLEASE SCROLL DOWN FOR ACTION STEPS
You want the bad news first, or the good news?

I'm going to give you the bad news first, because the good news is better. Today, the horrible anti-family bill, SB 866, which would eliminate parental consent for "vaccines" for children as young as 12 years old, passed the Democrat-controlled Assembly Judiciary Committee and was sent to the Assembly floor. This committee passage was expected — and "fixed" — by the Democrat majority, which fast-tracked this awful bill by referring it to only one committee, their most liberal one.

But the good news is 2 of 3 Republicans spoke against SB 866 in committee, and one Democrat — Brian Maienschein of north San Diego County — voted no. What's more, Jordan Cunningham, a "moderate" Republican from San Luis Obispo County, voted no, instead of abstaining, which has been his habit on too many controversial bills.

Stop and realize this means we have a greater chance of defeating SB 866 on the Assembly floor. Remember, last Thursday, May 26, we lost by narrow margins on two medical tyranny bills (AB 2098 and AB 1797) and the infanticide bill (AB 2223) — because Republicans did not raise their voices to expose what these bills would really do.

What's changed since then? First, outraged California conservatives have been "spanking" Republican members for not speaking last week (so has SaveCalifornia.com). Then, our May 30 alert on SB 866 urged you to tell the Judiciary Committee Republicans, "Speak out against SB 866 — expose this bad bill." Thank you for your calls — because today, we saw two of the three Republicans — Kiley and Davies — do just that!

So yes, we can win this on the Assembly floor. Remember too that SB 866, which tramples your God-given parental rights, initially failed by 1 vote before passing by 1 vote. Being that close was historic — and should make us all pursue defeating this hellish bill!

Parental rights is definitely a crossover issue, which is why 2 Democrat state senators voted no and 8 Democrat state senators abstained. And we've got a better chance to win on the Assembly floor — if Republican assemblymembers speak out this time.

You can help Republicans speak up, as they should. Believe SB 866 can be stopped on the Assembly floor and you'll make them believe it too!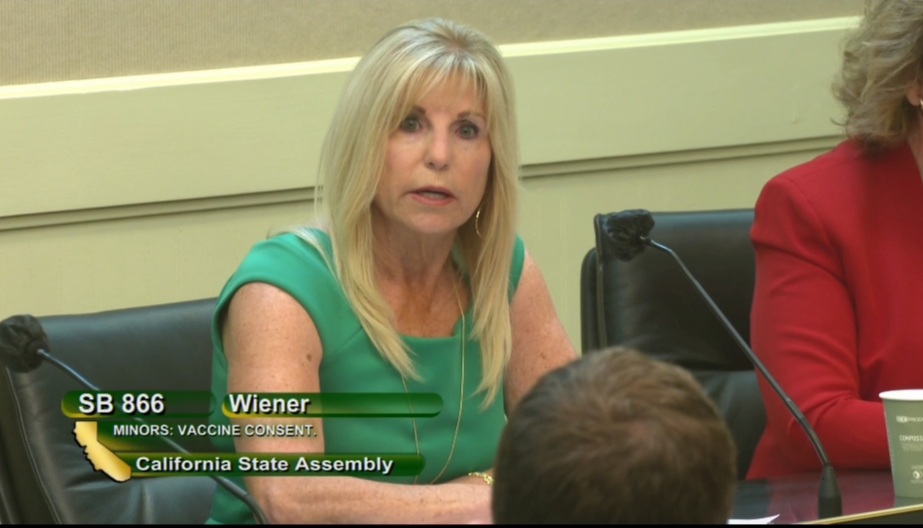 Today's June 1 committee hearing was a success in further "wounding" and "dragging down" SB 866. Again, the best success was the two Republicans energetically speaking out and challenging SB 866 author Scott Weiner of San Francisco.

Remember, with SB 866, parents won't even know if their children are being manipulated, coerced, or bribed into baring their arm for a shot they don't need and you don't want. And how are 12-year-olds going to remember their medical history, and whether they're susceptible to adverse reactions? And what if they have an adverse reaction — and the parent doesn't know what caused it? SB 866 eliminates parental rights, at a time when parents are needed to provide "guardrails" against profit-motivated Big Pharma.

Talking points: "The age of 12 is too young for medical consent"

Why take action now? Simply put, on radical bills like these, Republicans' voices are their own "secret weapon." By speaking out strongly on the Assembly floor, they can actually pull away enough nervous Democrats to stop SB 866 in its tracks! If they had done so last week, we could have defeated medical tyranny and infanticide bills.

PLEASE TAKE IMMEDIATE ACTION: Because SB 866 could come up for a vote as soon as the afternoon of Monday, June 6 on the floor of the California Assembly!
1. Call your own state assemblymember, whether they're Republican or Democrat. Tell your Republican assemblymember you want him or her to "oppose and speak against and fight against SB 866 — don't be silent on the Assembly floor!" Tell your Democrat assemblymember you want them to "Don't attack parents — don't eliminate parental rights on teen and pre-teen vaccinations. Children cannot give informed consent or be responsible for knowing their risks beforehand or dealing with problems after an injection. Oppose SB 866!"
Find your own assemblymember's website and office numbers here.

2. Leave anonymous voicemails (unless the assemblymember is yours) after hours Wednesday and Thursday 7pm to 8am for all 19 Assembly Republicans. Tell them: "Please speak against SB 866 on the Assembly floor. This horrible bill eliminates parental rights for children as young as 12 years old. Raise your microphone and speak up for parental rights and protecting children!"

Megan Dahle 916-319-2001 and 530-223-6300 and 530-265-0701
James Gallagher 916-319-2003 and 530-895-4217
Frank Bigelow 916-319-2005 and 209-267-0500 and 559-673-0501
Kevin Kiley 916-319-2006 and 916-774-4430
Heath Flora 916-319-2012 and 209-599-2112
Jim Patterson 916-319-2023 and 559-446-2029
Devon Mathis 916-319-2026 and 559-636-3440
Thurston Smith 916-319-2033 and 760-244-5277
Vince Fong 916-319-2034 and 661 395-2995
Jordan Cunningham 916-319-2035 and 805-549-3381
Tom Lackey 916-319-2036 and 661-267-7636
Suzette Valladares 916-319-2038 and 661-286-1565
Phillip Chen 916-319-2055 and 714-529-5502
Kelly Seyarto 916-319-2067 and 951-894-1232
Steven Choi 916-319-2068 and 714-665-6868
Randy Voepel 916-319-2071 and 619-258-7737
Janet Nguyen 916-319-2072 and 714-843-4966
Laurie Davies 916-319-2073 and 949-240-7300
Marie Waldron 916-319-2075 and 760-480-7570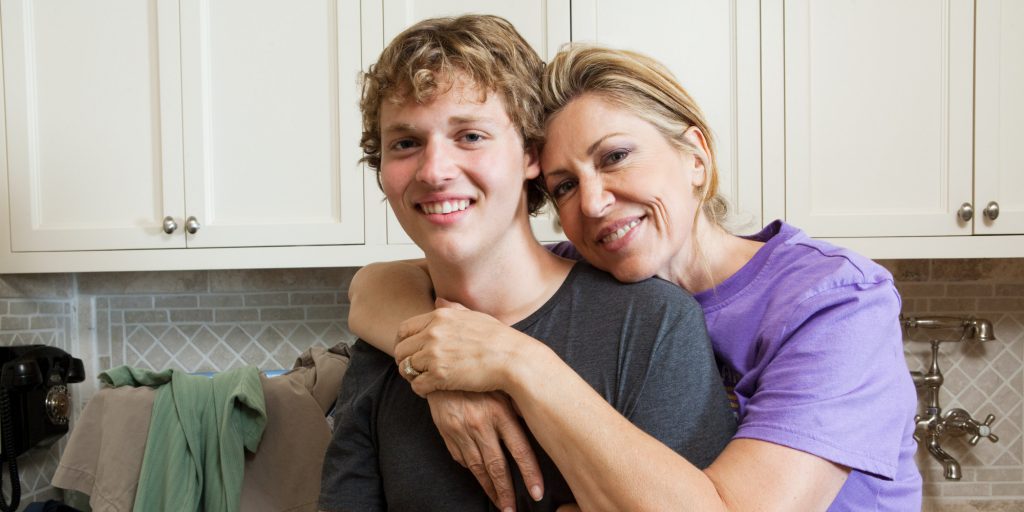 Oh, that they had such a heart in them that they would fear Me and always keep all My commandments, that it might be well with them and with their children forever!
Creator God speaking to His servant, Moses, in Deuteronomy 5:29