SaveCalifornia.com provides this solely for educational purposes
and does not support or oppose candidates for public office.
To help you and other reasonable Californians vote right, I want to remind you of what SaveCalifornia.com announced Sept. 21: Why we're opposing all 7 ballot propositions.

Please visit our Pro-Family Election Center (we've just updated our analysis of Prop. 1 and 31) to see why. Here's a shortened version for you to see and share: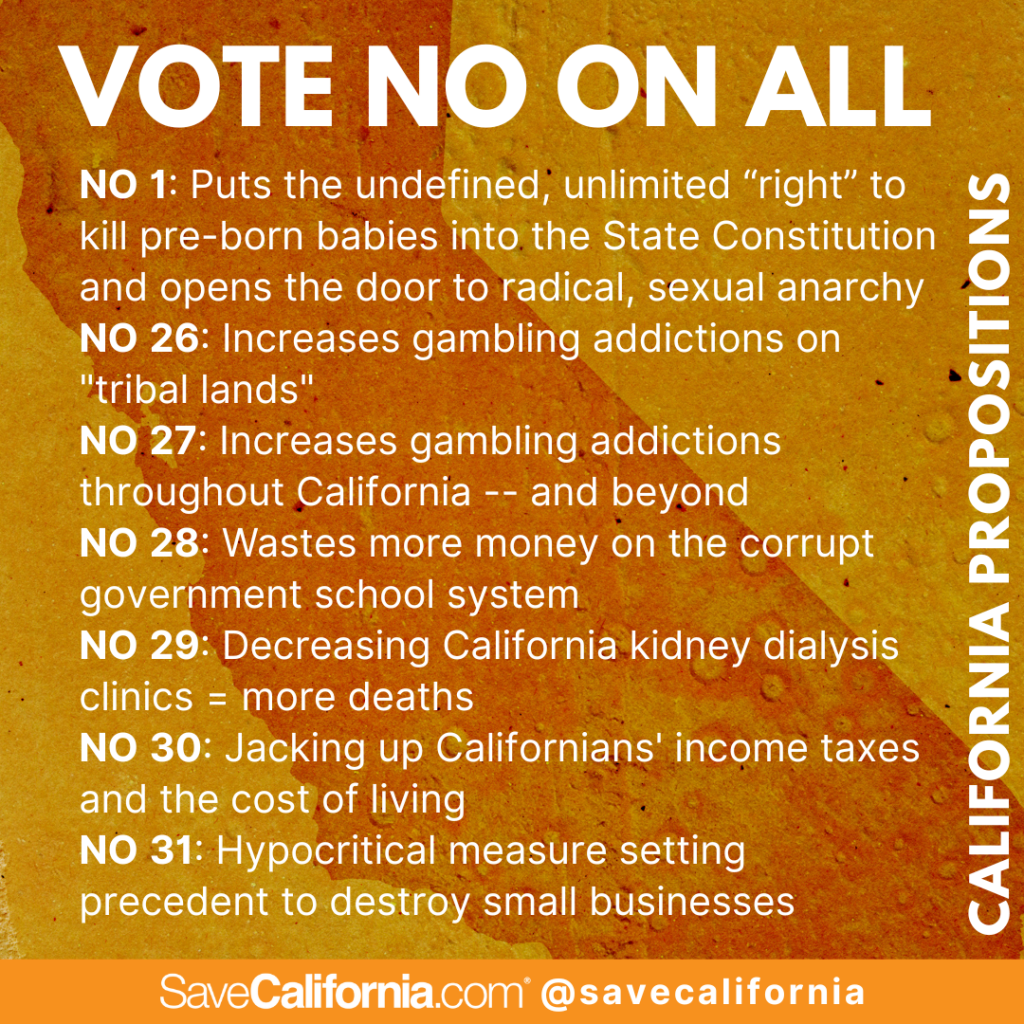 What's the most secure way to vote?
In America, election fraud by Democrat politicians, bureaucrats, and activists is a factor, but not an absolute.

Because if "they" were in total control of election outcomes, we'd never see conservatives or Republicans elected, or Republicans recapture both houses of Congress (as they're predicted to do this election). And you wouldn't see Gavin Newsom openly worrying Republicans could flip four U.S. House seats in California.

That said, anyone who's seen the video evidence of paid "mules" stuffing "drop boxes" in the dead of night knows unconstitutional Democrat malfeasance is real. For this and other reasons, I urge you to avoid the insecurity of drop boxes. For who knows who really picks them up and transports them unmolested to the county elections office?

Instead, I recommend you to either vote in-person at a physical polling place in your county, or go to your county elections office to deliver your sealed ballot inside. These are probably the most secure voting methods in your county of residence. But if you can't vote this way, please still vote by Nov. 8 any legal way you can.
[T]he time has come that Christians must vote for honest men and take consistent ground in politics or the Lord will curse them … Christians have been exceedingly guilty in this matter. But the time has come when they must act differently … Christians seem to act as if they thought God did not see what they do in politics. But I tell you He does see it – and He will bless or curse this nation according to the course they [Christians] take [in politics].
Charles Finney (1792-1875), leader of the Second Great Awakening in the U.S.