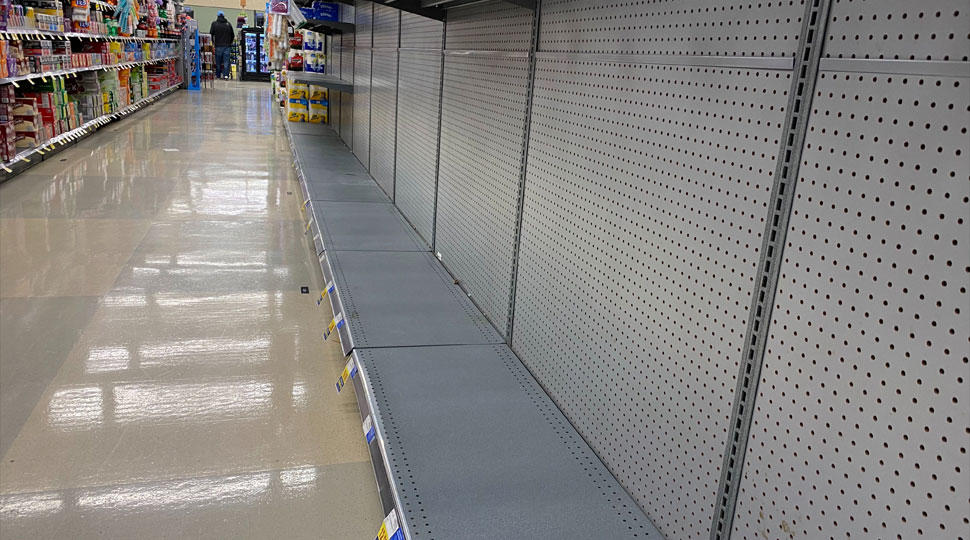 Trustworthy medical perspectives and practical tips
Dr. Robert Rowen: See his Facebook posts
Dr. Don Colbert: Tips to prevent coronavirus infection and other infections
Johns Hopkins: Coronavirus Disease 2019 vs. the Flu and Coronavirus at a Glance

For the sake of all the people in the United States of America, and especially California, I'm annoyed that the Liberal Left's scare tactics have made it hard to buy toilet paper.
As the China virus scare has turned into a Big-Media-induced panic, people are hoarding disinfectant, bottled water, meat, toilet paper, and more. Because most people are more afraid of what they don't understand.
Will you think with me? Have you wondered why the Big Media and Democrat politicians are saying don't gather at large events and don't even go into a church building?

The ruling Democrats say it's because you have to protect yourself from the coronavirus (COVID-19). Yet the evidence shows the threat is largely to the elderly and infirmed. As honest investigative journalist Sharyl Attkisson reported: "Early American fatalities of the coronavirus are mostly elderly or suffering from health issues." (As of March 22, the number of U.S. deaths attributed to the COVID-19 virus has risen to 414.)
In contrast, the swine flu from China in 2009-2010 affected U.S. children, young adults, and pregnant mothers the most. But back then, a Democrat named Barack Obama was in the White House, and the Big Media never induced a national panic as they're doing today.
And what about the annual flu season from October through March each year? Even young children die from the flu, but no kids under 10, anywhere, have died from COVID-19.
In the U.S., the CDC reports that 22,000 to 52,000 Americans have died this flu season. Compare this to the relatively small number of COVID-19 deaths in the U.S. — virtually all elderly persons with "underlying health conditions" (and no young children have died). Yet regular flu strains have killed infants.
As for COVID-19's mortality (fatality) rate, it's not 3.4% as the World Health Organization previously reported. It's much more telling when the WHO said, "Most people will have mild disease and get better without needing any special care."

As the virus traveled to the U.S., the picture on our own soil has become more clear. As the Washington Post reported on March 6, "U.S. health officials on Thursday briefed lawmakers in Congress and said they believe the case fatality rate in this country will most likely be in the range of 0.1 to 1.0 percent."

The concern is the COVID-19 virus is spreading faster than most viruses we know, and its mortality (death) rate is higher that common flu, which has U.S. mortality rate of 0.095%, just under 0.1%. (China's death rate was likely higher because 50% of China men are regular smokers). Yet, for anyone who's elderly, sickly, or immunocompromised, if you are "taken down" by COVID-19, hospitals in the U.S. are quickly becoming equipped to apply life-saving techniques.
So this doesn't merit sending the general public into a panic. In the U.S., COVID-19 has only killed sickly elderly persons — those with lung disease, heart disease, or diabetes. As CNN reported, of the Americans who died from COVID-19, "most of them were 60 years and older," "many lived in nursing homes and other facilities," and "many had other health problems."

Here's what we can all do. To protect yourself against most contagious infections (beginning with the common cold), you have to practice good hygiene by frequently washing your hands, not touching your face, and wearing gloves or using other methods to avoid picking up "ick" from a door handle. And, of course, take your vitamins (including Vitamin D) and supplements, get your daily sunshine (the best Vitamin D3), and try to get adequate sleep. You know the drill.
Given what we know, most people have less chance of their health being harmed by COVID-19 than by the regular flu or swine flu. But the Big Media and the "never let a crisis go to waste" Democrat politicians aren't telling you that, are they?
"Do not judge according to appearance, but judge with righteous judgment."
Jesus Christ, the Savior of the world, in John 7:24