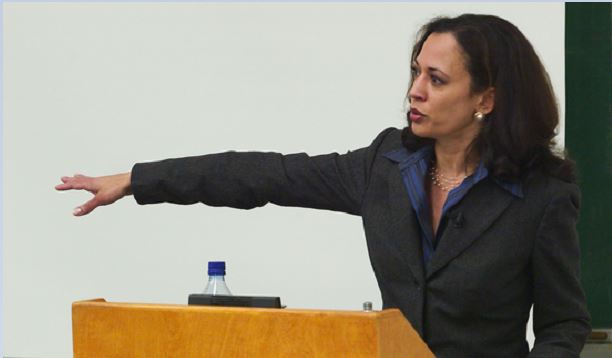 SaveCalifornia.com provides this solely for educational purposes
and does not support or oppose candidates for public office.
The left-wing pundits are grieving that the Democrats no longer have their "female Obama" running for president of the United States of America.

Yet blaming the Democrat billionaires now in the race (Michael Bloomberg and Tom Steyer) is not the reason Kamala Harris is out. No, it's because California's junior U.S. senator is so self-centeredly loud and radically leftist, she had to drop out because much of the rest of the country is not as wicked as San Francisco, not as fallen as Oakland, and not as foolish as California.
Now crowing that she will enjoy voting (to convict President Donald Trump) at a future impeachment trial, Harris is again demonstrating that she likes to punish the innocent and let the guilty off the hook. Remember, as California's state attorney general, Harris punished pro-life journalists with a politically-biased raid and set the stage for criminally charging these peaceful pro-lifers for exposing abortion atrocities.
Also as state AG, Harris betrayed California voters by refusing to defend their vote on man-woman marriage (Prop. 8 from 2008) in court. And as San Francisco district attorney, Harris declined to punish the guilty by refusing to seek the death penalty for a cop killer.
Now suspending her presidential campaign, Kamala Harris has gone from "me," "me," "me," to out, out, out. But she will continue to be California's vocal, leftist, unconstitutional U.S. senator until more people admire our U.S. Constitution and reject domestic enemies.
We have no Government armed with Power capable of contending with human Passions unbridled by morality and Religion. Avarice, Ambition, Revenge or Galantry, would break the strongest Cords of our Constitution as a Whale goes through a Net. Our Constitution was made only for a moral and religious People. It is wholly inadequate to the government of any other.
John Adams, U.S. founding father and 2nd U.S. president