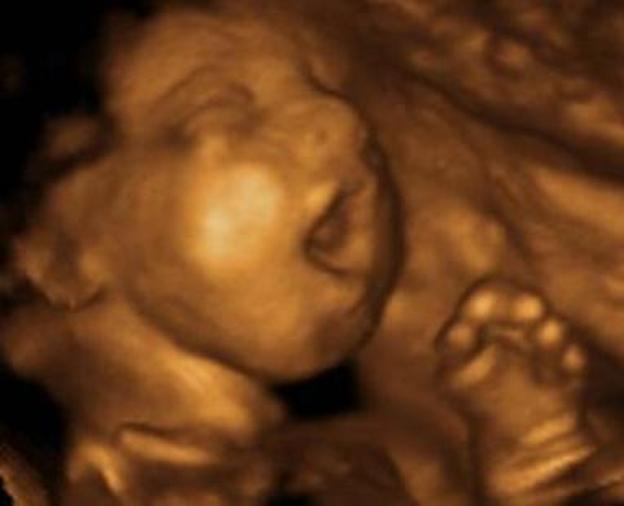 Click here for talking points for writing letters-to-the-editor,
posting to news sites, and calling talk radio shows
Abortion stops a beating heart and tortuously kills an innocent, growing baby.
If you believe this is wrong in God's sight, and support the legal right to life for innocent human beings, please "go public" with your values by participating in a pro-life event near you this month, which marks 41 years of the notorious Roe v. Wade U.S. Supreme Court ruling that legalized abortion through all 9 months of pregnancy, for any reason.
Because abortions are done in secret, we all need to provoke ourselves to care more and do more to be a voice for the voiceless. See these amazing pro-life videos on SaveCalifornia.com's YouTube page.
Attend a California pro-life event
Below is a partial list of California pro-life events this month. SaveCalifornia.com will list additional bona fide events as people call our office at 916-265-5650. Looking for events outside California? Click here
January 17: Ventura, Prayer Walk for Life, County Government Center (800 Victoria Ave), 3:00 p.m. Prayerfully walk to Planned Parenthood abortion clinic
January 18: Los Angeles, 555 West Temple Street. Youth Rally for Life
January 19: Victorville, East Park Ave., noon – 2:00 p.m. High Deserts 2nd Annual March For Life
January 19: Santa Maria, City Hall courtyard, Cook St. at S. Broadway, 2:30 p.m. Central Coast Right to Life Prayer Walk (walk to nearby Planned Parenthood abortion business)
January 21: El Cajon, 2766 Navajo Road, 7:00 p.m.: Catholic community pro-life mass
January 21-22: Visalia/Tulare/Dinuba/Exeter/Hanford, Tulare-Kings Right to Life is holding a 5-City "Simul-prayer" Roe v Wade Memorial (5 locations)
January 22: Orange, 700 S. Tustin Street at 22 Freeway, 6:30 a.m. – 10:00 a.m. Standing In The Gap At Planned Parenthood Abortion Business. "Come and pray where the babies are killed. Come anytime — signs and prayer booklets will be available ."
January 22: Sacramento, State Capitol Rotunda, 1315 10th Street, 9:00 am. ProLife Advocacy Day
January 22: Sacramento, 1017 11th Street, 7:00 p.m. Catholic Diocese "Choose Life Events"
January 22: Salinas, 320 E. Laurel Drive, 7:00 p.m. Catholic Diocese Roe v. Wade memorial mass
January 22: Murrieta, 39407 Murrieta Hot Springs Rd, 7:30 a.m. Respect Life Prayer Breakfast
January 24: Oakland, Oakland City Hall at One Frank H. Ogawa Plaza, 12 noon. Standing Up 4Life Rally|Walk
January 24: Oakland, Saint Margaret Mary Church, 1219 Excelsior Ave., 5:30 p.m.: 7th Annual Conversations4Life Benefit Dinner. Speakers include Walter Hoye, Frank Pavone, Star Parker, Clenard Childress, Abby Johnson, Janet Morana, Jeff White, Cecelia Chavez)
January 24: Santa Clara, 2800 Mission College Blvd, 4:30 – 9:30 p.m. Youth & Young Adult Rally for Life
January 24: San Francisco, St. Mary's Cathedral Conference Center, 4:00 – 6:00 p.m. Law of Life Summit "West Coast"
January 25: Visalia, 5049 W. Caldwell Ave, 6:30 a.m. Bus ride to West Coast Walk for Life
January 25: San Francisco, Civic Center Plaza, 10:00 a.m. Walk for Life West Coast (there are dozens of bus rides from Central and Northern California, reserve a seat)
January 25: San Francisco, 1111 Gough Street, 4:30 – 8:30 p.m. Sidewalk Counselor Training
January 26: San Francisco, 1111 Gough Street, 9:30 AM – 8:00 PM: Students For Life of America West Coast Conference
February 13: Poway, 15546 Pomerado Rd, 7:00 pm. Life Choices Poway banquet
February 25: Sacramento, The Grand, 1215 J Street, 6:00 p.m: California ProLife Council ProLife Legislative Banquet
For You formed my inward parts;
You covered me in my mother's womb.
I will praise You, for I am fearfully and wonderfully made;
Marvelous are Your works,
And that my soul knows very well.
My frame was not hidden from You,
When I was made in secret,
And skillfully wrought in the lowest parts of the earth.
Psalm 139:13-15 NKJV